Now Viewing
Popular Backyard and Tailgating Games
Whether you're entertaining at home or partying in the parking lot before the big game, we've got some great games and activities for the whole family.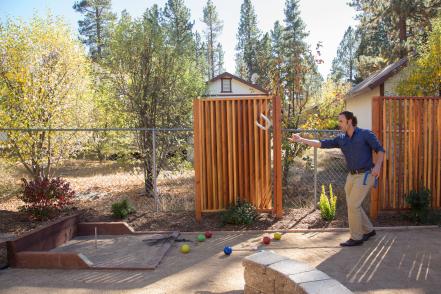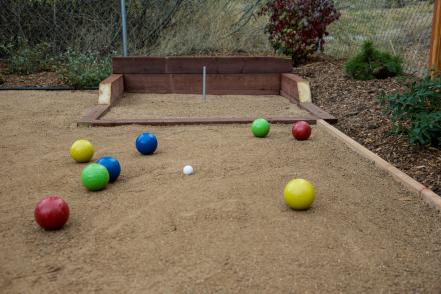 Natasha Lee
Combo Bocce Ball Court and Horseshoe Pit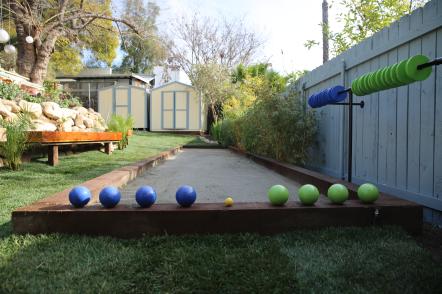 Scorecard
This backyard bocci ball court includes a scoring rack built onto the fence to help track game points.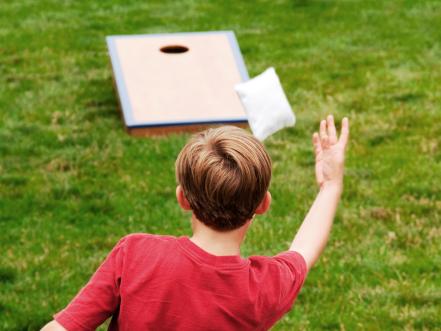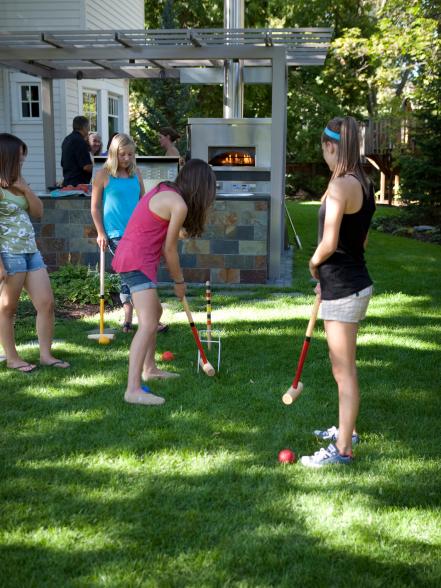 Kevin Kelliher
Croquet
To play croquet, a wood mallet is used to hit a wood ball through a series of wickets (little wire bridges). The finish line is a wood stake standing at the end of the wickets. The game can be challenging depending on how lumpy your lawn is, but croquet is certainly a heck of a lot fun.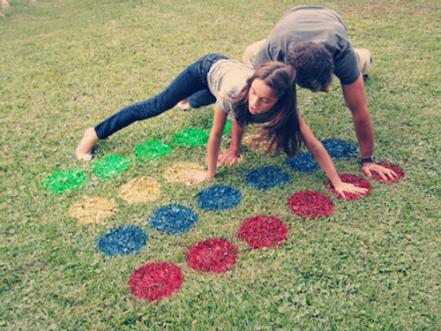 Lawn Twister
If you want to make the party more interesting, lay out a Twister-style game board. Cut a circular template from cardboard and get four colors of water-soluble spray paint.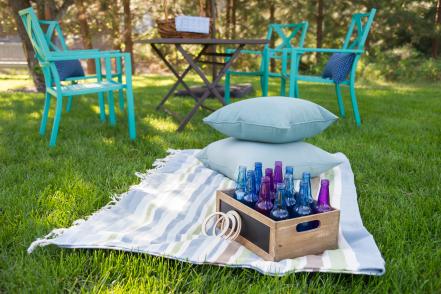 Eric Perry
Ring Toss
This couldn't be easier to make. Upcycle some old bottles (plastic or glass), pack them into a wood crate or sturdy cardboard box. Check the craft store for lightweight wood rings, if not, use plastic shower curtain rings.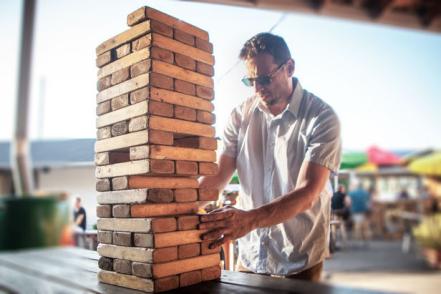 Giant Jenga-Style Tumbling Tower Game
Here's another game you can play with a beer in hand, but not too many, you need a steady hand to win this suspense-filled game. To make a tower, you'll need four 16-foot 2x4s. Cut the 2x4s into (72) 10-1/2" pieces. Sand the ends smooth, crack open a cold one and you're ready to play.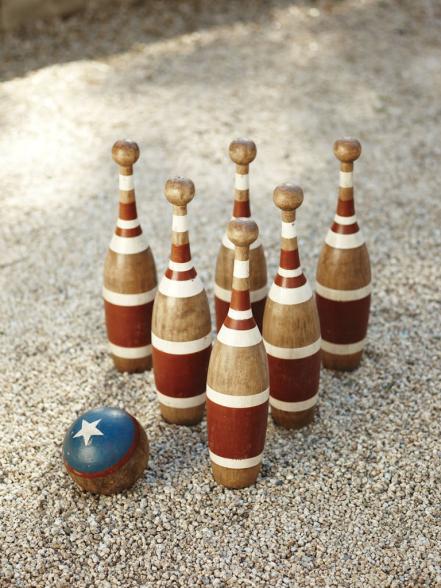 Lawn Bowling
If a store-bought bowling game isn't in your budget, you can DIY one with some empty plastic bottles. Paint or decorate the bottles then fill them with sand to make the pins. Use a heavy-weight ball or old bowling ball (check the thrift store) to knock down the pins.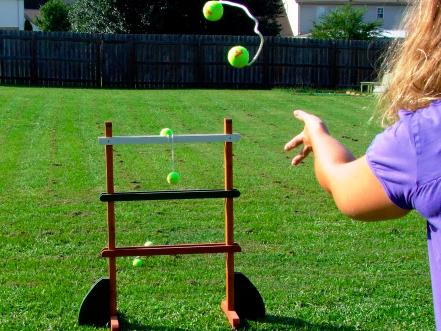 Ladder Golf
Individuals or teams can play. The object is to wrap a bolo around a rung, with each rung being assigned a certain number of points. For example, one point for the bottom rung, three points for the middle and five points for the top rung.
Get the instructions to make this game
.
California Redwood Association
Chess Anyone?
This backyard chess board is portable so it can be moved around the yard or inside the house. If you have the chess or checker pieces and just need the board, paint the checkerboard pattern on a large canvas drop cloth.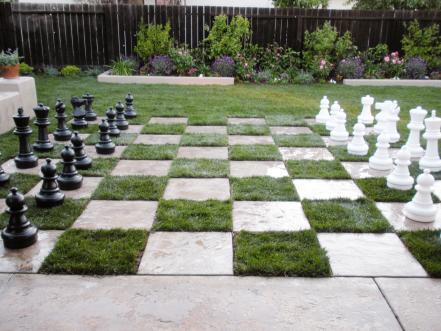 Grassy Chess Board
Even after the game is over, this sod and concrete checkboard pattern makes an eye-catching backyard feature.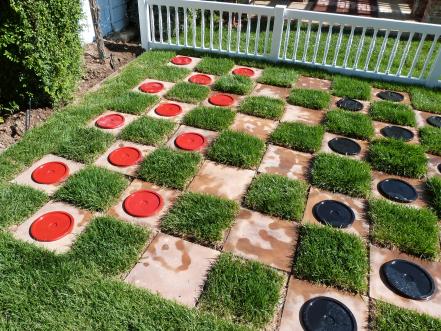 Checkers
If you don't have a giant chess set on hand (and how many of us do), make checkers by painting some plastic plates or chargers.
Bryan Meltz/ Getty Images © 2014, HGTV/Scripps Networks, LLC. All Rights Reserved
All Paver Chess Board
This game board is masterfully built into the extensive sandstone patio.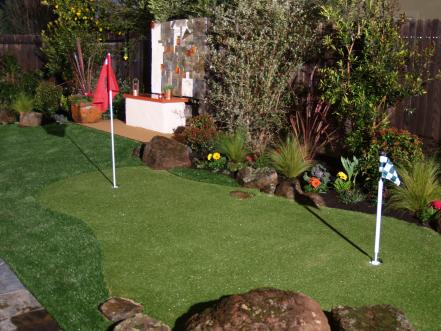 Putting Green
Improve your game and add a little greenry to the backyard with putting green.
See how it's done
.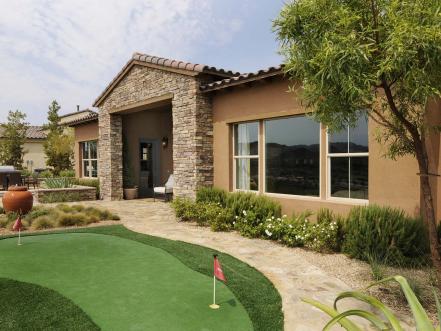 Backyard Putting Green
A putting green is an investment in fun, but it could also be a good resale investment. If you plan on selling your home in a few years, the putting green might just be the unique feature that gets you a quick sale.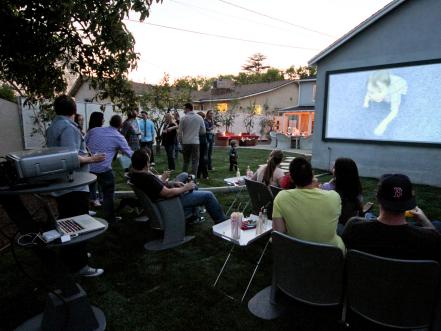 Jamie Rector © 2012, HGTV/Scripps Networks, LLC. All Rights Reserved.
Movie Night
Turn your yard into "drive-in". (If you have a pool, you can make it a "dive-in".) A projector, screen and surround sound are all you need in the AV department. Make it B.Y.O.C. (bring your own chair) or spread out blankets for everyone to stretch out.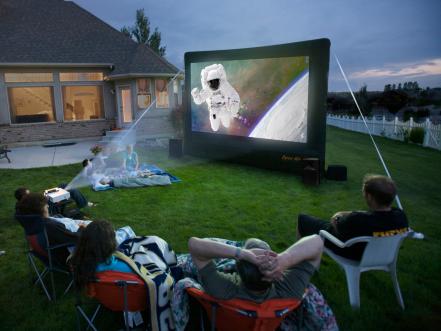 Open Air Cinema
Inflatable Screen
An inflatable screen can make putting a movie-night party quick and easy. Perfect for having the gang over to watch the big game or for a kids' slumber party.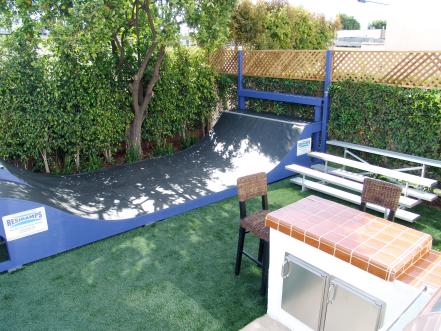 Half Pipe
Keep the kids off their screens by putting a skateboard ramp in the yard. Your teens may actually think you're cool again.