Scott McGillivray's First-Time Home-Buying Tips
The pro behind Buyers Bootcamp walks us through what makes a property a prime potential investment—and what can be a deal-breaker.
Scott McGillivray puts his money where his mouth is when he guides newbie flippers through their Buyers Bootcamp projects: As a cash-on-the-table partner in their projects, their potential profits and losses are his, too.
Stephanie Diani/ Getty Images
Considering a bold new venture of your own? Here's his expert take on how to know when a property is ripe for investment—and when you should head for the hills.
Start With a Strong Foundation
A cracked foundation can turn into a money pit, but it's important to know that not all cracks are created equal. So, how do you tell the difference?
"[K]eep in mind that not all foundation cracks spell disaster," Scott says. "Sometimes when concrete dries or cures it cracks a bit, and these cracks can be filled with an epoxy injection." So far, so good.
"However, if you see step cracks (horizontal and vertical cracking between the cinder blocks or bricks) or extensive cracks in the concrete slab, there may be cause for concern."
Beware of Sloped and Sagging Floors and Stairs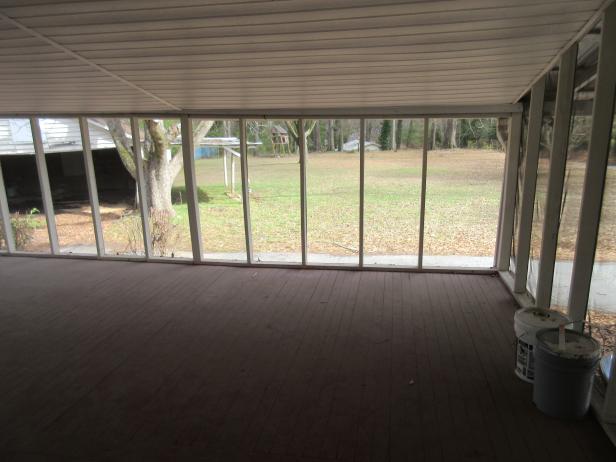 Off the kitchen of this 1920 farmhouse is a large screened in porch that has very low sloped ceilings and an uneven floor, and homebuyers Shauna and Clayton feel like it would be a tear down, adding up the expenses of redoing this old charmer, featured as they tour for HGTV's House Hunters in Monroe, GA.
Is something about your potential buy not quite on the level? Pay attention to uneven surfaces, and know that setting them straight can get complicated—and expensive.
"[In the case of sloped flooring or staircases], you may need to call in a structural engineer to properly assess the problem, as most home inspectors won't know the full extent of the issue," Scott explains. "If you're a first-time flipper you probably don't want to get into these types of major structural renovations, as they can wreak havoc on your budget and timeline."
Sagging, in turn, "could mean that the beams, posts, and/or floor joists could need reinforcing," Scott says. "Not a deal breaker, but it can be costly."
Find Flooring With Rehab Potential
Hardwood can be your best friend or your worst enemy, depending on its condition.
"If you can restore and refinish original floors, you're golden," Scott says.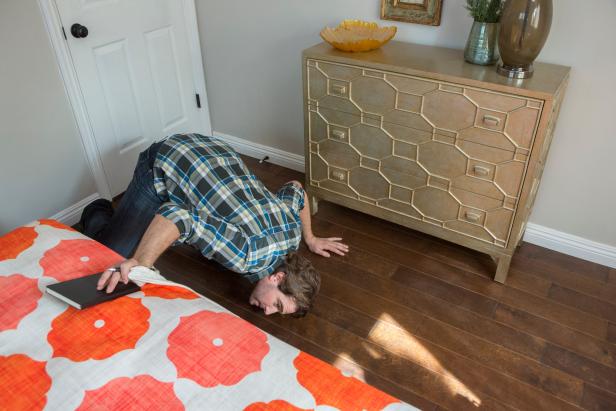 HGTV judge Scott McGillivray inspects the remodeled master bedroom of Red Team sisters Anicka Marshall and Shauna Williams, who transformed Unit A's master bedroom with rotted floors and crumbling walls into a relaxing oasis, as seen on HGTV and DIY Networks's Flipping the Block. Their design includes an orange color scheme, new hardwood floors from Lumber Liquidators, and accessories and furniture from the onsite Joss & Main Warehouse and Pop-Up Boutiques. Judge McGillivray decided on their design as the best because of their confident, understated design, walk-in master closet and low overall budget. McGillivray inspects each teams's remodeled room on judging day while contestants explain and defends their work, and the winning team receives $5,000 to use in the next room remodel. With a budget of $37,500, Flipping the Block's four teams of two contestants compete while transforming old and outdated appartments into fresh and current units, where they must live during construction. In the end, the team which receives the most money during a live real estate auction will be the winner.
Gilles Mignasson/ Getty Images
If old flooring needs to come up—because of water damage, mold, pet stains or even oversanding—you could be in for a costly swap.
"In theory, you can pull boards up and replace them, but sometimes this can do more harm than good, and matching old floors can be tough," Scott notes. "Also, if you've got structural issues or problems with the subfloor underneath, you're probably going to have to say goodbye."
Take a Close Look at Trim
Here's an easy red flag to remember: If corners at the edges of walls and woodwork don't line up evenly, there's a good chance someone cut corners elsewhere in a home, too.
"Gaps at the miter joints of trim and casings are a clear indicator of shoddy workmanship," Scott explains. "If you see gaps or rough cuts you know that someone did it on the cheap—and let's be honest if they skimped on something so obvious, who's to say what else they skimped on? I would be very nervous about the quality of the rest of the house."
Depending on your comfort with tools, skill level and attention to detail, you have the potential to pour a lot of sweat equity into your flip—which is where, as Scott advises his partners, you have the biggest opportunity for profit. Intro-level jobs for beginning-to-average DIY'ers include some demolition, basic landscaping, painting and installation (of flooring, toilets and bath fixtures). There are also some projects, he says, that you should absolutely not try at home.
"Somethings I never suggest doing yourself include electrical, plumbing, HVAC and structural changes," Scott says. "They require licensed tradespeople who can do the job safely."
Keep in mind that if the rooms you're inspecting are partially rehabbed, you're going to have to shell out for previous owners' mistakes.
"[O]ne thing that's definitely disappointing is to see a kitchen that's been recently renovated but isn't great quality. When that happens you're basically paying for the cost of a poor renovation in the purchase price, and then you have to do it again," Scott tells us. "It's wasteful and very expensive."
One way to get some of that money back: If appliances and fixtures are undesirable but intact, you might be able to turn them around on the secondhand market.
"Appliances are great if they're in decent condition," Scott says. "People are always looking for used appliances on Craigslist and Kijiji, so there's no reason not to give it a shot. Kitchen cabinets are great if they're in good shape and you can remove them without causing any damage. You can also try to sell light fixtures, faucets and even old hardware."
Funky odors can mean all sorts of things: A fishy smell could indicate electrical problems in a home, a musty smell might mean there's mold and the scent of sewer gas could be anything from a dried-out water seal (which is an easy fix) to a broken sewer line (which is a big and scary issue). An inspector can give you the rundown of possible culprits, but one whiff in particular always makes Scott smile.
"I love the smell of cat pee! Because as anyone who's watched any of my shows knows, cat pee smells like money. It scares other buyers away and it usually isn't a big deal to get rid of."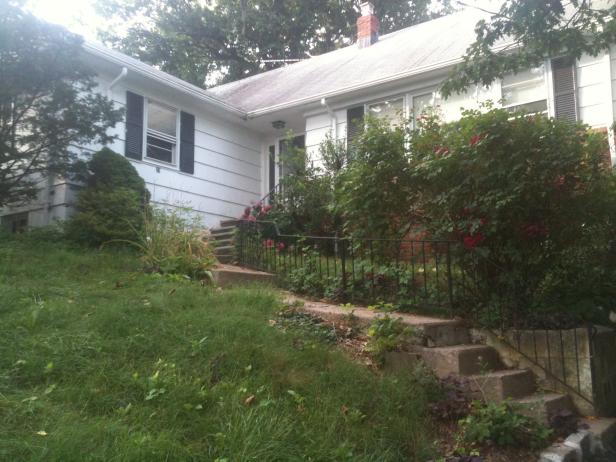 Homeowners Jeff and Sara have been living happily in their home for about a year and half, despite their messy front yard. With a dangerous sloped walkway, huge sun-blocking trees and a house you can't even see due to overgrown shrubs, this is definitely a lot of work. DIY Network host and Landscape Contractor Gino Panaro plans on taking out everything, including the stairs, the plant life and hopes to at least trim the trees in order to put in an all-natural stone stairway with fresh plant life. Featured: The front yard before renovations as seen on DIY Network's King of Dirt.
It's a jungle out there in the front or backyard, eh? Good news: That'll call for some elbow grease, but it's an easy fix.
"I would only suggest removing trees if they're interfering with utility lines, pipes or sewer systems," Scott says. "Mature trees on a property can be a big selling feature, and they can really add value. As for the rest of the yard, clean it up, mow the lawn and keep the landscaping simple."
While it can be tempting to make significant changes to a flip, Scott explains that you're actually looking to do the bare minimum for the most profit.
"Sometimes all it takes is some new flooring, a fresh coat of paint and a couple of other minor upgrades. One of the biggest dangers in a flip is taking on too much and trying to do everything. That's not to say you should skimp on quality—but don't take on an extra project if you don't have to."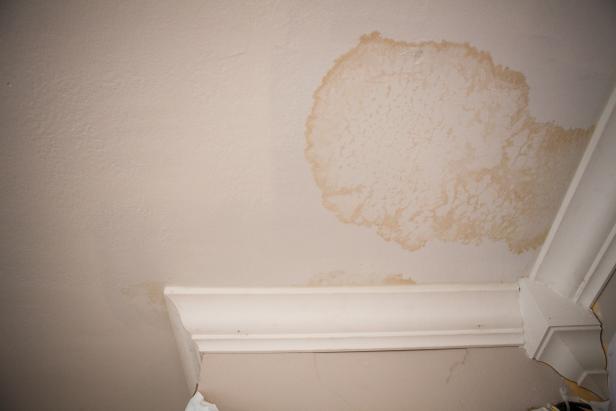 Team Drew: (Oliver Aguiler, Christy Biberich, David Font, Brett Karns, & Monica Reese) won their first main challenge by remodeling the Guzman home in Northridge, CA. The team focused on renovating the kitchen, bathroom, living room, & master bedroom. Ultimately, they increased the property value by $50,000. One area that was a potential strike against them was their failure to paint over former water damage to the ceiling.
Matt Harbicht/Getty Images
A possible project needs to look good to you—and it really needs to look good to a pro. When you're ready to make the leap and go in on your first purchase, you need an inspector's blessing.
"In hot markets, people tend to forgo the inspection in order to make their offer more appealing to the seller, but it can be a huge mistake," Scott says. "If you're taking on a flip you need to have a pretty firm budget, and if you end up with a whole host of unexpected problems it can ruin everything. It could even bankrupt you." Bottom line: While inspections aren't foolproof and don't always uncover everything, they're a crucial checkpoint on your road to success.
This interview has been edited and condensed.
Tune in to DIY Network for the premiere of Buyers Bootcamp on Saturday, March 3, at 10|9c.
The biggest investment many of us will make is buying a house, and mistakes can be costly. To help weed through the home-buying jungle, we've gathered the knowledge and strategies every home buyer should know before beginning the hunt.