Make the Ultimate College Care Package
Because nothing says "We're thinking of you" like a box full of fudge and love.  
In the blink of an eye, summer is gone! Your tan is fading and you've sent your kiddo off to college. We know that you're sad to see them go and they are, without a doubt, always on your mind. So what's the best way to show them that you're thinking of them? An expertly-curated care package full of DIY goodies, of course!
From easy dorm-decor to seriously tasty treats, we've come up with the ultimate college care package that is guaranteed to bring your coed all the warm and fuzzy feelings of home. Tip #1? Find a big box!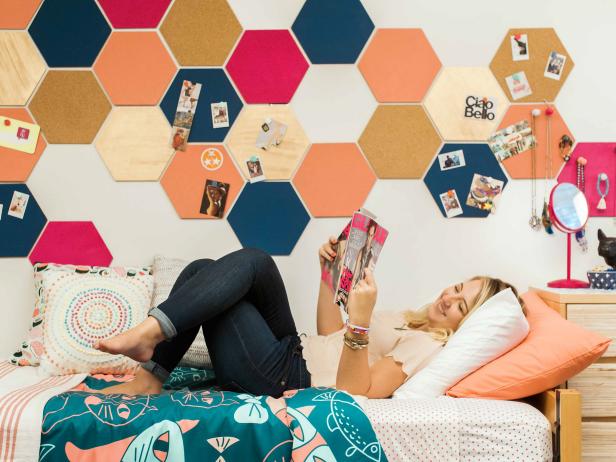 Dorm Room Takeover Bed With Cat Comforter, Hexagonal Patchwork Bulletin Board and Patterned Throw Pillows
Hexagon pieces create a colorful and fun personalized bulletin board to display photos and jewelry over this dorm room bed. The coral tones compliment the coral in the turquoise cat patterned comforter. Colorful, patterned throw pillows finish the fun, multicolor design.
Jennie Andrews Photography
Hand Lettered Love + Writing Kit Essentials
We feel that all gifts should come with a heartfelt card and a college care package is no exception! Start your package off on the right foot by inserting some loving thoughts or motivational quotes. Next, take a jab at hand-lettering the envelope. Small touch, huge impact.
PS. Stick some letter writing kit goodies in there, like funky greeting cards and vibrant pens. This might inspire them to return the favor. Just as long as you don't forget the return address, that is.
Dorms are notoriously "blah" and I'm sure you spent all summer brainstorming ways to bring some life to an otherwise lifeless space. Our tips? Stick some washi tape in there in some of their favorite colors. If you're not sure, it's a safe bet to pick their school colors. Washi tape is crazy fun and offers your dorm-dweller countless ways to transform their space, without any long-term damage.
Long gone are the days where cross-stitching was strictly associated with grandmothers. If you have the talent, put it to use and create an unexpected sign for their desk! Be Nice or Get Out? With random roommates running rampant, you will not find a more perfect addition for a dorm room out there.
School Spirit Tailgate Banner
Again, pack some life into that dorm by adding a unique and spirited banner to your care package! Take inspiration from this vintage pennant banner to create one for your favorite college-kid.
Pro-tip: Be sure to use pennants from their school. Nothing is more controversial on a college game day than having the opposing team's colors strung casually across one's bunk bed.
Turn those community style bathrooms into a tranquil spa with some homemade bath salts and scrubs. The combination of lemon sugar body scrub and almond essence bath salt simply can't be beat!
We suggest packing them in an ever-versatile Mason jar. Once they run out of their homemade goodness, they can transform their Mason jar into a pencil organizer or cotton swab holder, whatever their heart desires—making this a gift that keeps on giving!
Nothing quite says "home" like a treat whipped up in the kitchen. Bring some of that homemade comfort into their lives with a couple of drool-worthy treats. We personally love the Homemade Maple Nut Toffee and Chocolate Stirring Spoons to add a hint of luxury to their many cups of coffee.
Another easy (and super tasty) idea they'll love? Fill those trusty Mason jars to the brim with a variety of their favorite sugary treats! Whatever you decide to send, package those goodies properly and be sure to make enough for them to share with their roommates!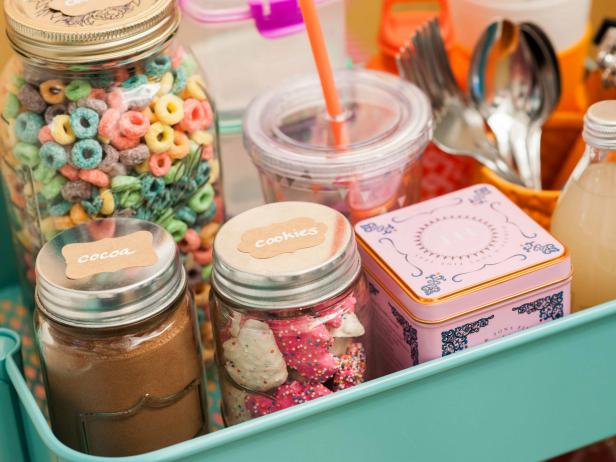 Dorm Room Takeover Food Storage Jars With Sticker Labels Create Colorful Display
Clear glass or plastic storage containers help keep cereal and other essentials fresh. Another bonus? They take up less space than boxes do, and add dorm room style to boot. Dress them up with stick-on paper or chalkboard labels.
Jennie Andrews Photography
Crunched for time but still wanting to throw something special together to send to the dorm? Skip the big box and downsize for a fun college-survival-kit in a can! Fill it with mini life-savers like earplugs, lint rollers, hand sanitizer and their favorite candy. Sometimes it's the little things in life that mean the most and this little kit is sure to mean the world to your college-kid.