Create a Cozy DIY Pet Bed
This snuggly pet bed is the perfect place for your furry friend to nap.
Do you have a pet that loves to snuggle under the covers? We do! One of our recent adoptees, Rocky, cannot sleep unless he is nestled beneath the covers. It turns out that this behavior is normal. Dogs are den animals and certain breeds tend to burrow more than others. Dachshunds, in particular, were bred to burrow. Since Rocky is half dachshund, it makes perfect sense. When we gave him a regular pet bed with a blanket on top, he would get under and squirm until he was comfortable. All that squirming would cause the blanket to fall off. We have the perfect solution: the pet snuggle bed.
fleece fabric in contrasting colors
tape measure
scissors
pins
sewing machine (not shown)
thread in coordinating colors (not shown)
pillow insert (not shown)
Fleece is a wonderful fabric to use for this project. It's inexpensive and comes in a variety of colors and patterns. It's washable and will not shrink. The best part of fleece is that it will not fray after it's cut. This saves a ton of time when sewing because it's not necessary to hem the edges.
Some sewing and a little math are required to make this bed. As long as you can sew a straight line, this bed is not hard to make. This particular bed was made from a square pillow insert. The bed can be made with any size pillow you want. You will need to determine the size of the rectangle you will need to make an envelope style pillow cover. Here's the basic formula:
pillow insert height + 1 inch = X
(pillow insert length x 2) + 6 inches = Y
For example, the pillow insert used for Rocky's bed was 24 x 24 inches:
24 inches + 1 inch = 25 inches (X)~height
(24 inches x 2) + 6 inches = 54 inches (Y)~length
The rectangle for 24 x 24 pillow insert needs to be 25 inches (height) x 54 inches (length).
Once the rectangle is cut to its proper size, it is time to pin the envelope part of the cushion cover. Lay the fabric with the right side (in the case of fleece, the fuzzier side) facing up. Fold the left and right edges in, overlapping them by 4 inches. Measure it to make sure it matches the pillow insert's dimensions or lay your pillow insert on top. You should have at least an inch of space all around it. Pin it in place then sew the top and bottom with a 1 inch seam allowance.
Turn the cover inside out and ta-da; you have a pillow cover! Go ahead and insert the pillow to ensure a good fit. Remove the insert before you start the next step.
The top of the snuggle bed will require a piece of fleece that is larger than the insert. This will allow your pet to fit under the cover. It needs to be as wide as the bottom envelope cover for the pillow and at least 6-10 inches longer. It really depends on how big your pet is and how much blanket space is needed. For Rocky's bed the top fabric was cut to these dimensions:
25 inches (height) x 35 inches (length)
Lay the bottom envelope cover down with the insert opening facing the bottom. Now it's time to pin the contrasting blanket on top. Since the blanket part of this pet bed is larger than the bottom, it will need to be pleated in order to make it fit. A pleat is a fold (or folds) in the fabric, where the fabric is doubled back on itself and sewn in place.To do this, start with pinning the corners of your top piece of fabric to the four corners of your pillow cover base. Then, find the midpoint of each side and pin it down. Pin the midpoints of each space to the left and right of the center of three of the sides. Remember to leave one side (in our case, the bottom) of the cushion open.
Now you need to create pleats. Remember, you will have excess fabric on top because it's bigger than the base. Simply pinch the fabric into a fold until it lines up with the cushion cover on the bottom. Then, fold the fabric over to one side and pin down. Fold each pleat in the same direction. After you complete this for each side of the cushion, you should now have three sides pinned down. Sew the top to the cushion cover.
Play around with different contrasting colors and patterns for a custom look. When it needs to be washed, simply remove the cover and pop it in the washer and dryer.

Pets of all shapes and sizes love to snuggle. The best part of this project is that it can be customized to fit any special furry friend. The snuggle pet bed also makes a great gift for animal lovers.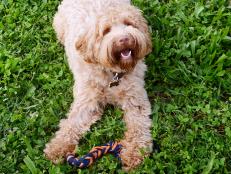 Find ideas and how-to instructions for making low-cost gifts for dogs and cats.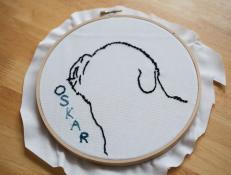 Learn how easy it is to create beautiful embroidered personalized silhouettes of your pets.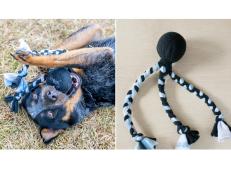 Easy and inexpensive, fabric scraps are transformed into a simple fleece dog chew toy in this clever craft for your favorite Fido.