Bring together all the flavors of this fall favorite in one delicious cake.
Pumpkin spice is in the air. This year take the warm, fall flavor a bit further with this tasty autumn-inspired treat. Coffee flavored cake is topped with pumpkin spice buttercream to create bite after bite of delightful pumpkin spice latte goodness.
2 white cake mixes
2 tablespoons instant coffee
1 cup unsalted butter, at room temperature
1 cup vegetable shortening
7 cups confectioners sugar
2 teaspoons pumpkin pie spice
2-3 tablespoons heavy cream
14 ounces marzipan
yellow, orange, red and brown powdered food color
Make the white cake mix according to the directions using the version with egg yolks. Before adding the water stir in the instant coffee until fully dissolved. Divide batter over 3 pans and bake as directed. Cool completely and then place cakes on parchment-lined baking sheets. Place in the freezer.
Add butter and shortening to a bowl and beat on medium high until smooth and well combined. Add confectioners sugar gradually, starting at low speed and then turning to medium high to combine. After all the sugar has been added beat for 3-5 minutes or until light and fluffy. Add pumpkin spice and beat until fully combined. Add just enough cream, beating between additions, to make a smooth, spreadable consistency. Place 1-1/2 cups of frosting in another bowl. Add orange food color and just a bit of brown to create a dark orange color. Beat until fully combined. Cover and set aside.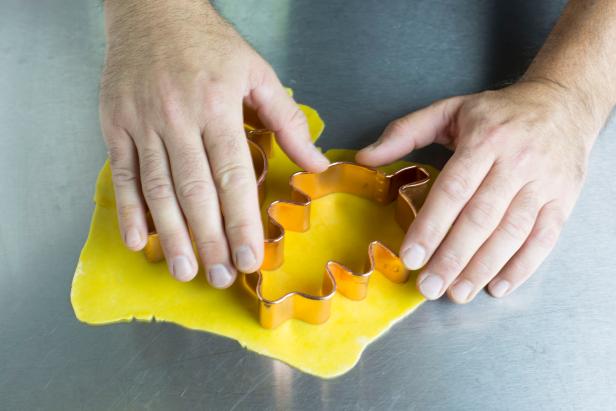 Sam Henderson
Make a delicious pumpkin spice latte cake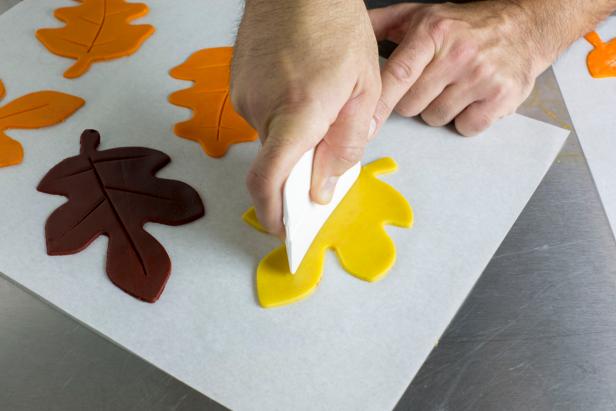 Sam Henderson
Make a delicious pumpkin spice latte cake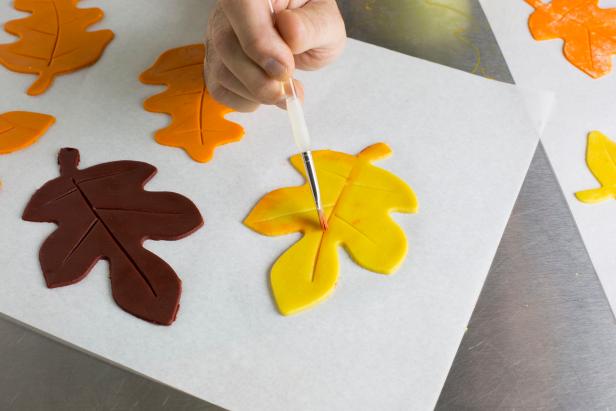 Sam Henderson
Make a delicious pumpkin spice latte cake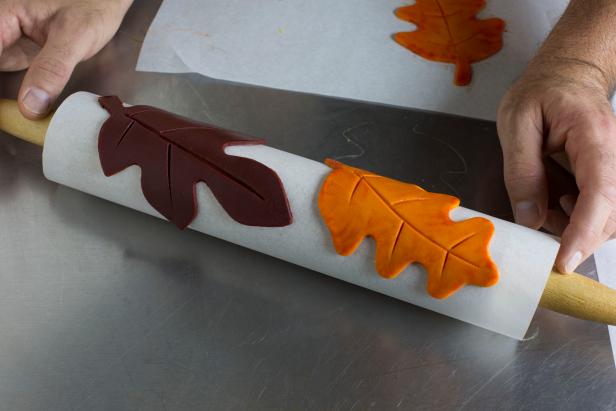 Sam Henderson
Make a delicious pumpkin spice latte cake
Remove cakes from the freezer. Transfer 1 cup of cream-colored frosting to a small bowl and use an offset spatula to apply a very thin "crumb coat" to the outside of each of the cakes. Return them to the freezer.
Divide the marzipan into four equal pieces. Color each piece with one of the four food dye colors. Tip: Keep marzipan covered in cling film when not working with it. Roll each color to about 1/8 inch thick and cut out shapes with leaf cookie cutters. (Image 1) Use a soft straight edge to create veins in the leaves. (Image 2) If desired, brush a bit of darker color around the edges and along the veins by putting some of the color in just a few tablespoons of water. (Image 3) Drape the leaves over rolling pins or other round surfaces to give them some shape and allow them to dry and harden completely. (Image 4)
Place one cake on the serving platter or stand. Apply a thin layer of frosting on top of it and then position another cake layer. Repeat for the last layer. Transfer 3/4 cup of the orange frosting to a microwave safe bowl and heat it for 30 seconds. Pour it onto the top layer of cake and spread it evenly with an offset spatula just to the edge. Add a layer of cream-colored frosting to the outside of the cake evenly with an offset spatula. Tip: For a smooth finish dip the spatula in a glass of water and lightly drag it over the icing.
Place the remaining orange frosting in a piping bag or freezer bag fitted with a cake decorating tip. Make a bead of frosting around the top edge. Lastly, position two of the marzipan leaves on top of the cake and the remainder around the base of the cake.
Keep refrigerated until ready to serve.