Making Good: Random Acts of Crafts and Kindness
A mom's quirky craft kits for kids mix creativity with altruism.
Mom Nicole Jakob is using crafts to teach kids how to perform kind acts in unexpected ways and without expecting recognition.
Through her Random Acts of Flowers kit, kids make cute, colorful bouquets and are instructed to hang them in places that beautify the community, such as attached to a chain-link fence or near a portable toilet. Or they can surprise people, such as garbage collectors, who often don't receive appreciation.
"This is a fun, simple, sweet thing for them to do," she says. "They do have the power to just make someone happy with a kind, anonymous gesture."
The four quirky activity kits were introduced at the 2016 Toy Fair in New York City and named a 2016 Best Toy for Kids finalist by the American Specialty Toy Retailing Association. The kits are sold in toy stores in the U.S. and Canada, online retailers such as UncommonGoods.com and the Guggenheim Museum's gift shop.
The kids' crafting kits, which are designed for girls and boys ages 8 and up, have a mischievous bent.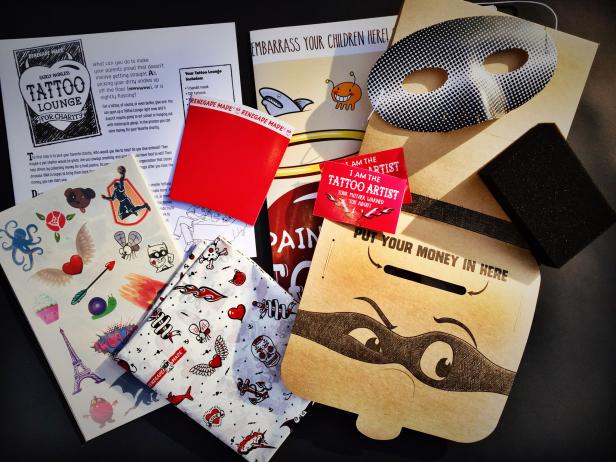 DIY Kids Activity and Temporary Tattoo Kit for Charity
The Fairly Painless Tattoo Lounge for Charity Kit is a DIY activity for kids that includes 125 temporary tattoos, an advertising poster and a collection box. The kit is one of Part Time Renegade's four kits that teach kids anonymous altruism and give a portion of the profits to charity.
For example, the Fairly Painless Tattoo Lounge for Charity kit is an alternative to the traditional lemonade stand. Kids choose a charity and raise money with their temporary tattoo parlor. The kit comes with more than 125 temporary tattoos, advertising flyers that say things like, "Embarrass your children here! Get a tattoo," and supplies to set up the tattoo lounge in their yard, at a park or elsewhere.
Jakob, who worked in marketing before becoming a stay-at-home mom for her three kids, came up with the idea for the kits and her Illinois-based company, PartTime Renegade, while on one of her regular long walks to clear her mind. She saw parents bragging about their kids' accomplishments on social media and wanted to create a way for children to do good anonymously.
"I know that people are innately proud of their children, as we are, but it made us question what the motivation is for doing something. What's your kid going to do when nobody is watching?" she says.
She also was intrigued by the guerilla art movement, where people leave anonymous art to share ideas or to surprise people with fun artwork. She thought it would be great to blend anonymous altruism with street art.
"The focus is on the kids doing these kind acts anonymously, without recognition," she says. "We give a portion of the profits of each kit to charity, also. It's all about passing along the good."
But she knew the kits needed to be fun and a bit offbeat for kids to be willing to give them a try alone or with friends. The kits say they are for 8 years old and up and include supplies such as bandit masks for kids to disguise themselves in public. With the Sidewalk Chalk Tagging Kit, kids use chalk paint and stencils to write funny and inspiring phrases, such as "The best things in life aren't things."
"I made it cheeky and edgy," she says.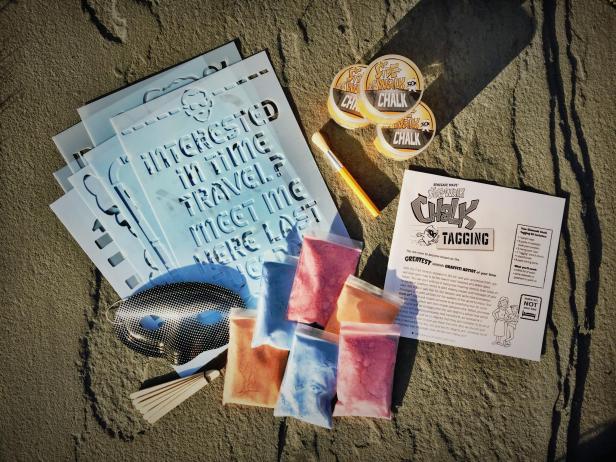 DIY Kids Craft Activity Kit with Sidewalk Chalk Paint
The Sidewalk Chalk Tagging Kit is one of four kits that teach kids anonymous altruism. With this kit, kids use washable sidewalk chalk paint to graffiti their communities with messages like "Make Art, Not Your Bed" and "The Best Things In Life Aren't Things."
She hopes girls and boys will experience the simple pleasures of making someone laugh or smile through the crafts. In the Random Acts of Flowers Kit, a leaf tag attached to each flower explains why this is a gift and asks the recipient to do something nice for another person in return. The flowers can be placed in a cardboard vase that comes with the kit.
"We tell them, go put on your bandit mask and put the vase up. The kids can make something that somebody would want to have and take," she says.
Crafts are a way to teach kids to think of others, instead of parents preaching it, she says.
"It's about giving kids power and saying … 'You have the power to change somebody's day,'" she says. "It's a big power."