Make Your Campfire Magical with a DIY Swedish Torch
Host a shindig with a campfire that will burn, baby, burn with little maintenance. S'mores, anyone?
A Swedish torch makes a magical, long-lasting campfire. Its simple cuts are designed to encourage the log to burn from within, which makes it the perfect, self-contained accessory to a campfire – whether in your own backyard, or at your campsite. The only tool you need to make your own is a chainsaw, so follow these easy steps and make it happen.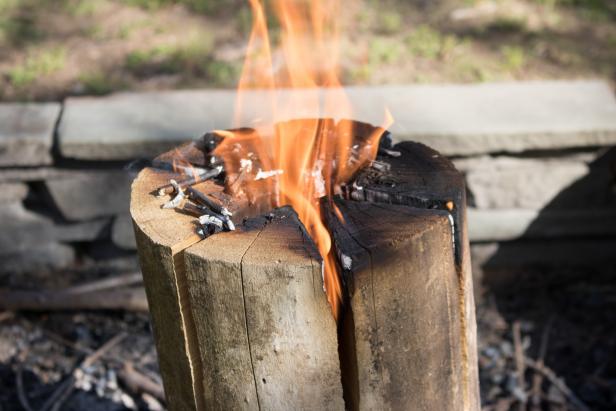 How to make a Swedish Torch
We happen to have easy access to fallen trees, but that doesn't mean that all of our supply is dead and dry, so when a living tree falls suddenly we cut it up and preserve several pieces in a dry area for a few seasons until it's ideal for burning clean. You'll want to use a cross-section of a tree trunk that's completely dry, at least 10" wide, and cut flat so that it can stand upright itself.
Make Cuts With in the Trunk With a Chainsaw
The magic in the Swedish torch is in the way its cut. Think of the surface area like a pizza, and use a chainsaw to cut "slices."
How to make a Swedish Torch
Be careful to cut into the log but not completely down to its base. You still want it to be intact as a single log. Three or four cuts into the log should do, but if you're working on an exceptionally wide log, you might want to make more "slices."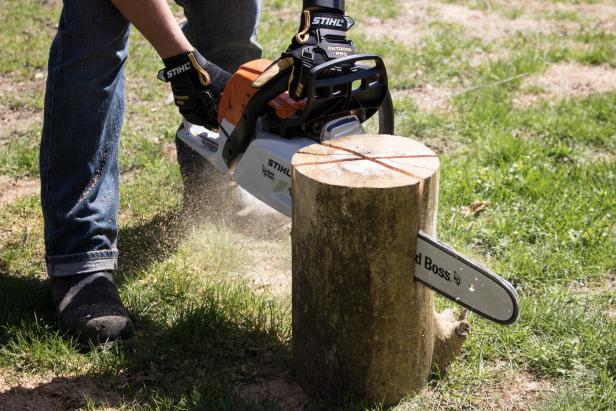 How to make a Swedish Torch
After cutting, the tip of each "pizza slice" is essentially a thin, dry piece of wood. There will also be some dry sawdust captured between the slices, which certainly doesn't hurt when it comes to lighting your log.
Gather your kindling atop of the standing log, just like you would do if you were building a fire in a traditional pit. As it begins to burn, bits of kindling will fall within, and begin to ignite the inside of the log. The fire will begin by latching onto the tips of each "pizza slice," and gain momentum to slowly burn outward.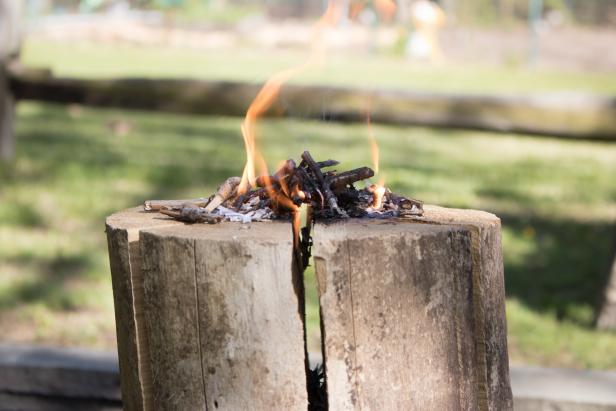 How to make a Swedish Torch
Sit back with some s'mores and your favorite stories and have yourself a cozy-good time!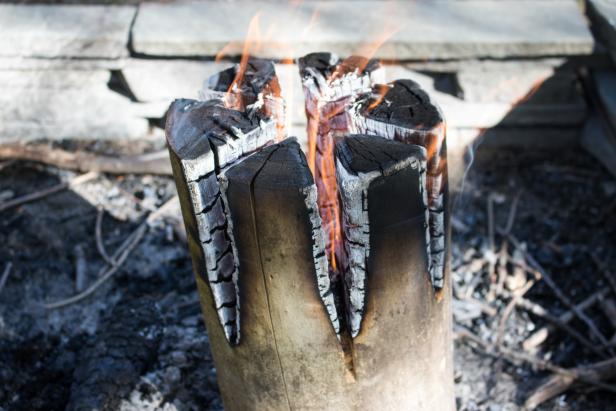 How to make a Swedish Torch