The simplicity of this rustic Shaker peg rack adds miles of utility to any space.
My house is covered in what I like to call "old man handiwork." The "pegs" in the coat closet are at best metal wire hooks screwed into a piece of pine. Or worse, 4" nails through a piece of pine. When I moved in, a similar rack was attached to the wall inside the back door with construction adhesive and 3" nails. While the utility was there, the aesthetics left something to be desired.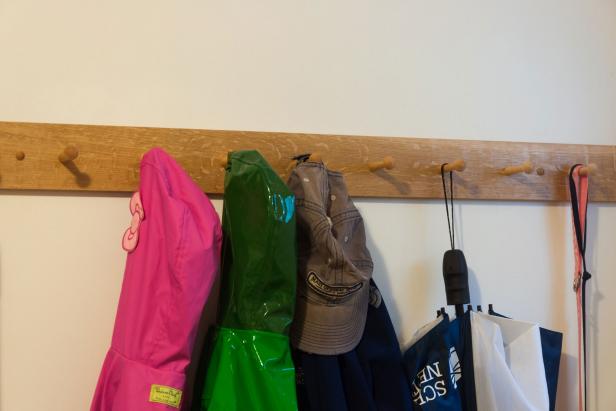 Making A Shaker Peg Rack Gives You A Sense of Accomplishment While Providing Beauty and Utility To Your Home
A Shaker peg rack is simple in form and big on utility. Wrapping an entire room, the Shakers relied on the pegs for hanging just about anything, from cabinets, to chairs, candles and clothing. Everything imaginable came off the floor for organized storage and to aid in keeping spaces tidy and clean. For me, just inside the back door of my mudroom seems the perfect place for pegs. I can hang mops and brooms, umbrellas, coats and hats, and have a convenient location for the dog's leash. And for about $25 and a few hours of work, you can make a Shaker peg rack too.
The rack itself is made from a simple piece of wood—in this case a nice piece of quarter sawn white oak—with pegs placed evenly across the surface. It lends itself to simple details along the edge and can be finished in a variety of ways. A piece of antique molding would be a great foundation for this project.
The first step is selecting the piece of wood you want to use. I love using beautiful wood and found this gem among my pile. Cut it to the length and width you desire. I like mine to be about 4 1/2 inches wide. The length for me was determined by the distance from my cabinets to the door.
Next lay out the distance from the pegs. I start by finding the middle of the board. Using a pair of dividers set at 5" span, I mark the positions of the rest of the pegs. I prefer dividers for this task because I find it simpler than using a ruler and pencil. I set my pegs 5" apart because I find that this is an optimal distance for hanging coats.
Drill 1/2" holes in the positions you marked. I like to use a forstner bit in the drill press, but a standard twist bit in a cordless drill will handle the task just fine.
Now is a great time to add some details. I love the elegance of a chamfered edge (45 degree angle) and often use sandpaper to knock off the hard edges. A block plane is the perfect tool for a quick and simple chamfer. Use a round-over bit in a router to put a cove along the edge or maybe an ogee is more your speed.. The point here is that you can get creative with the edge.
You can use a variety of methods for fixing the rack to the wall. By far the simplest way is to use screws and wall anchors. A couple of 3/8" button caps will cover the screws nicely.
Before you pound in those pegs, sand to your desired finish (we'll talk about finish in a moment). I usually sand to 220 grit. It provides a smooth surface with just enough texture for any finish to take hold.
Pegs come in a variety of sizes and wood species. I used 3 1/2 inch birch pegs for this project. A bag of 25 on the internet will cost about $10.00, while a bag of 10 walnut pegs will get you up near the $20.00 range. The pegs come ready for finishing, but hit them with a good once over with sandpaper to be sure. Get out a mallet and a little glue and pound them home! One note about pounding - a metal hammer may damage the pegs, so be sure to place block of wood over the top to protect it. And you might have to put in a little more effort than you are expecting.
There are a thousand and one ways to finish a project like this. Get creative here. Paint is a good option. Milk paint would be appropriate. You could do a 2-tone paint finish and add a little distressing by removing some of the top color to expose the bottom color. My preferred finish these days is Danish oil—it's part varnish and part tung oil. It dries hard, it's not glossy and it protects the wood from a lot of abuse. Since I used a piece of quarter sawn oak, painting was definitely out and Danish oil was in.
Once the finish is dry, hang the rack and put it to use!