I Scream, You Scream, We All Scream for (Homemade) Ice Cream!
Ice cream lovers, mark your calendars: July 15th is National Ice Cream Day.
National Ice Cream Day may be your new favorite day of the entire year. (No shame, it's ours too!) With such a momentous holiday in our midst, it only makes sense to celebrate accordingly, right? Here are some of our best ice cream recipes you can whip up at home. These are so good, you're guaranteed to dive in for a second (or third) bowl. Hey, we aren't judging!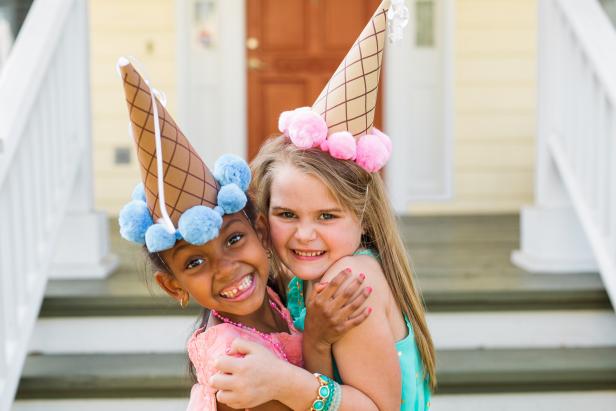 Ice Cream Cone Hats
Keep the kids entertained at their next party with this whimsical hat project. You'll need: brown or tan card stock, brown marker, scissors, craft knife, hole punch, hot glue gun and glue sticks, 3/8" width elastic, pom poms in pastel colors, ribbon and a downloadable cone template.
Our love affair with peanut butter starts in childhood and only grows stronger with age. We say stray from your PB&J on wheat and incorporate that gooey goodness into a frozen treat that properly commemorates this wonderful holiday. We've got a Peanut Butter Cookie Ice Cream recipe for you and even a PB ice cream recipe for your beloved pooch that will have them drooling (more than usual)!
Nothing says summertime quite like fresh-picked berries. Well, except for a bowl of sweet, berry ice cream. We've got two recipes that incorporate our favorite flavors of the season that will have you scraping your bowl for one last bite. We think they're berry delicious, but we'll let you be the judge.
With the temperatures steadily climbing this time of year, we can't think of a better way to cool down than with a hefty serving of fresh, mint ice cream. Our go-to mint-fix for NICD? The Backyard Mint Ice Cream recipe, courtesy of Jeni Britton Bauer. Using just a handful of mint from your own backyard or local farmers' market and the stuff that's already in your fridge, this recipe will gift you the frozen, mint cream of your dreams!
With a fruit this juicy and sweet, it would be wrong not to take full advantage of it for a summer dessert. We present to you, Peach Ice Cream: two ways. Both equally creamy, both equally delectable. These treats are frozen, peachy-perfection.