How to Upcycle Salvaged Tiles Into Pineapple Coasters
Craft some adorable coasters to gift or to keep.

Made+Remade recently teamed up with a local architectural salvage shop to make upcycled treasures from castoff items. The salvage shop is connected to Knox Heritage, which is an organization that preserves structures and places with historic or cultural significance in Knoxville, Tennessee. Knox Heritage's salvage shop is full of architectural elements from old homes, items donated from businesses and discarded junk from homeowners.
Many salvage shops will have piles of square tiles, but you may not be able to find enough that match to use in a full renovation project. Instead, grab a handful and make inexpensive coasters! You can also buy square tiles for a low price at hardware stores, or you might even have some left over from a past project sitting in your garage.
Coasters make great gifts for the holidays, birthdays and housewarming parties. They're also great for "just because" gifts for others or yourself. Starting with blank tiles, the options are endless. We used cute pineapple-printed wrapping paper and feather transfers to decorate ours. Get started by gathering your supplies.
square, ceramic tiles
scissors
roll of adhesive cork
pineapple wrapping paper or other decoration
decoupage
paintbrush
clear acrylic spray
Cut out squares of cork and attach to the back of the tiles. This will prevent the coasters from scratching any surfaces.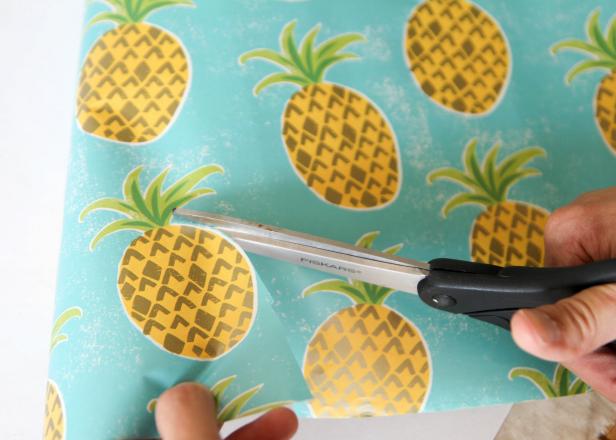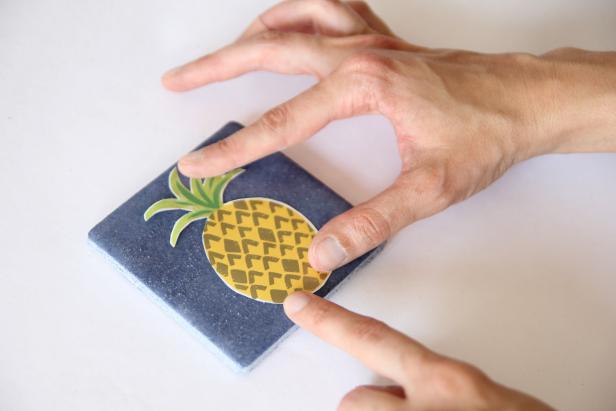 Laura James
Place the cut out pineapple paper on the center of a square ceramic tile.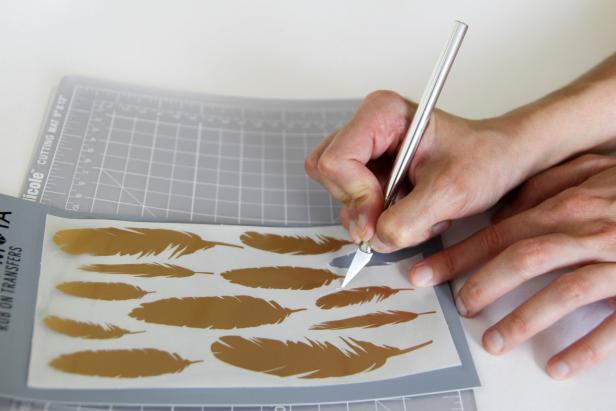 Laura James
Cut out feather transfers using a utility knife.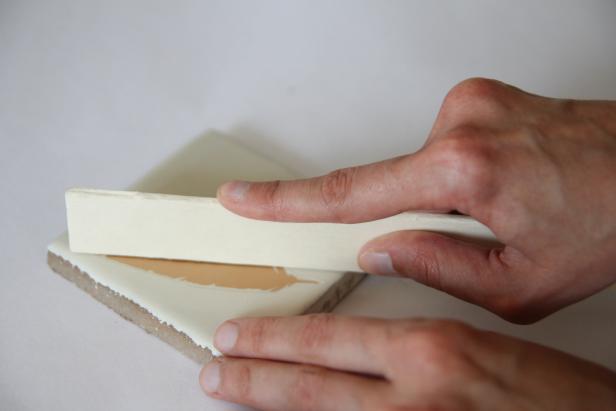 Laura James
Use a paint stick to rub on feather transfer.
Laura James
Peel off plastic from transfer to reveal feather decoration.
Cut out pineapples from the wrapping paper and place on tile.
If pineapples aren't your thing, you can substitute almost anything at this step, like feathers, for example. To apply feather transfers, cut them out using a utility knife. Remove plastic and attach feather. Rub on smoothly with a paint stick or even a credit card. Peel off plastic.
Paint on decoupage. Apply coats in alternating directions. Paint one coat horizontally, and then let it dry before painting a coat of decoupage vertically. Apply at least 10 coats – the more, the better!
Last but not least, spray on a clear acrylic sealant to help ensure water from a glass won't cause the paper or transfer to come off.
Floppy Disc Coaster
Now that virtual clouds and external hard drives are the norm for backing up digital files, floppy disks have become extinct! Add a sense of nostalgia to your tabletop by using floppy disks as drink coasters. These can simply be placed on the table and used without any crafting at all, or they can be made waterproof and easy to clean by treating them with resin.