How to Make a Beautiful, Fresh Magnolia Wreath
Add a statement piece to your front door with this simple and inexpensive DIY fresh magnolia leaf wreath. 
Magnolia leaf wreaths are stunning and can be used as year-round or holiday décor. However, depending on where you purchase, they can cost a pretty penny. I decided to make my own wreath from the fresh leaves of the magnolia tree in my front yard instead.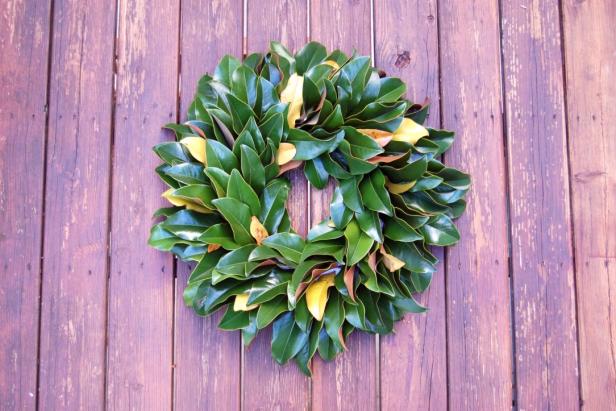 How to Make a Fresh Magnolia Wreath
Magnolia wreath made from fresh magnolia leaves in fall.
If you have access to a magnolia tree, then this DIY will cost next to nothing—just a little time and patience. No wire. No glue. No hassle. This project is simple and (if I do say so myself) the results are beautiful.
Supplies needed for this project are a foam wreath form (I used a 10" form), pruning shears, and approximately 80 magnolia leaves. The only purchase I needed to make was the wreath form which was $2.00 at a craft store.
To start, grab some pruning shears and cut individual magnolia leaves as close to the branch as possible. This keeps the stem long which is necessary for insertion into the foam wreath form. Since I clipped the leaves for my wreath in late October, some had already begun to yellow. I decided to use a handful of yellow magnolia leaves to add interest to my wreath. I chose leaves that were medium to large in size to make the wreath look robust.
Begin your wreath by inserting the stem of an individual leaf into the outermost side of the form. If you have trouble inserting the stem, grab a small screwdriver or other strong, sharp object and pre-drill a hole that you can work the stem into. Make sure to do this at an angle so that the leaves aren't sticking straight out of the form.
Continue inserting individual leaves roughly a half inch apart. Each leaf should sit at the same angle against the form.
Do this until you've covered the entire outside of the form in one solid ring. You will make four more concentric rings until the white of the wreath form is no longer visible.
If you are using colored leaves, remember to insert them at different points along the way. Step back every once and while and make sure the colored leaves are balanced around the entirety of the wreath.
Fill any gaps or thin areas with remaining leaves. Clip more leaves if needed or consider incorporating the magnolia seed pods to add more depth to the wreath. The magnolia leaf wreath can be hung indoors or outdoors. It makes for the perfect fall front door décor.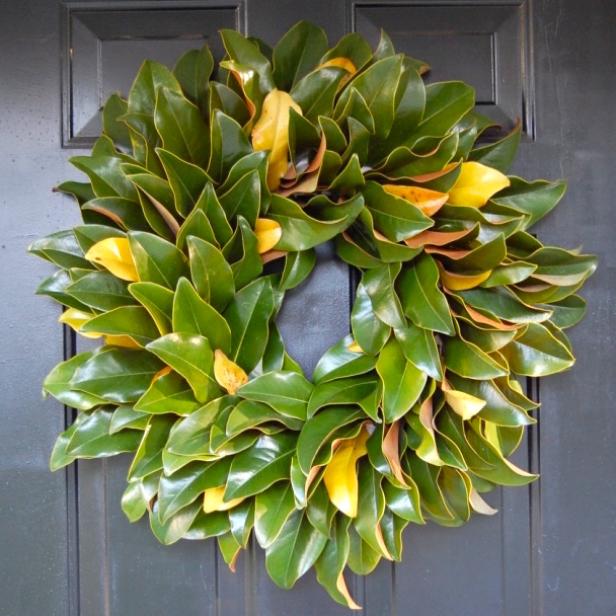 DIY Fresh Magnolia Wreath for Front Door
Green and yellow fresh magnolia leaves make up this classic wreath.