Last Minute Extra-Spooky Halloween Decorations
Put together a DIY haunted house, if you dare. 
Create a space that will have your Halloween guests looking for an escape. Eyeballs, hairy-legged spiders and dripping, melty blood? "Oh my!" is right.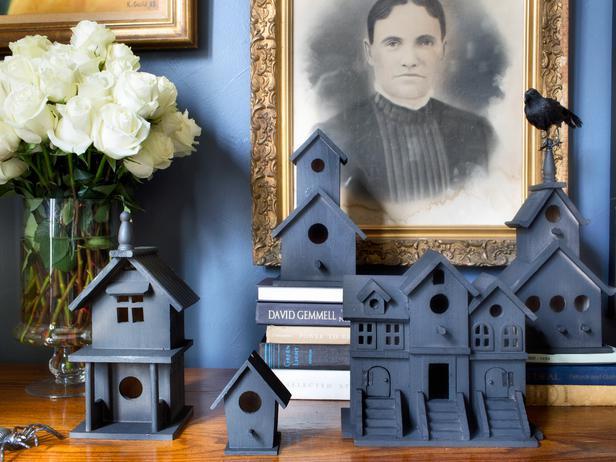 DIY Mini Ghost Town
Create the look and feel of a haunted table top town with basic bird houses or inexpensive holiday town figurines painted black. Gather a group of pieces in different shapes, colors and sizes in a well-ventilated area, then update them with two coats of black spray paint. TIP: Flat black paint gives the pieces a more aged, worn look whereas gloss finish creates a more polished, glam look.
Greet visitors in a ghoulish fashion. This group of dangling ghosts will send chills down guests' spines and this eyeball wreath is sure to take them by surprise.
How-to: Scary Googly Eyes Wreath
The glow of blood-dripping candlesticks will force guests to reevaluate their safety and your sanity. We love how they take a pretty, delicate spin on horror decor.
Craft foreboding and spooky shadows for your window to ensure all passersby experience a true fright.
How-to: Halloween Window Silhouettes
Make your mantel moody, morose and magnificent with dressings of the deadliest holiday of the year. We think this printable bloody "beware" banner serves as a particularly beauitful addition to the living room.
Nothing spells "spooky" quite like the presence of (faux) human skulls. Stick them on the fireplace or dangle them from the chandelier. Whoever comes across them will be frozen with fear. Even crazier? Baby doll-head planters. It's the stuff of nightmares, folks.
How-to: Creepy Doll-Head Planters
Make space for creepy, crawly spider decor and you can be sure that arachnophobia will be alive and well in your home. What better way to add fun to cocktail hour than to stick a gigantic, hairy spider on your bar cart?
How-to: Create a Spooky Spider Bar
Carve out a sinister smile for a jack-o'-lantern that is hopelessly haunting. These stabbing psycho, scary skulls and flaming beast pumpkins are enough to keep us up at night!
More Halloween Fun From Made+Remade