8 Edibles You Can Grow Indoors
I had my first taste of garden envy when I downsized from a three-bedroom house to a 555-square foot apartment.
At the old house, our landlords had planted fennel, rosemary and sage that seemed to thrive all on its own. Our dog always smelled like rosemary. We grew herbs on the front porch. I once dumped a neglected strawberry plant on the side of the house and was shocked to find berries the following spring.
Apartment life has been a lesson in patience. I spent my first spring carefully observing how much light my apartment got, and finally took the plunge on a 'Sungold' cherry tomato plant. I figured if I could grow tomatoes, I could grow practically anything. I was rewarded with a few sweet fruits that opened the door to herbs, peppers, strawberries and flowers I originally thought wouldn't be possible.
"Just have a go," says Zia Allaway, author of Indoor Edible Garden, a manifesto of all the ways you can grow food indoors or in small outdoor spaces. "A book like this gives them lots of ideas of what they can grow, even if they have no experience."
I know what you're thinking: Sure, you can grow herbs and maybe lettuce indoors, but that's it.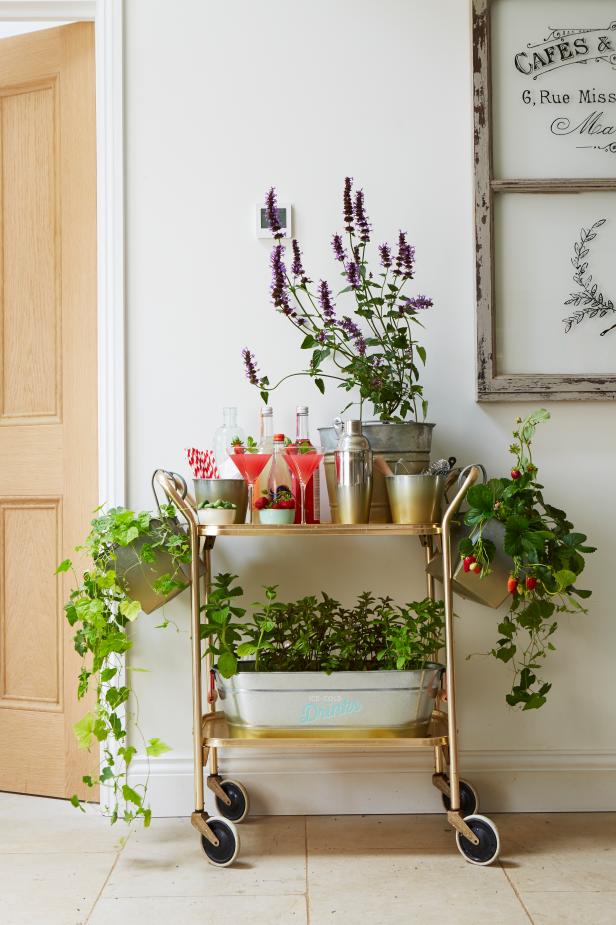 Cocktail Garden Bar Cart
It's a bar and a garden — what's not to love? Cucamelons and 'Toscana' strawberries cascade from planters on the bar cart's handles. Shade-tolerant mint grows in a container on the bottom shelf. Hyssop — an aromatic herb with beautiful purple flowers — tops the whole thing off.
Dorling Kindersley: Will Heap; Images and text of Indoor Edible Garden reprinted by permission of DK, a division of Penguin Random House LLC, 2017 by Zia Allaway
Think again. While downsizing is more of a "trend" here in the United States, Zia says in the United Kingdom small spaces are commonplace, and many lack outdoor spaces entirely.
"I try to give people the confidence to grow both edible and ornamental plants, which many people think is more difficult than it really is," she says. "A little chili plant will produce lots of fruit on a sunny windowsill, and lettuce is very easy to grow in a shadier room – both also look like beautiful house plants, so you get the best of both worlds."
The main two things to watch for in an indoor garden are light and water. Taking cues from plant hardiness maps, Indoor Edible Garden divides the home into 8 growing zones based on natural light, then provides suitable plants for each zone. "Then simply keep them watered and fed," she says.
Convinced yet? Try these edibles, plus get more growing tips from Zia:
Dorling Kindersley: Will Heap; Images and text of Indoor Edible Garden reprinted by permission of DK, a division of Penguin Random House LLC, 2017 by Zia Allaway
Microgreens just need a warm, sunny window – they can thrive with four hours of sunlight. You can make a planter with pretty much anything you have lying around – plastic or foil food containers are a great low-cost option. Press your seeds of choice into moist potting soil, then use a spray bottle or mister to keep them moist. Seeds usually sprout in about a week.

Fresh herbs can transform any dish, and you'll love the color and fragrance they bring to your home, too. If your space is low on light, start with mint – it's typically the least fussy and doesn't mind the shade.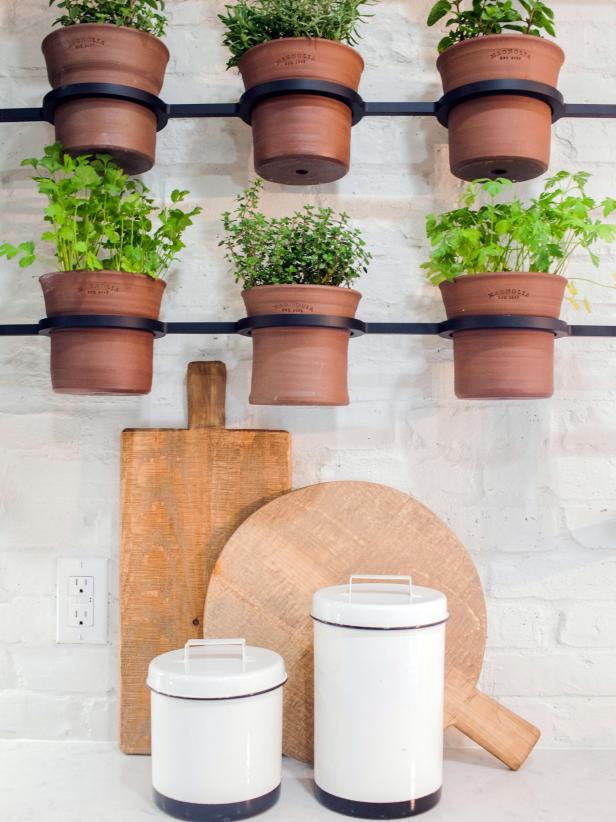 Black Metal Mounts and Ceramic Pots for Indoor Herb Garden in Bright, White Kitchen
This kitchen features an indoor herb garden designed by Reckless Iron Works, as seen on HGTV Fixer Upper. A white brick wall and white granite countertop creates a bright backdrop allowing the pot color and greenery to pop. Wood cutting boards and ceramic cookie jars are functional and decorative.
Your favorite flowers can also be your favorite food! Marigolds, nasturtium, violets, pansies, violas and even orchids (Dendrobiums) can all be tossed into salads, used to garnish drinks and more.
Spice chasers will love growing chiles on their windowsill or patio. This one has been tested by yours truly, and small ornamental varieties work best here – a potted Thai hot pepper plant seemed to grow endlessly and were fun to offer to adventurous guests.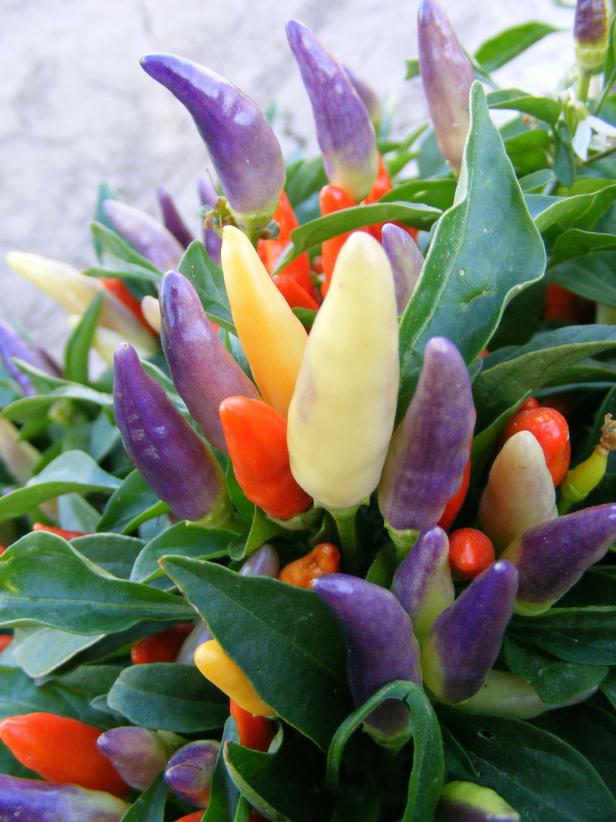 Ornamental Peppers
Ornamental peppers are popular holiday plants with colorful, decorative fruits. Give your plant a cool spot that gets lots of bright light, and water as needed to keep the soil from drying out. Some ornamental peppers have been treated with chemicals, and others just aren't good for eating, so enjoy the fruits only as ornamentals. Don't consume them or let children or pets come in contact with them. Annual ornamental peppers can stay in their pots or be transplanted into the garden after all danger of frost has passed. They'll grow until the first hard frost. This variety is 'NuMex Easter.'
Strawberries are resilient. I've been growing 'Toscana' strawberries in containers for years, and there's been more than one occasion where I thought the plant was dead only to see it spring back to life come spring.
Try growing them in a window box or basket. Stick with it – even in large gardens, strawberries typically aren't very productive in their first year. Like you might deadhead a flower, harvest the berries often to encourage more growth.
One of the best gifts I ever received was a potted lemon tree from my mentor. The tree's thorns were becoming a growing concern for her young daughter.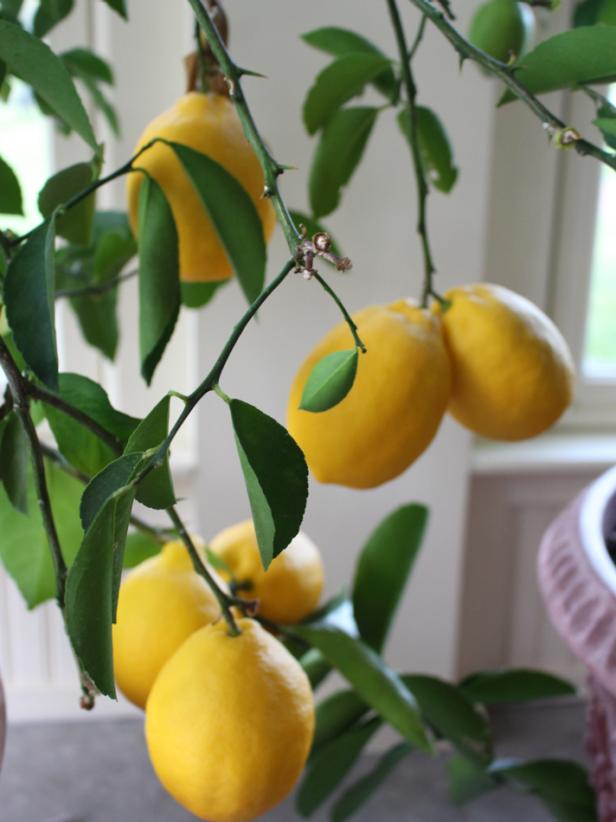 Meyer Lemons
Not every garden property can boast an orangerie, but the exquisite Millwood, Virginia home of Elizabeth Locke features not only an orangerie for her citrus plants and indoor pool, but an ice house, conservancy, parterre gardens, a chicken coop, edible gardens and a black walnut tree that is one of the largest in the Commonwealth.
Citrus trees can make beautiful, productive houseplants with the right conditions. Even my mentor was shocked with how productive the tree had been.
Zia warns to make sure the plants have a cooling period in winter to fruit well – this can be resolved by placing the plant somewhere like a (bright) unheated garage or sunroom. Let the trees spend the summer outside, if possible.
I was pleasantly surprised to see a handful of cucumber projects in Indoor Edible Garden. One of the projects involves adding casters to a trellis-planter combo to ensure the plant receives light on all sides.
Zia also tried her hand at growing cucamelons (Melothria scabra) – a Mexican cousin of the cucumber that took the internet by storm last summer thanks to its tangy fruits that look like miniature watermelons.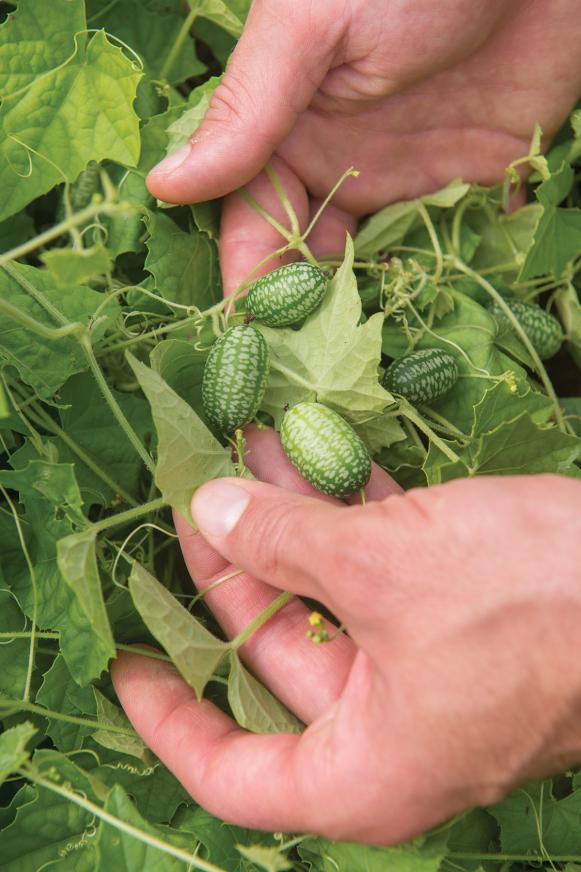 Mexican Sour Gherkin
Marketed as a cucumber, this little jewel isn't even a cuke cousin, but it makes fabulous pickles. You'll find it listed as a staple in botanical cocktails, salads and stir fries. The flavor is a fresh watery burst with lemony tones. No need to peel—just pop 'em into your mouth whole. Grow on a trellis, and the tiny fruits won't weigh the vine down.
Yes, your favorite summer fruit can be grown indoors, too. Cherry tomatoes can be grown in hanging baskets and there are now many varieties being breed specifically for growing on patios and in small spaces.
Give indoor tomatoes as much light and warmth as possible, keep them well-watered and make sure to read the plant tag to know when to fertilize.