Learn how to turn ripened bananas into a healthy frozen summer treat for all ages.
Now that school is out for the summer and the kids are home, I'm always looking for fun treats that are an alternative to ice cream. I remember growing up, nothing went to waste and those over-ripened bananas often ended up in the freezer, turned into some of our favorite treats. This week, I decided to bring back that memory. The kids and I created delicious frozen banana pops complete with sprinkles and nuts.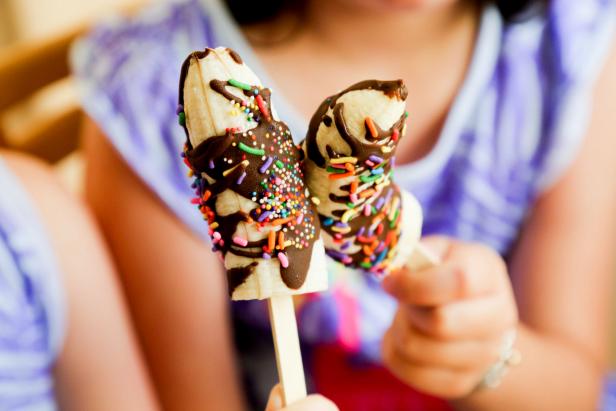 Make These Frozen Summer Treats
Learn how to create these delicious frozen banana summer treats.
The trick to making these treats is the hardening chocolate shell topping that is found in the grocery store near the ice cream cones and sundae toppings. It's amazing how quick and fun these treat are to make.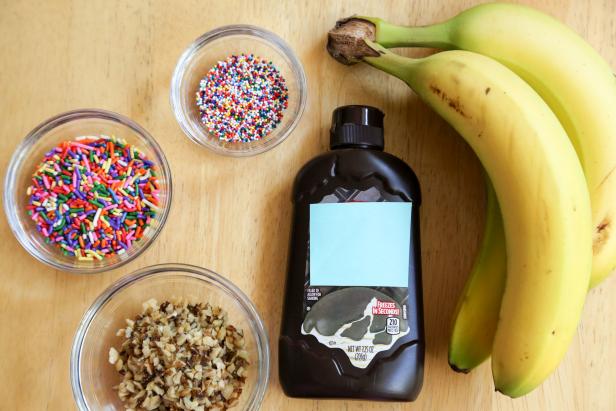 Ingredients for Summer Banana Treats
Gather bananas, topping, sprinkles and nuts
ripe bananas
sprinkles
chopped nuts
popsicle sticks
parchment paper
baking sheet
freezer
popular chocolate topping that hardens when applied to ice cream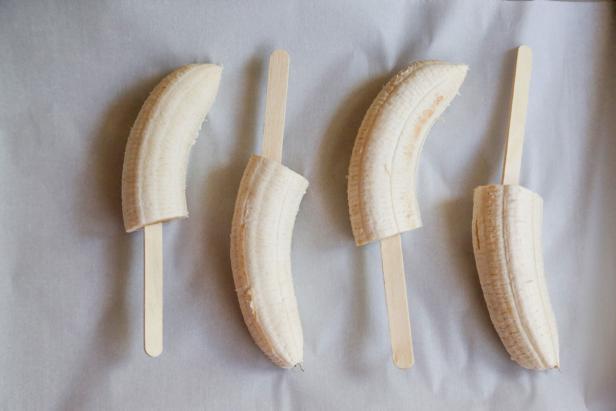 Freeze the Bananas
Lay out the bananas on a baking sheet, insert popsicle sticks and freeze them overnight.
Begin by laying a sheet of parchment paper on the baking sheet. Next, cut the bananas in half and insert the popsicle sticks into the cut end. Then place the baking sheet with the bananas in the freezer overnight.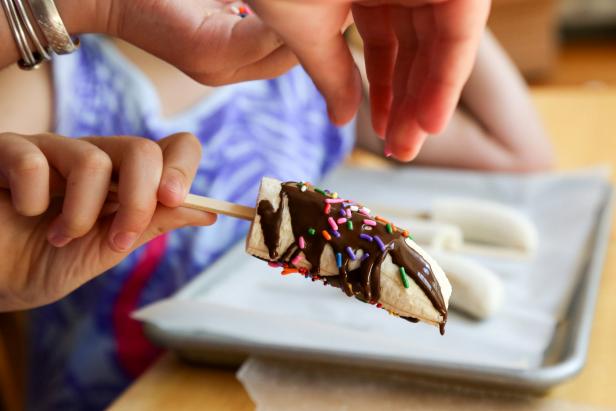 Add Toppings to Banana Summer Treats
Drizzle on the chocolate and then sprinkle on the toppings.
For the next part you will have to work quickly, as the chocolate begins to harden in seconds. We found it helpful to do this with two people. One person held the frozen banana while drizzling on the chocolate topping while the other applied the toppings. As you coat the banana with the chocolate topping, twist it around to minimize dripping and coat the banana.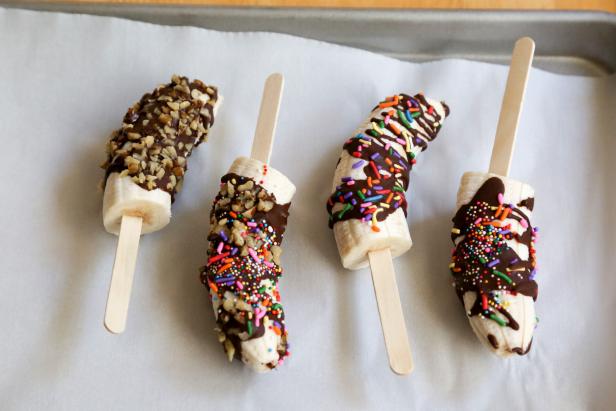 Summer Banana Treats Ready to Eat
Frozen Banana treats are ready to eat once the chocolate has hardened.
Return the chocolate and topping covered banana back to the baking sheet lined with parchment paper. Repeat the process on the remainder of the bananas. Once the chocolate shell has hardened enjoy!