Clever Log Crafts + Upcycling Ideas
So many crafty ideas for that big branch stash.
My bookmarks and pins will quickly tell you that crafts and decor that incorporate logs and other big branches are among my favorite DIY projects. From eye-catching tabletop decorations to resourceful garden accessories, you can put logs to reuse in a number of ways. Get some inspiration and try your hand at a few of the projects below.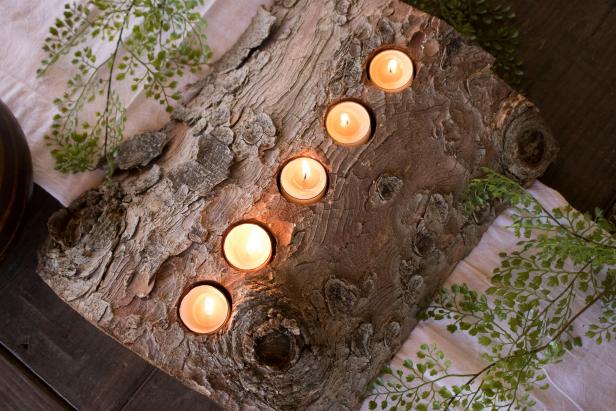 Projects That Put Large Branches and Logs to Use
Make a Rustic Centerpiece
I salvaged a bunch of bark trimmings from a neighbor who was having several fallen pines planed into 2x8 boards. I wasn't even thinking at the time that they'd make pretty centerpieces, but low-and-behold, with the flat bottom edge and gorgeous raw bark, it was the inspiration for one of my favorite candle holders, that one you see above.

I created the inset spaces for the candles by measuring across the rough surface to plan for 5 tea lights. Using a 1-1/2" hole saw, I drilled into the wood. I wanted the tea lights to hover flush with the bark, so after the hole saw defined the circular space for the candle, I went back and used a paddle bit to bore out the holes in the log to the precise depth. You can skip the two-step approach by purchasing a paddle bit that is the same diameter as your candle, but this is an easy workaround too.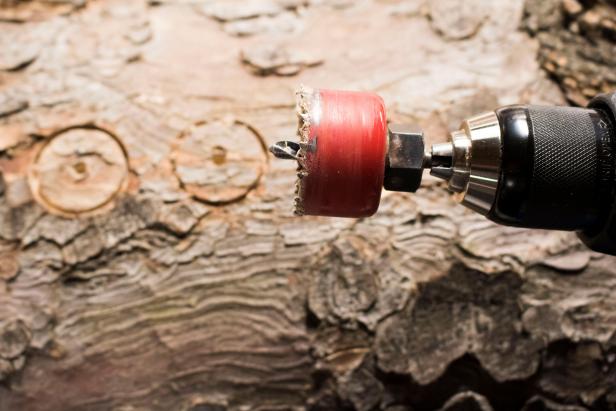 Projects That Put Large Branches and Logs to Use
I stained the inside of the cut holes, and then simply dropped in the tea lights after the stain had dried.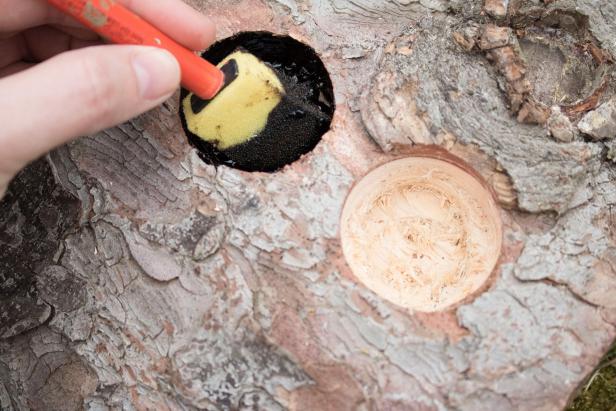 Projects That Put Large Branches and Logs to Use
Make a Cake Tray, or Trivet For Hot Dishes
True story, I used these logs as a base beneath my wedding cake, and you can see a tutorial of how exactly I did that in this post on my blog. We still use the cut branches today, often when we're hosting dinner and need to elevate hot dishes off the tabletop a little bit while also amplifying the presentation. It's easy, pretty, and our friends have often asked us if we could cut them pieces for their own home.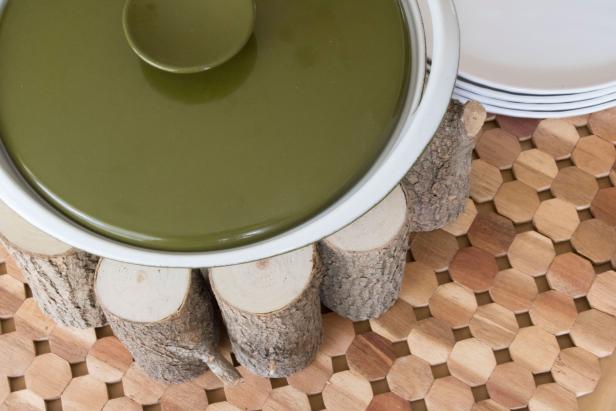 Projects That Put Large Branches and Logs to Use
Make Not-So-Ordinary Rustic Candlesticks
We think the oceanic paint colors used to customize this set of rustic candlesticks would look particularly good in a beach house (or any house, who are we kidding!). Make pieces of cut branches into candlesticks by drilling into the end with a paddle bit close-to or ever-so-slightly smaller than the diameter of your taper candles; you won't want the tapers to be too loose, because they could tip over. The dipped effect is easily painted on (it's less messy than actually dipping into a big container) and we recommend that you use a foam brush to apply the paint. Choose any colors you like, but gold and silver are also especially pretty, and are an easy way to make wooden branch candlesticks feel a little more formal.
Projects That Put Large Branches and Logs to Use
Make Our Favorite Pencil Holder
Take control of the craft table by organizing your kid's colored pencils, crayons or markers into a simple tabletop holder. I'm certainly not the first person to make one of these, but they're so easy that you too can make one in just a few minutes. Cut a piece of branch to a 3-5" length, and find a drill bit to bore holes in one of the cut ends. The drill bit should be just a little bit bigger than the objects you're hoping to store.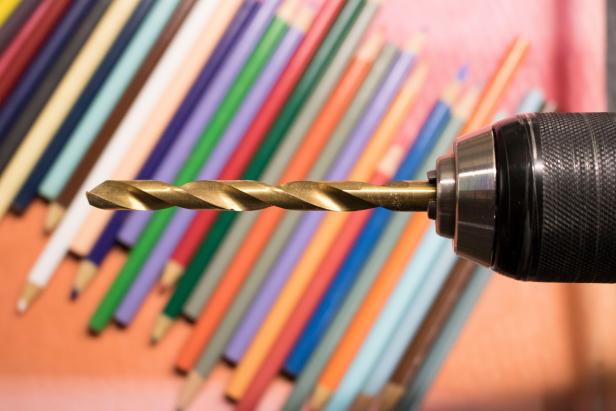 Projects That Put Large Branches and Logs to Use
Bore 24-48 holes for maximum craft storage, and stow away your pencils. It's a pretty piece to leave out on the kid's art table in plain view.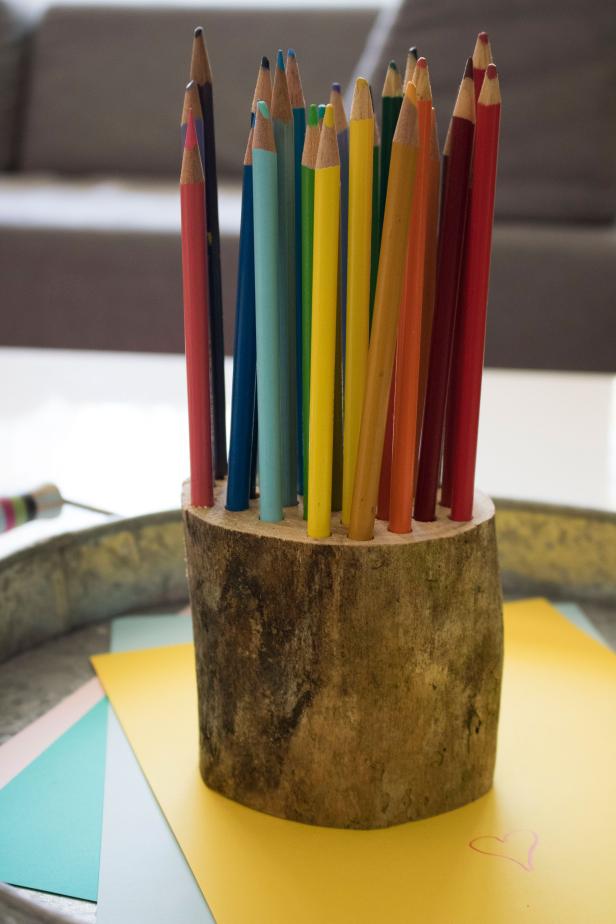 Projects That Put Large Branches and Logs to Use
Make a Container Garden From a Log
You might feel compelled to use a large tree trunk as a handy side table on your patio (yes!) but you should also consider upcycling it into a container garden. Mine makes for the perfect spot to grow herbs or cascading flowers. If you're fortunate enough to get your hands on a big piece of wood like this, I highly recommend buying a few heavy-duty drill bits with which to carve out a planting area. You can read the full tutorial here.
Make Simple Garden Pathways
Did you lose a whole tree? Use a chainsaw to cut the trunk into narrow 2-3" pieces, and use the large round discs for a number of purposes. Make wedding centerpieces or cake trays, stepping stones, or do like I did, and use them to define a natural pathway through a garden space.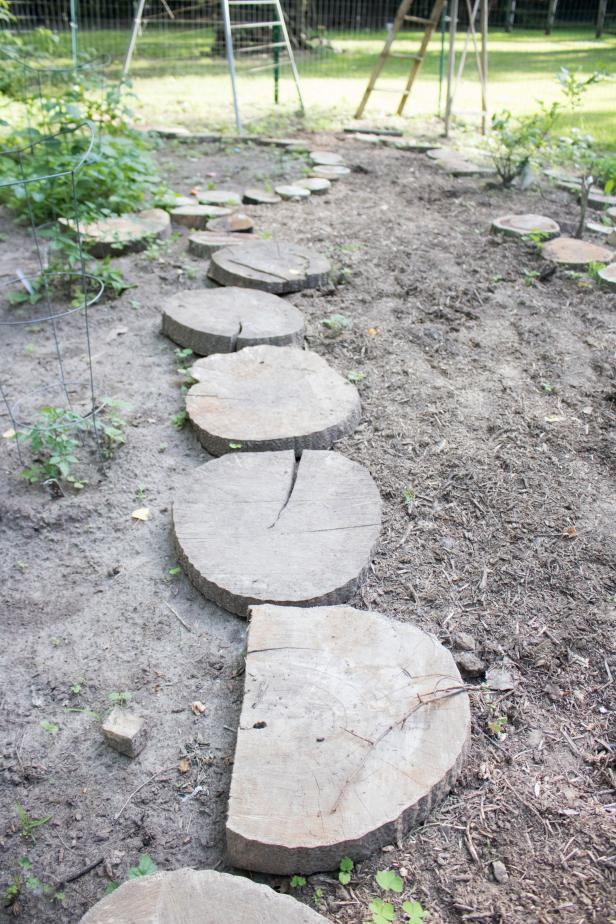 Projects That Put Large Branches and Logs to Use
Another idea for these round discs? Bury the slivers perpendicular to the ground for a scalloped edging. It could be used to create definition around any garden bed in your yard.