Upcycle Branches Into Fanciful Decor
Create easy, colorful home decor on the cheap from branches you find outside.
I've always gravitated to a style of home decor that airs on the side of rustic and natural, so it should come as no surprise that after a big storm I concocted several projects to make use of Mother Nature's fury. The kids helped with some of it too – it was a totally artistic, creative experience that can be replicated in preschool and elementary school classrooms in a pinch. Below are three ways you can upcycle fallen or pruned branches into creative home decorations that everyone will admire.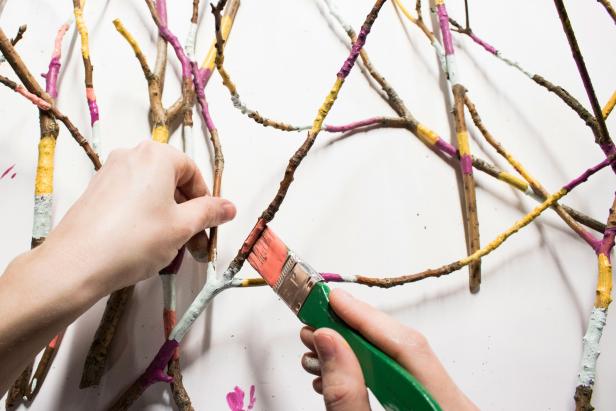 Simple Home Decor Projects Using Branches
Whether created as an holiday centerpiece or for every day display, a collection of painted branches pulls together into a eye-catching decoration.
assortment of twigs, 6"-18" in length
wall paint samples
paint brushes
For this craft, I used a variety of paints, specifically, wall paint samples because they are a little thicker than kid craft paints. I used 1" foam brushes as well as narrower craft paintbrushes. As shown above, I painted stripes around each branch.
I applied one color at a time to all of the branches, and then moved on to another color until I had an eye-catching bouquet of painted branches. An easy process and awesome impact!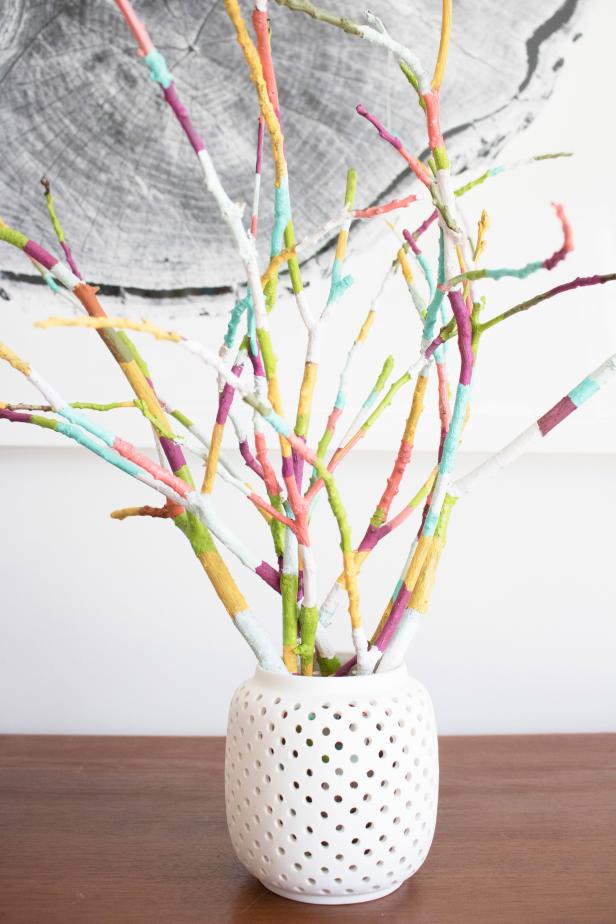 Simple Home Decor Projects Using Branches
Long Branches as a Decorative Focal Point
Tall, organized branches are an easy and efficient way to decoratively fill empty space in a room – home decor shops are onto the trend too, but for a price. If the trees weren't in my own yard I'd be spending a pretty penny to source 6' tall curly willow branches like the ones I used here; I just love how they fill a large open spot on our wide stone hearth.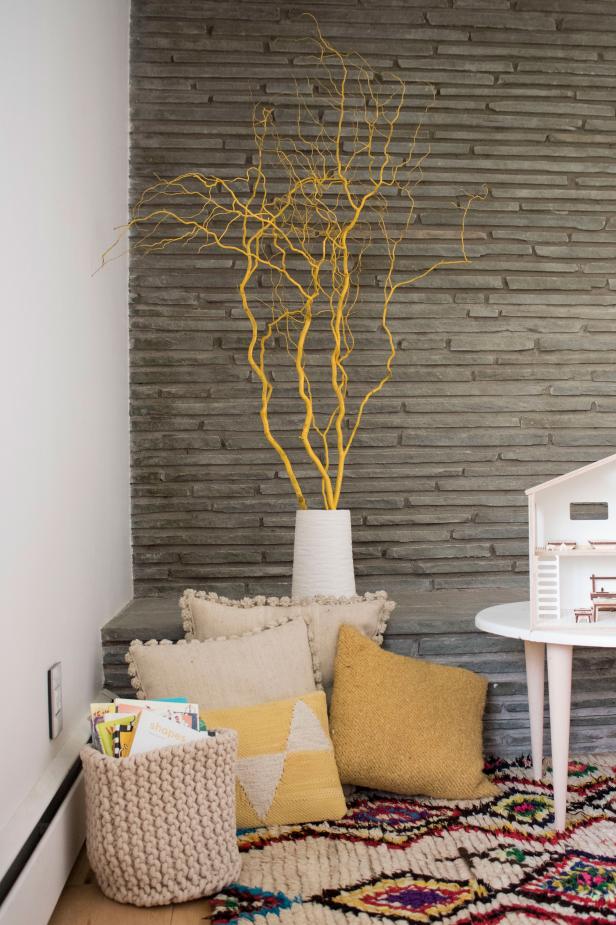 Simple Home Decor Projects Using Branches
long branches (4'-8' in length)
spray paint
While natural branches are nice, there's a certain eye-catching appeal in branches that contrast against other elements in the room, which is why I turned to a golden yellow spray paint to upgrade these willow branches.
Once painted, I bound the branches together at the base and set them into a container to balance their scale. Easy accessorizing for no more than the cost of a can of spray paint!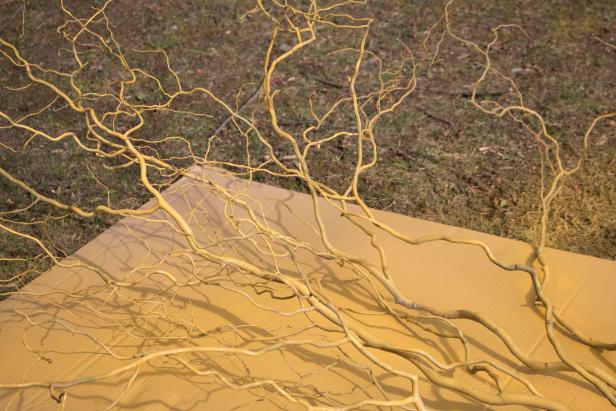 Simple Home Decor Projects Using Branches
The kids helped me with this one, a chalk-covered "bigger" branch upcycle that can be morphed further into a glorious wall hanging of any size.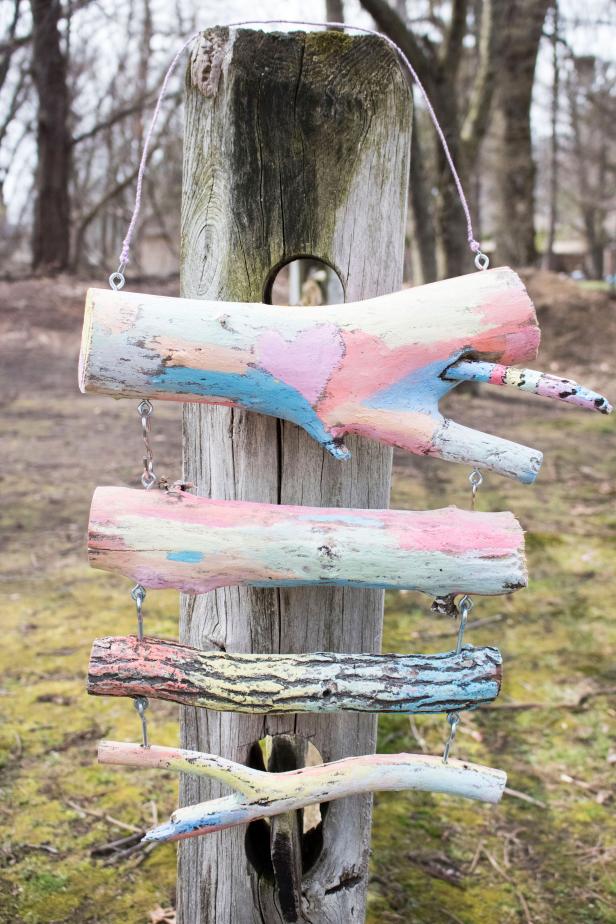 Simple Home Decor Projects Using Branches
branches sized approximately 1-4" in diameter, even length
sidewalk chalk
cordless drill with 1/8" bit
eye hooks and s-hooks
wire for hanging
While paints would be an acceptable medium for this project, chalk was perfect, easy to apply, and really gave my 3-year old a lesson in coloring on textured surfaces. I suggest using heavy sidewalk chalk for this, and experiment with dry chalk as well as wet chalk (run it under water for a few seconds). Wet chalk applies smoothly and cures more opaque, like chalk paint, whereas the dry chalk resembles a chalkboard.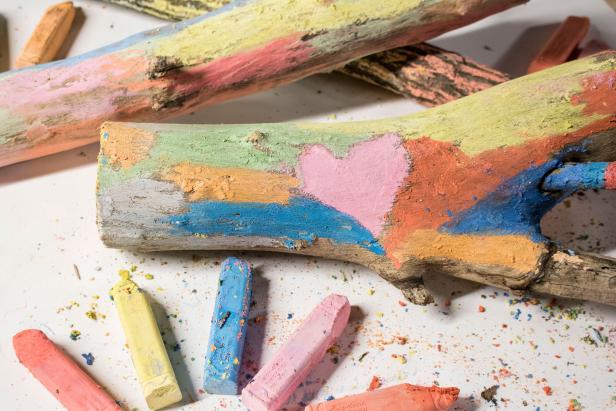 Simple Home Decor Projects Using Branches
I decided to assemble our chalked branches together by installing eye hooks and s-hooks. Use the drill to predrill small holes into the wood to prevent splintering if the wood is dry. I installed eye hooks at the top of the display also, and attached a wire to it. I wrapped colorful embroidery thread around the wire, but that's optional. To celebrate their artistic achievement, I hung the display in our kid's treehouse in a spot sheltered from rain. It's the perfect touch, and would be a wonderful camp or art class project too.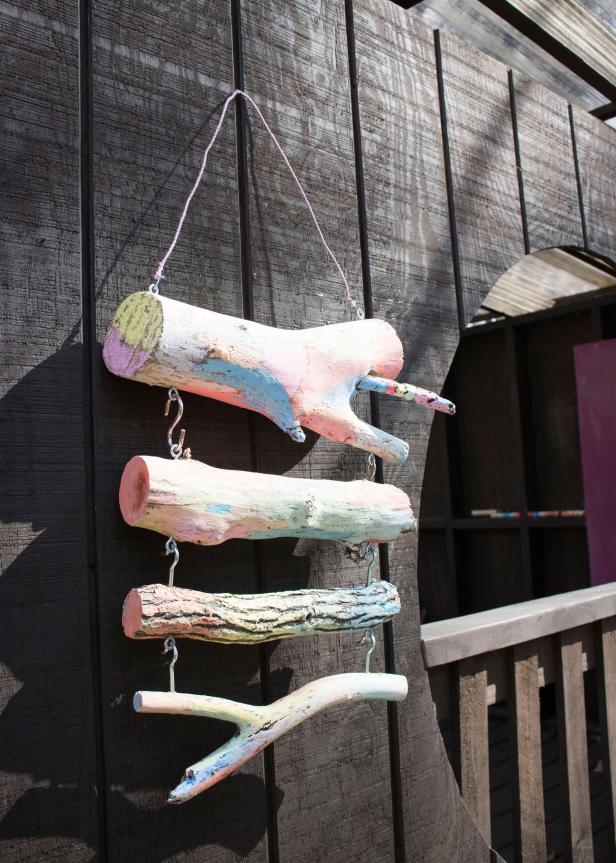 Simple Home Decor Projects Using Branches