One Minute DIY Christmas Gift Bags
Wrap your gifts fast with easy-to-make dollar store gift bags. 
Just as the relief sets in when you check that last person off your Christmas shopping list, you remember: you still have to wrap every gift. Here's a better idea. Dress up your gifts with DIY gift bags made from dollar store items. These bags are easy, inexpensive, and have a personalized touch that make them uniquely from you.
Start with a basic brown paper bag (available in packs of 40 for $1.00) and spruce it up with ornaments, stockings and snowflakes. Finish each bag off with ribbon, glitter, tissue paper or any supplies you have left over from old projects. We'll call it making room for a fresh start to crafting in the new year.
Each completed gift bag cost only $0.50-$1.00. They are a great size for candles, Christmas cookies and treats, picture frames and other small gifts.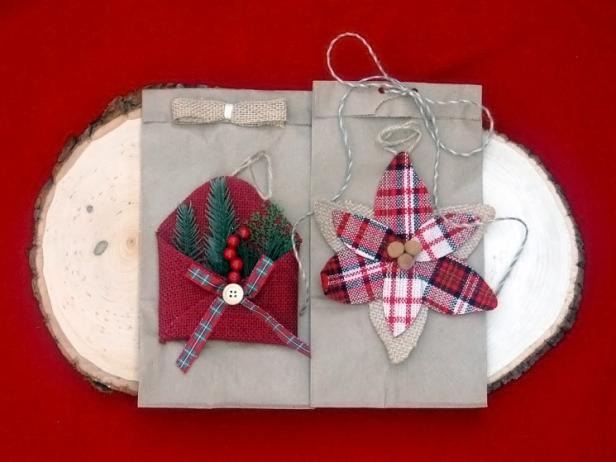 DIY Ornament Christmas Gift Bag
Easy DIY gift bag using dollar store ornaments and paper bags.
Layered, textured ornaments that have one flat side are perfect for this project. Add a dab of hot glue to the center of the back of the ornament and attach to the bag. An added bonus is the ornament can be popped off the bag after use and put right on your gift receiver's Christmas tree.
These adorable little stockings are only 50 cents apiece and make the perfect pocket for a monogrammed gift tag or sweet treat. Simply hot glue the perimeter of the back of the stocking to the bag. Kids will love to peek inside to find out what Christmas treasure awaits them.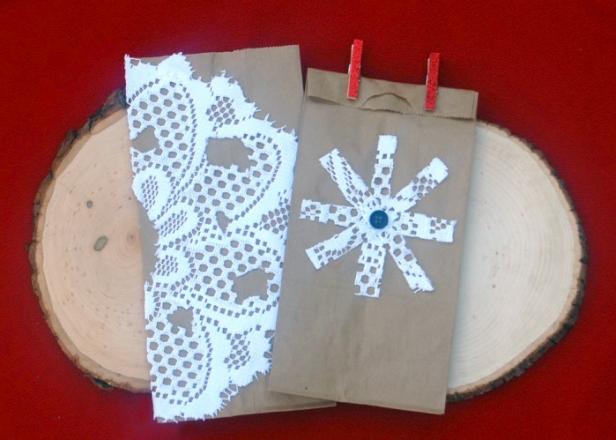 DIY Snowflake Christmas Gift Bags
Easy DIY snowflake Christmas gift bag using doilies
Cut white doilies into snowflakes like you would a paper snowflake and attach to the bag using hot glue. Another option is to arrange equal sized strips of doilies into a snowflake patter and cover the center with a bow or button.
More Holiday Gift Bag Ideas