DIY Backyard Fire Pit Ideas + All the Accessories You'll Need
Give your backyard s'more love and add a cozy fire pit. 
Fire pits are a backyard luxury that most people wouldn't mind having and they're a year-round gem. The problem? Not everyone wants to pay oodles of cash to have one. The solution: build your own! It's cheaper than you'd think and when it's finished, you'll have a little extra in the budget to splurge on all the fire pit essentials your new backyard fire pit will need.
You can build a dry stack fire pit in an afternoon and enjoy it when the evening rolls around. A one-day project? Sounds great to me! Add a couple of chairs around with all your new accessories (we'll get to that soon!) and you will have a ready-to-go fire pit.
This one involves a little more work as ready-mix concrete is needed. This ensures the stones stay in place while adding an extra rustic vibe to your backyard. As with before, add some chairs or tree stumps around the fire pit. Stone fire pit instructions can be found here.
Idea 3: Fieldstone + Sand
I don't know about you but there is nothing better than a fire pit at the beach. While most of us don't have the beach in our backyard, we do have some space for a fire pit – so bring the beach home with this DIY fieldstone and sand fire pit.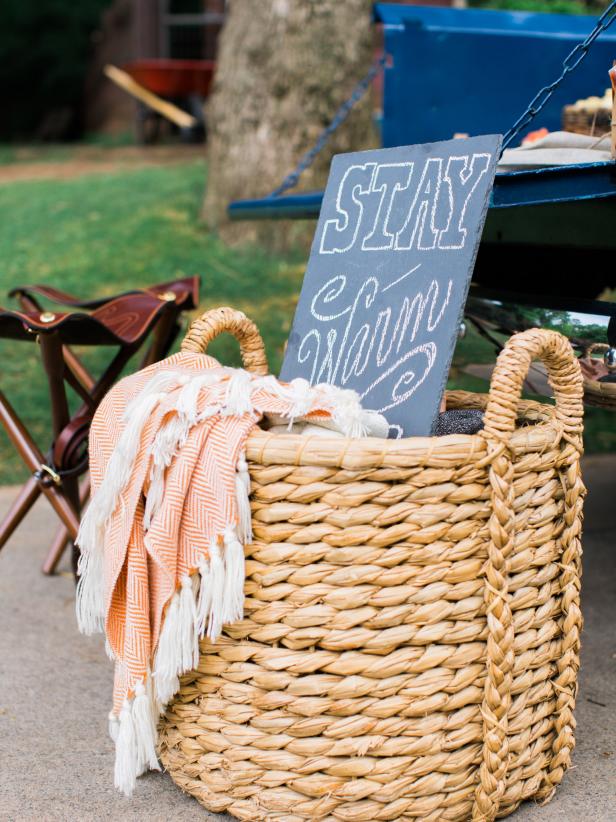 Basket of Blankets
As the sun goes down at the stadium, temperatures can drop drastically. Keep your guests warm and comfy with a basket filled with woven throw blankets. In addition to adding comfort, blankets offer another opportunity to work your team colors into the party.
Flynnside Out Productions
You've got the fire pit part down but what all do you need now? Besides the obvious seating which can range from lawn chairs to tree stumps, consider these fire pit essentials like a basket of blankets for chillier nights.
Keep those drinks nice and cool during those summer nights.
Add a grill to the top of your fire pit to cook burgers, dogs and all your grilling favorites.
You're definitely going to need a lot of wood for a fire pit so keep it handy and stored on a rack off to the side.