Make Animal Footprints for Kids' Playtime in the Sand
Let your kids leave tracks wherever they wander on the beach with these DIY animal footprints.
Walks on the beach are a must this summer, and while I'm easily occupied looking for new pieces of beach glass, we like to let the kids roam and explore in the sand and at the water's edge. This year, I'm entertaining them with toys that let them leave little bird footprints in the sand everywhere they wander. It's a perfect toddler past time, but fun for kids of all ages with a good imagination.
DIY Wooden Beach Footprint Toys
Of course, you can have all kinds of fun putting your own spin on this project – get creative with other types of footprints, like those of a dog, deer, bear, rabbit, just to name a few ideas.
To make your own, you'll need the following tools and materials:
a pair of old foam flip flop sandals
a 1/4" piece of stain grade plywood
(2) 4" long pieces of 1" dowel
jigsaw
sandpaper
cordless drill and 1/4" drill bit
pencil
utility knife
scissors
matches
hot glue and hot glue gun
paracord (roughly 10-feet long)
Begin by cutting two "footprints" out of the plywood using the jigsaw. As a template, you'll be safe using a pair of shoes that currently fits your child. Sand down all of those rough edges. A little elbow grease will not only smooth away the splinters, but will also round the edges of the plywood slightly for a nice finish.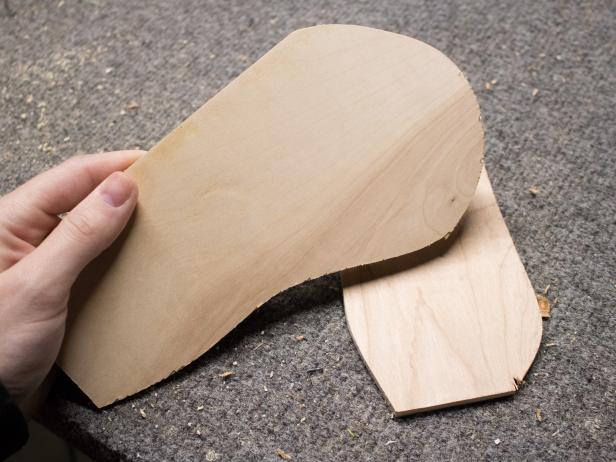 DIY Wooden Beach Footprint Toys
Next, take a pair of old foam sandals and on the bottom, sketch your animal footprint.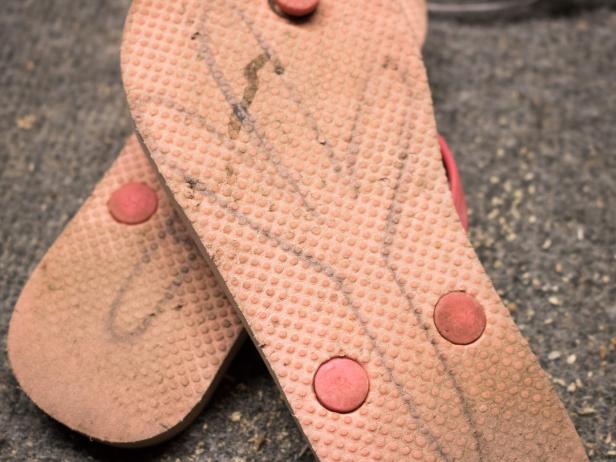 DIY Wooden Beach Footprint Toys
Use an utility blade to cut the foam footprint, and in the wood, drill two holes on each piece of wood. Not shown, you should also drill through the pieces of dowel which will become handles for the paracord. The paracord is going to wrap through the holes on the feet, and extend up through the dowel handles.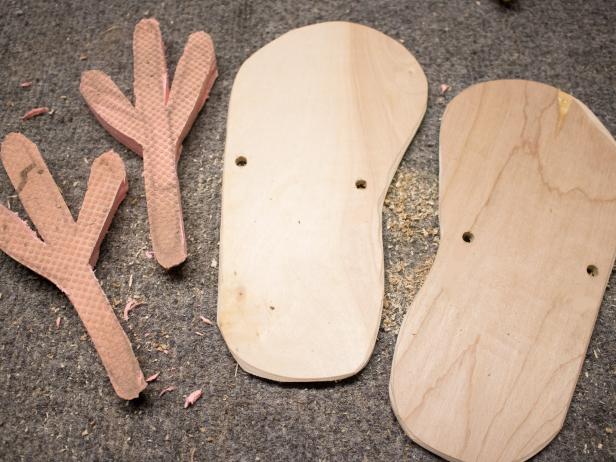 DIY Wooden Beach Footprint Toys
The foam pieces can simply be hot glued to the bottom of the plywood, and those shoes are ready for walkin'!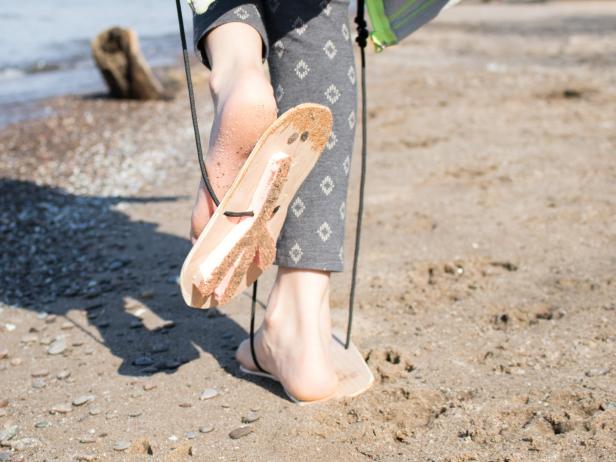 DIY Wooden Beach Footprint Toys
As you can see in the above photo, the paracord wraps underneath the arch of the foot and actually feeds through a small hole in the foam. It's easy to make the length of the handles adjustable using an adjustable knot so that the toy can be worn comfortably by children ranging in height. Keep in mind that wherever you cut the paracord, you'll want to melt the ends to prevent fraying (that's why matches are recommended in the materials list above).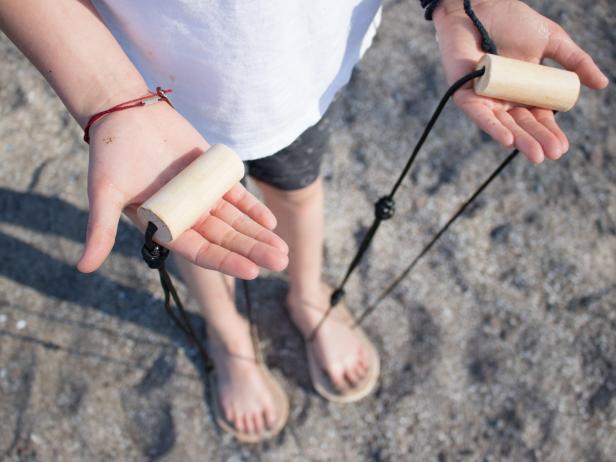 DIY Wooden Beach Footprint Toys
We have a variety of similar shoes intended for use in the snow, so conceptually I like the idea that these could be enjoyed all year around. Additionally, they can be worn with or without shoes, so if your kids prefer to wear water shoes in the sand, they're still a fun accessory to pack for a day at the beach.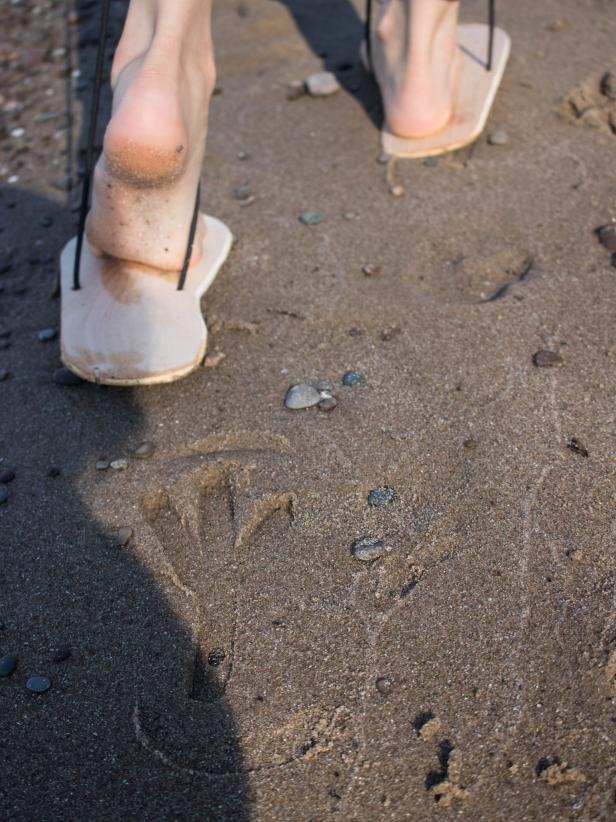 DIY Wooden Beach Footprint Toys
Enjoy tagging along with your little birdies by following their tracks.