Celebrate National Coffee Day With a Flavorful DIY Creamer
Customize your morning joe with one of these creative creamer recipes.
Join us today as we revel in the most celebrated coffee break of the year! If you're serving up some celebratory National Coffee Day brew at-home or an at-office brew, do yourself a favor and change up your routine with your own homemade coffee creamer. You read that right – DIY creamer. And it's fully customizable creamer at that, so cheers to that, and to finishing off the week with an extra spring in your step.
Wake up with this recipe, and you might never purchase store-bought creamer again.
Start with these ingredients:
a can of sweetened condensed milk
1-1/2 cup of milk or cream (the options run the full spectrum; skim milk will make your creamer more fluid, while cream will render a different viscosity. Half-and-half or whole milk will be somewhere in the middle, and don't shy away from almond milk or alternative products if that's what your tastebuds prefer.)
Combine the first two ingredients, and blend them together. Store it in a sealed canning jar. Pour a dose into your coffee, and test it out. It's as easy as that, but it doesn't stop there. Take your coffee consumption experience up a notch by customizing your creamer with a variety of flavors that you likely already have in your home:
Flavored Extracts: Vanilla, Anise, Hazelnut, Peppermint, Orange and Almond
Syrups: Chocolate, Maple, Caramel, and Honey
Spices: Pumpkin Pie, Cinnamon, Cayenne, Cardamom, Ginger
Boozy: Rum, Amaretto, Whiskey
Other ingredients: Coconut Milk, Pumpkin Puree, Salt and Butter (though usually used in place of creamer for a rich and flavorful experience)
A few of my favorite combinations to try? Add these to your cup with the base creamer, and enjoy a personalized experience (can you tell I like chocolate in my coffee?):
1 tablespoon chocolate syrup + 1/2 teaspoon vanilla + 1/2 teaspoon cayenne powder
1 tablespoon of whiskey + 1 teaspoon chocolate syrup + 1/4 teaspoon vanilla + 1/4 teaspoon almond
1 tablespoon chocolate syrup + 1 tablespoon coconut milk
1 tablespoon chocolate syrup + 1/4 teaspoon orange extract
1 tablespoon chocolate syrup + 1/4 teaspoon hazelnut extract (tastes eerily like the nation's favorite chocolate-hazelnut spread, wink-wink)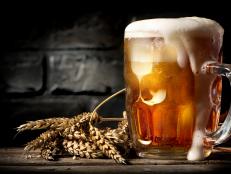 Don't let this day pass you by. Here are some fun ways to commemorate National Beer Day.