Make a Burlap Planter for $15
Turn a 5-gallon bucket and some fabric into a charming, budget-friendly garden container.
Spring is on its way, and if you're a gardener you know what that means – plants. Lots and lots of plants. However, if you're a gardener you also know that spending the winter flipping through seed catalogs full of picture-perfect blooms can make your first trip to the garden center come spring an expensive one.
There's also the issue of space. Without proper planning (and self-control, in my case) you could find yourself with more plants than you know what to do with.
I found myself in such a case when my local nursery was having a 40 percent off sale. I came home with English ivy, black mondo grass and a fairly large camellia that all needed a home on my tiny, tiny patio.
The smaller plants were easier to house – an old paint can for the ivy, a dollar-store storage bin for the mondo grass – I had to get creative to avoid spending a ton on a large planter for the camellia.
I ended up using a trick I typically reserve for summer tomatoes – a 5-gallon bucket from the hardware store wrapped in burlap. Burlap is a great inexpensive option for wrapping pots of all sizes, or for wrapping flowers for a unique, homespun gift.
To make your own large burlap-wrapped pot, follow these easy steps:
Drill drainage holes into the bottom of the bucket. If you have access to a hole saw or hole saw attachment that will make this task even easier.
Next, remove the handle to the bucket. I used a pair of strong needle-nosed pliers to cut through the plastic and pull the handle off.
In a big, open space, lay out your burlap. For a bucket 14 inches tall and 12 inches in diameter, I purchased 2 square yards of burlap.
Place the bucket in the center of the burlap.
With a pair of scissors handy, fold the burlap up the top of the bucket. If you're having trouble getting the burlap even, try pinching the fabric to create small folds around the rim of the bucket. You may wish to use pushpins to hold the burlap in place while you wrap.
Once you're happy with the placement of burlap, secure it with a ribbon, twine, or anything you have lying around.
Cut away the excess burlap and you're ready to plant. I folded down the raw edges of burlap inside the bucket and covered them while planting.
This project cost me less than $15 and only 20 minutes of my time. With savings like that, it's only a matter of time before I'll be back at the garden center...that is, until I run out of room on my patio.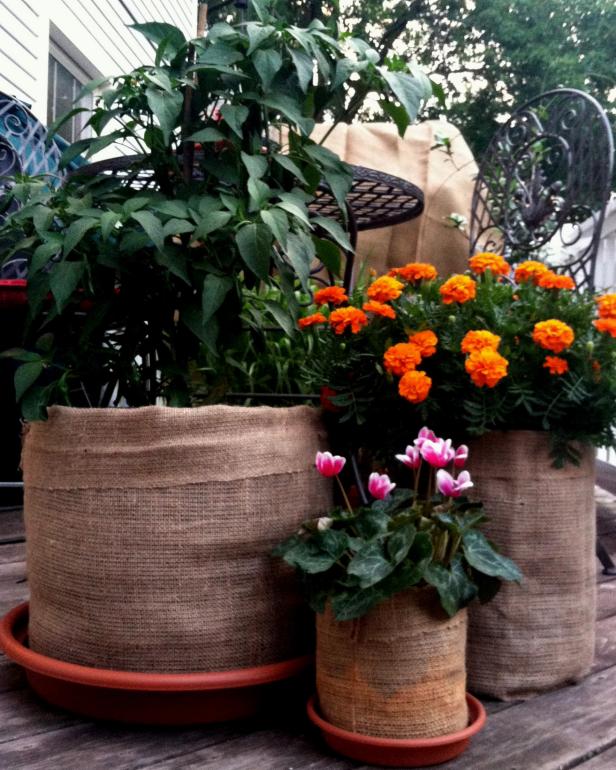 Burlap Girdles/Plant Bags
Stylish and sturdy, these Burlap Girdles work as raised beds, grow bags, or lightweight planters. Available in 1, 5, and 10-gallon sizes, they open at the bottom and come with nursery-grade, black grow bags inside. Just add soil and plants.