6 Fabulous Ways to Decoupage Pumpkins
Break out the Mod Podge, it's time to decorate.
On September 22, fall officially begins (not that I'm counting or anything). I'm already dreaming up the many ways I'm going to decorate for my favorite season. If you're anything like me, cutting open the top of a pumpkin and pulling out the slimy, orange glob makes my stomach turn. I would rather leave the pumpkin guts intact and find a better way to show my love for the gourd.
After weighing all my options, I thought, why not try decoupage? Here are six easy peasy, do-it-yourself projects that I would love to recreate myself:
Leftover party napkins? No problem! Get some more use out of them by cutting out the chosen design and adhering it to the painted pumpkin with Mod Podge. Add a dash of glitter to create a dazzling look.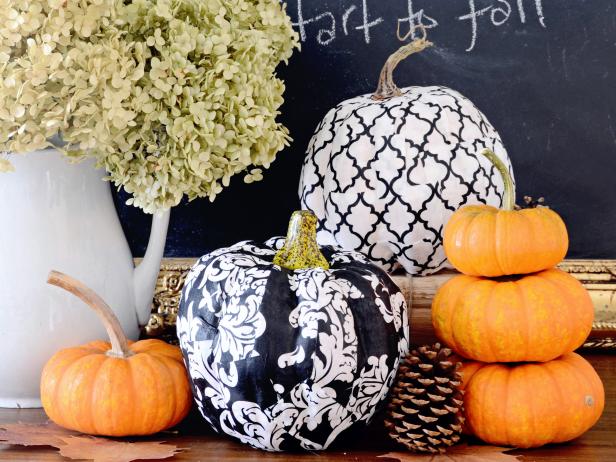 Contemporary Fall Centerpiece Featuring Decoupaged Patterned Pumpkins
Get out your decoupage kit and create a stunning pumpkin display to commemorate fall. These embellished pumpkins will decorate any room or table of your home, with no design off limits.
Show your style with a fabric-clad arrangement and forego the traditional orange façade. With so many patterns to choose from, the options here are endless. Trends tend to fade, so opt for timeless colors and designs that can be used for years to come.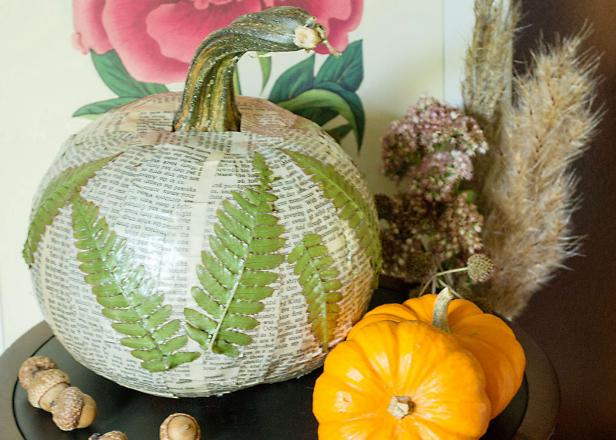 Decoupage Botanical Pumpkin
If you are not a fan of carving, cover your pumpkins instead. Decoupage is a quick way to decorate your pumpkin with fun papers and leaves or plants from your yard. To do this project you will need a pumpkin, decoupage glue, craft brush, scissors, decorative paper or an old book and a fern leaf.
Find an old botany book at a local used bookstore to bring this project to life. You can pick plants or leaves from your yard to cover the book pages and complete its earthy, organic design. It's probably best to display this one indoors so it doesn't get ruined by unpredictable weather.
You can pretty much monogram anything, so why not your pumpkins? It doesn't take much creative effort to cut out the letters and paste them on. Dress the stems up with some ribbon or twine and ta-da! A cutesy display for your front porch.
Incorporate a vintage vibe into your Halloween decor with this old school idea. It's a cool and spooky piece to add to your mantel.
A simple, yet beautiful approach: decoupage with dried flowers. Choose your favorite hue and secure the flowers with Mod Podge. It's as easy as that. Consider a mix of different flowers to make it all your own.