5 Easy Big Game Bites With 5 Ingredients (or Less)
Must-have munchies for the Big Game.
We're keen on great appetizers during football season, and the spread for the Big Game shouldn't disappoint the taste buds. Whether you're heading to a party or kicking back and wishing your team was on the tube, here are five divine dishes that you can make with five ingredients (or less!). We like things easy. Enjoy.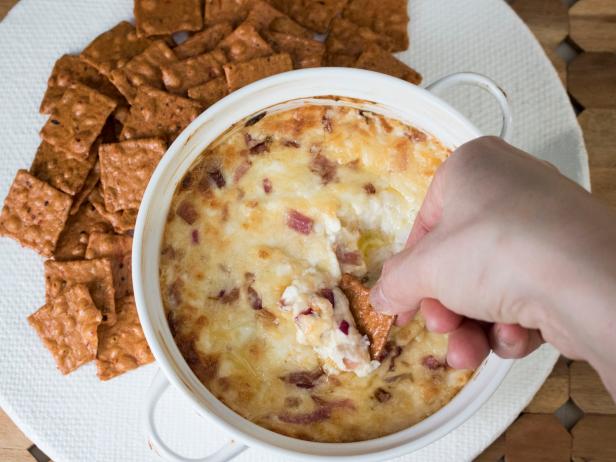 5 Easy Football Appetizers with 5 Ingredients (or Less)
Easy appetizers to try during the Big Game.
4 cups of cheddar, shredded
1 cup of mayonnaise (or whipped dressing like Miracle Whip)
16 ounces cream cheese, softened (equivalent to 2 bars) – plain, light or even veggie, your choice.
1 red onion, diced
buffalo-seasoned chips or crackers
Mix first four ingredients together, and spread it evenly into a 9x9 baking dish. Bake at 400-degrees for 20 minutes. Serve with chips, scoops or crackers.
20 jalapeño peppers, sliced lengthwise, seeds removed
1 pound of uncased sausage
8 ounces cream cheese
1 cup of pepper jack cheese
Brown sausage in a pan. Mix cooked sausage and cheeses together. Scoop into jalapeño halves, and bake at 350-degrees for 25-minutes. (Extra filling? Bake it on its own in a separate dish, and serve it with chips.)
10 pieces of store-bought naan flatbread (make your own by following this recipe)
16 ounces pizza sauce
16 ounces shredded mozzarella
Toppings of your choice (optional): pepperoni, crumbled sausage, crushed red pepper, banana peppers, prosciutto, red onion, parmesan, anything!
Pizzas orders are plentiful during the Big Game, but make them on-demand at home and be able to please everyone at the party. Preheat a pizza stone in the oven to 375-degrees. Create a spread of ingredients right at a table near the TV, and invite everyone to make their own pizzas throughout the whole party. Bake each pizza until the cheese bubbles, about 10-12 minutes, and cut into slices.
cheese (feta or fresh mozzarella)
herbs (basil, mint, or cilantro)
fruits + veggies (tomatoes, cucumber, or watermelon)
seasonings (salt, pepper, or balsamic vinegar)
wooden skewers
tomato + cucumber + feta + basil + salt
watermelon + cucumber + feta + mint
tomato + basil + mozzarella + balsamic + pepper
mozzarella + cilantro + balsamic
1 package cheese or meat raviolis (20-24 individual raviolis)
3 eggs, scrambled
2 cups Italian bread crumbs
olive oil, for frying
marinara sauce
Separate the egg wash and bread crumbs into separate bowls. Dip raviolis in egg wash, and coat with bread crumbs. In small batches, fry raviolis over medium heat, rotating so that both sides are crispy. Cool on a plate topped with a paper towel, and serve with marinara sauce.