10 Paint Color Ideas for Small Bathrooms
Give the powder room a burst of style with a chic color choice.
Decorating a small bathroom can be tough and choosing the perfect color scheme can be even harder. If you're looking for some design inspiration, let us guide you.
Step out of your comfort zone and try one of these bright and bold color palettes that will add some spunk (and style) to your plain-Jane powder room.

A bright shade of teal makes quite the statement in this modern bathroom design. Choosing a vivid color for the walls and ceiling really makes the subway tile backsplash, artwork and fixtures pop.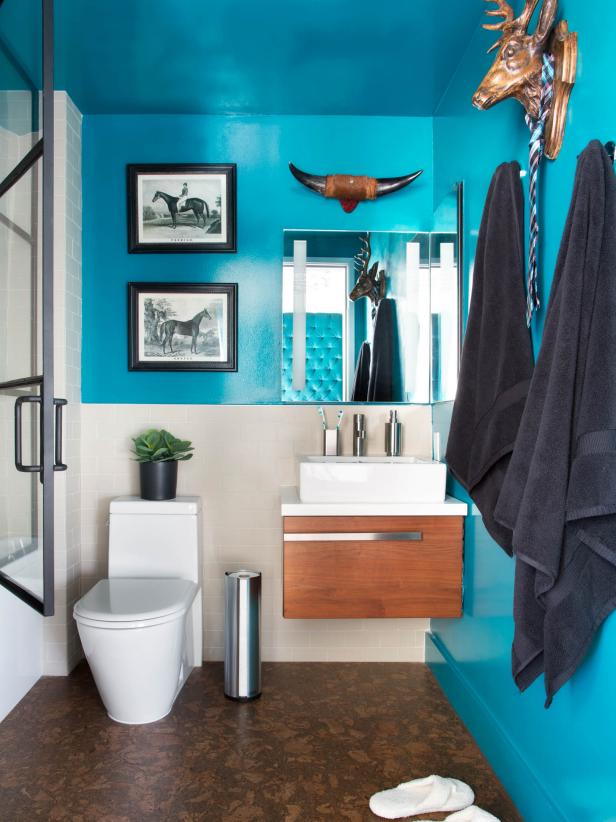 Modern Small Bathroom With Bold Teal Walls, Floating Vanity and Animal Wall Decor
Teal is a tough color to use without completely overwhelming a space. But if you stick with teals that are close to the aqua family, you'll find them rather versatile. The floating vanity, white half wall and white tile shower add light elements to balance the room. The mounted horns and animal head bring a masculine side to the design and compliment the brown flooring.
Black combined with silver accents brings a sophisticated look to any bathroom. Consider a shimmery silver mosaic tile as the backsplash to make the space really shine.

Metallics are definitely in right now, so why not incorporate them into your small bathroom design? Add instant elegance to the space with glimmering copper. Use mosaic tiles in shades of brown and neutral for the backsplash and a beautiful, floating marble countertop to complement the look and bring in additional interest and texture.
Show your girly side with a pop of pink. A graphic accent wall in earth tones not only adds fun pattern into the design, but helps counteract the brightly painted walls.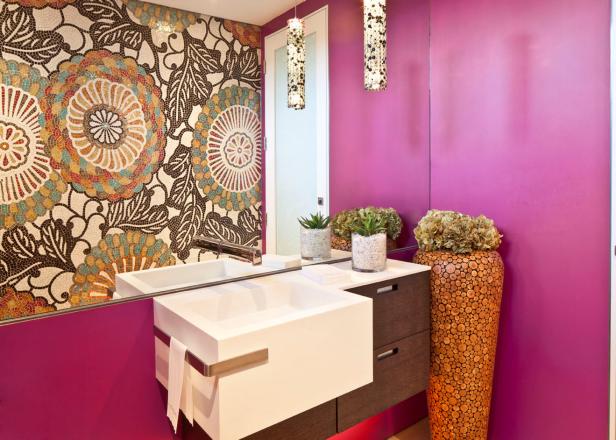 Contemporary Floating Vanity in Magenta Bathroom
A funky, carrot-inspired art piece stands beside the small floating vanity in this magenta bathroom. A large mirror reflects the bathroom's patterned accent wall, making it the focal point of the space.
Not into the bold, vibrant colors? Try a more subdued hue like this baby blue bathroom. A sunny shade of yellow pairs perfectly with the space to liven it up.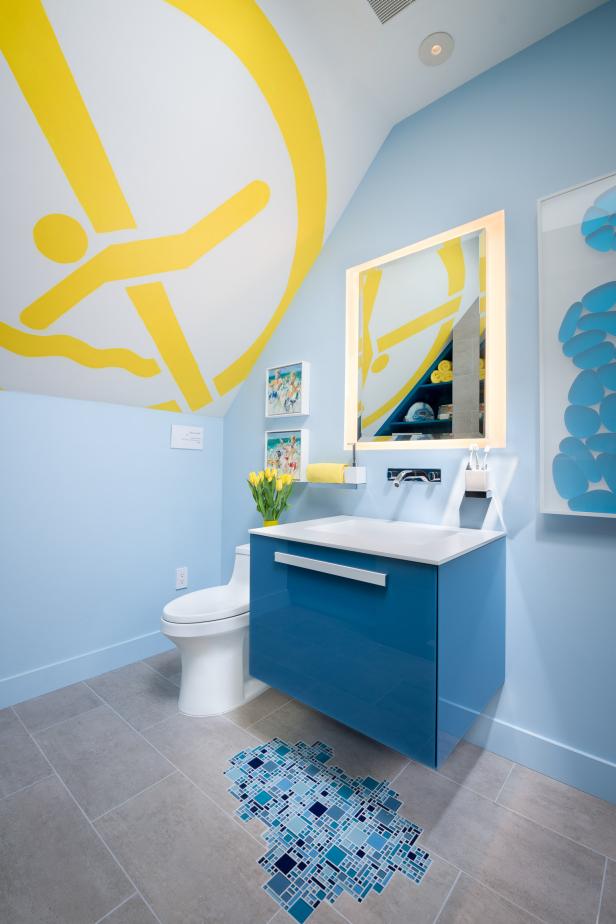 Boy's Bathroom Invokes Swimming Pool Theme With Blue Vanity and Mosaic Tile
Inspired by art depicting a yellow diving board set above blue pool water, designer Gregg De Meza created a whimsical bathroom for the young boy at the San Francisco Decorator Showcase 2015. Street artist Jeremy Novy created the bright yellow no diving symbol, while a floating blue vanity and pooling mosaic tile on the floor invoke a sense of pool water.
Dark purple walls add femininity, while the woodgrain cabinets and vanity bring in a hint of rustic style to this contemporary design. Don't be afraid to mix different styles.
Brilliant yellow stripes bring a fun, youthful vibe to a small bathroom. Keep the fixtures and accessories minimal to not overwhelm the space.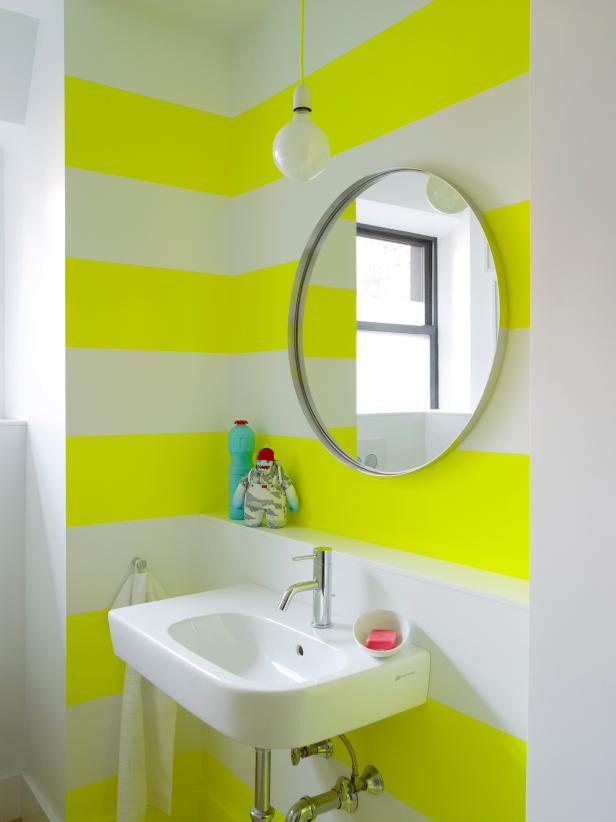 Neon Stripes Energize Small Bathroom
In the bathroom, neon stripes invigorate the simple fixtures and pared-down accessories. A narrow ledge offers much-needed shelf space behind the mounted sink.
Ghislaine Viñas Interior Design
Energize the powder room with a vivacious shade of red. This is a great color choice for the kids. Create a colorful gallery wall to decorate the empty space above the toilet and showcase your children's artwork.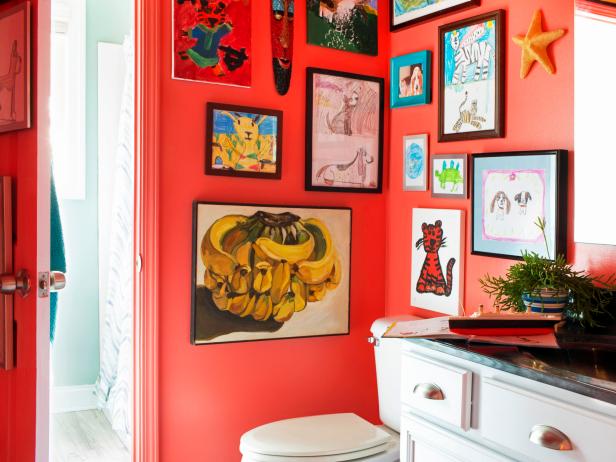 Red Kids' Bathroom With Framed Hand-Drawn Artwork
This transitional kids' bathroom features multiple framed pieces of children's drawings hung against vibrant red walls. A simple white vanity with a gray countertop provides the perfect contrast to the otherwise lively space.
On the lighter side, try a soothing shade of green. When paired with all-white fixtures, you'll get a tranquil and rejuvenating space to freshen up. After all, Greenery is Pantone's Color of 2017.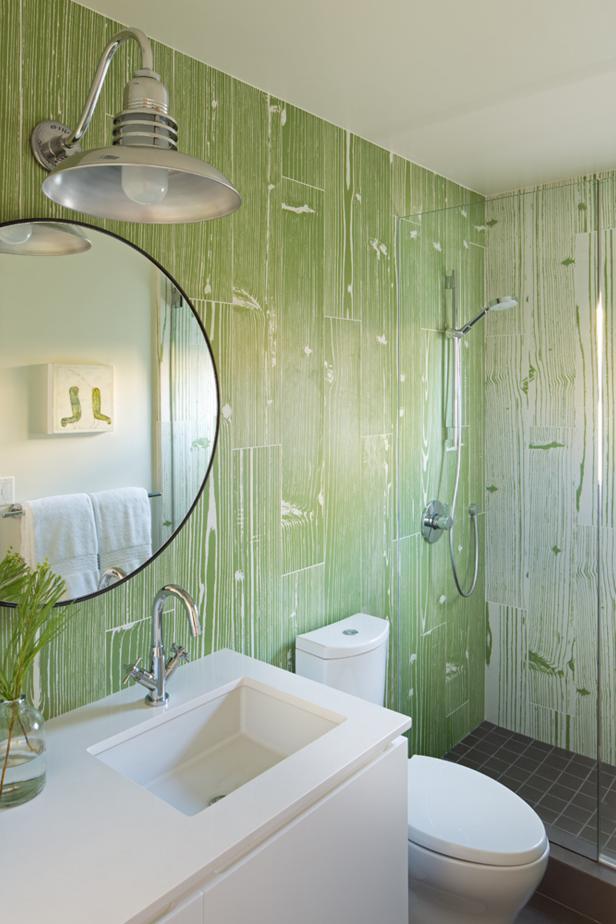 Green and White Transitional Guest Bathroom
This beachside house has a fun vibe that continues into the guest bath. A faux bois pattern in alternating green and white adds interest on the walls, while the sleek, modern vanity and frameless glass shower allow the unique paint finish to steal the show.
Brady Architectural Photography
Consider painting your bathroom's wainscoting instead of the walls. In this case, it eliminates the need for a backsplash.
Bathroom Remodeling Tips and Ideas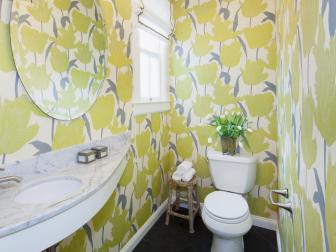 Learn which aspects you can DIY, and understand which tasks might be better left to the professionals.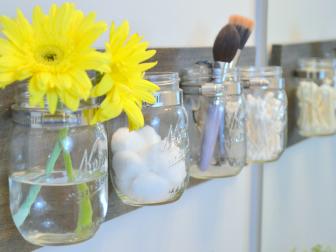 Add function to your tight spaces with shelves, nooks, cabinets and fun organizing systems.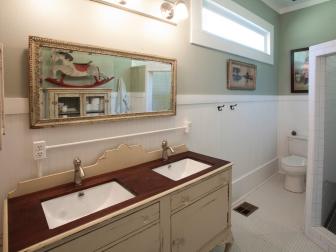 Repurpose old furniture for a funky or elegant new look in your bathroom.