10+ Ideas for Fabulous Pine Wreaths
Find new ways to decorate with nature this holiday season. 
I always try to welcome winter with a new pine wreath for our home. There are plenty of styles to inspire, and unlike other wreath-building materials, pine branches are relatively easy to find depending on your part of the country. You can also turn to fake evergreen garland, or make it a point to save the lower few clippings from your Christmas tree when you bring it home, or even gather scrapped branches from the farms and stores selling trees this time of year. Trimmings are plentiful!
Evergreen branches will remain preserved for quite a while if you hang your wreath outdoors in the cooler air, so if you make one now you can count on it to last through the holiday season and maybe even through the winter, depending on the variety you use.
My evergreen accessory of choice this year is more loosely wreath-like, and was created from an embroidery hoop, yarn, branches and berries from our backyard.
To attach the pine branches and berries, I used a simple florist wire. To hang the hoop, I extended the white yarn from the hook on the hoop, up and around the opposite side of the embroidery circle. I tacked a flush pushpin in the top edge of our door, and tied the yarn to it.
I also created a simple traditional wreath using branches from a soft white-pine tree, and attached the branches one-by-one to a metal wreath base with the same fine-gauge florist wire.
The real intent had been to use the finished wreath as a prop for this year's Christmas card, but white pine is long-lasting, so the plan is to hang the wreath outside of our home for seasonal decoration.

If you're browsing for other inspiration, look no further. These creative wreaths incorporate wintery evergreens and complementary touches that would make your home look spectacular all season long.
Similar to my white-pine wreath, this wreath was constructed of pine branches – just with shorter needles. This would be an easy look to emulate with trimmings from a Christmas tree.
Homemade Christmas Wreath
You can whip up a completely handmade wreath in only an hour with some fresh evergreens and a bit of wire. Choose a wire that is stiff enough to hold a bit of weight, but flexible enough to work with, usually an 18 or 20 gauge will do. Loop the wire tightly around the bases of the evergreen branches, making sure each branch is as close as possible to the one next to it. When you've added enough branches to make the wreath the size you want, bend the wire into a circle and twist together at the top.
Get creative with the orientation of the pine branches when you attach them to your base; this unique wreath calls for dozens of equal length branches, and allows the ends to fly free.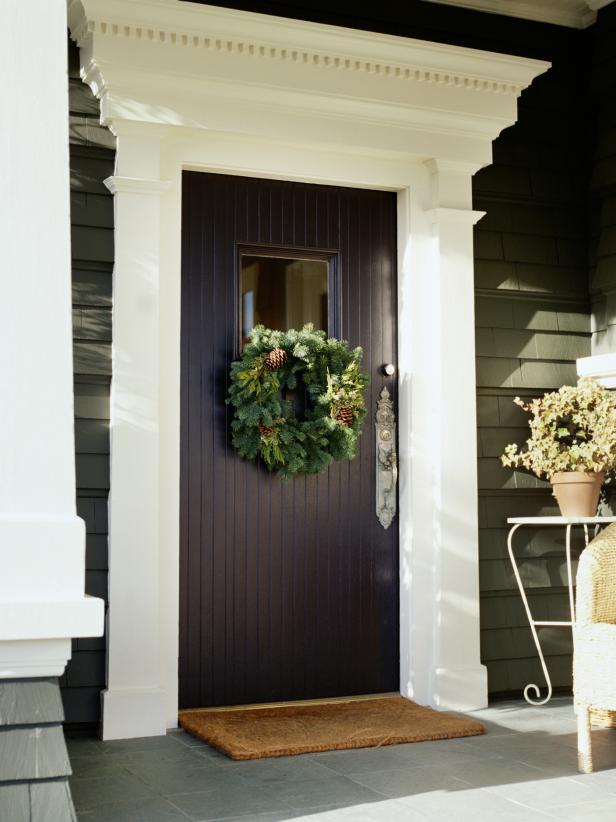 Elegant Front Door With Holiday Wreath
Large columns and a dentil-molding pediment frame a grand entry to this home. A beadboard-style wood door adds a touch of vintage style, while the ornate door handle provides much elegance. A traditional evergreen and pinecone wreath is the perfect final touch.
For a traditional look, adorn your lush evergreen wreath with pine cones or shiny beads.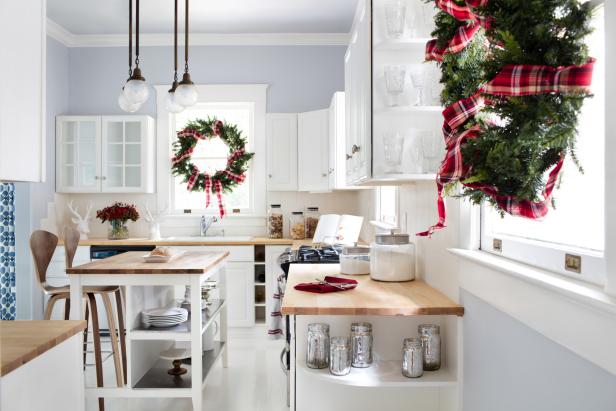 Warm Up the Kitchen
One spot in the house that's often neglected when decorating for the holidays is the kitchen. Why not add just a few Christmas touches to make it look and feel more welcoming? Hang the same wreaths used in other rooms on the kitchen windows to keep the look cohesive. Add red dish towels, red napkins and stock your cookie jars with treats for guests to take the festive feel a step further.
Flynnside Out Productions
I love holiday decorations indoors, and large wreaths hung in the windows of this kitchen transform the space for the season.
Moss, berries, pears and pinecones add color and variety to this evergreen wreath.
And artichokes and magnolia leaves show the designer's creativity.
Feathers and eucalyptus add an unexpected seasonal touch to this classic pine wreath.
And for those of you in warm winter climates, decorate your outdoor dining area with an pretty customized mobile hung over an outdoor dining table.

Real college students offer their best ideas for planning your fall dorm decor.
For the holidays or anytime, use an old board or a cabinet door to post your favorite message.