Your Easy Guide for Regrowing Veggies
A primer for creating a never-ending vegetable garden.
Get more from your vegetables by making the most of regrowth – it's easy for gardening beginners and a resourceful approach for anyone wielding a green thumb. And regeneration doesn't always take as long as you might think. Next time you purchase vegetables, reserve the pieces that can be re-rooted, and make the most of your produce purchase. You can jump start your springtime gardening by creating a hydroponic setup on a sunny windowsill, and transfer the rooted plants into your garden when you're ready to embark on the growing season.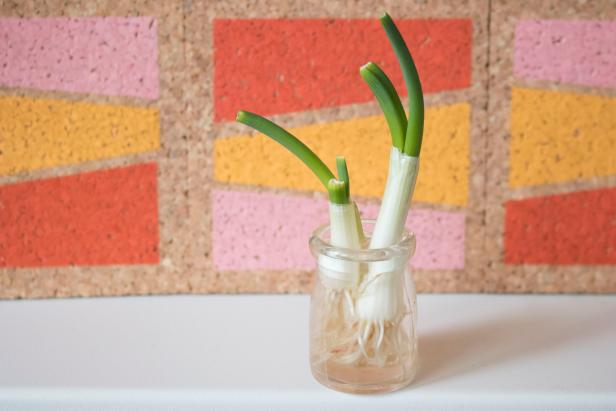 How to Grow Green Onions or Scallions From Scrap
Green Onions or Scallions can be grown from leftover trimmings.
You'll have green onions forever if you save the last 1" with exposed roots. Simply trim away the green, and place the remnant upright in a shallow dish of water. Rotate the water daily so that the onions are always receiving fresh hydration. Within just a few days, you'll bear witness to the new, green growth. When the plants reach 8-10", trim off the green and use it in a dish, or freeze for future use.
Think of a leek as an oversized green onion; the rerooting process is the same, but the plant takes a little longer to grow. The rooted end of the vegetable will flourish when placed in water, and the plant can then be transplanted into soil until it reaches maturity.
Celery will also regrow from the root end of the plant. Next time you buy a package of celery, cut the rooted end off with a knife (removing pieces stalk-by-stalk). Allow it to reroot in a shallow dish of water. It'll start to grow again as the roots develop, and it can easily be moved into the soil in your garden.
The cut base of romaine, red leaf, and green leaf lettuce (and bok choi, for that matter) can be rerooted in a shallow dish of water, and transferred into the garden once roots begin to develop. Once established, it'll keep on giving. When it's ready for harvest, be sure to leave some of the center leaves and the roots of the plant intact in the soil, and in a few days you'll witness the plant filling out again with fresh growth. If you stock enough plants in your garden, you can count on having lettuce all summer long.
Nearly all herbs you would purchase at the grocery store can be rerooted – basil, cilantro, and mint are especially easy. Rosemary can be rerooted too, but it helps to scrape away some of the rough stem to expose the flesh. When the plants regenerate roots, transfer them into soil, water and prune them regularly (to harvest it for meals, and to encourage plant growth). At the end of the growing season, transplant these herbs again to an indoor container garden, and allow the mini garden to continue to thrive during the winter.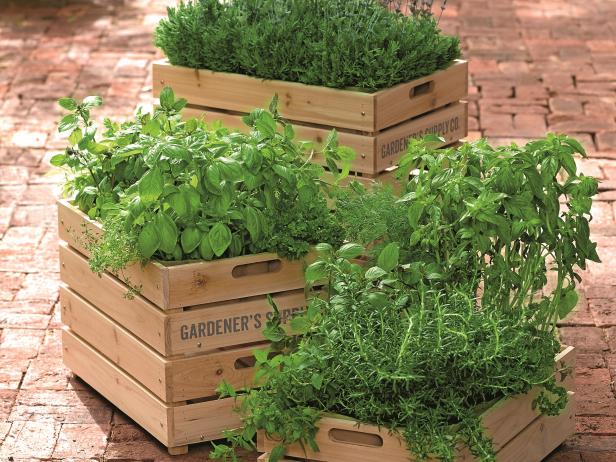 Herbs In Crates
A trio of crate planters makes an eye-catching herb garden. The first crate contains one plant each (clockwise from lower right): trailing rosemary, spearmint, basil, fernleaf dill and two more basil plants. The middle crate contains one plant each (left to right, front to back): thyme, sweet basil, parsley, African blue basil and cilantro. The rear crate is filled with lavender—use four to eight plants, depending on how quickly you want it to appear full.
Among the easiest and fastest plants to grow, bean sprouts are easy to grow at home. Use organic beans for the best results, and consider trying a variety such as alfalfa, chickpeas, mung and lentils. A 1/4 cup of cleaned beans can be placed in a 3-cup jar with a drainable lid, and soaked overnight. The beans should then be drained, but kept in the ventilated jar and allowed to grow in an area free of sunlight. Rinse them 2-4 times each day to keep them moisturized and help them develop. In 2-5 days your sprouts will be ready to eat or add to recipes.
Did you know that lemon grass grows just like grass in your yard? Add it to your container garden (out on the patio, or on a sunny windowsill indoors) and give it a haircut periodically to keep it healthy and thriving. Fresh lemongrass is great to have on-hand if you're a fan of juicing!
If you have a head of organic and untreated garlic, reserve some of the cloves to replant in the fall. It's about as low-maintenance as it gets, and each clove will render a whole new head of garlic. Get a full tutorial on planting garlic here.
Potatoes make for a fun patio-garden pot idea. Embrace container gardening and cultivate dozens of fresh potatoes (or yams!) by reserving seed potatoes that are plentiful with sprouting eyes, and replanting them in large containers. Learn more about how to grow potatoes.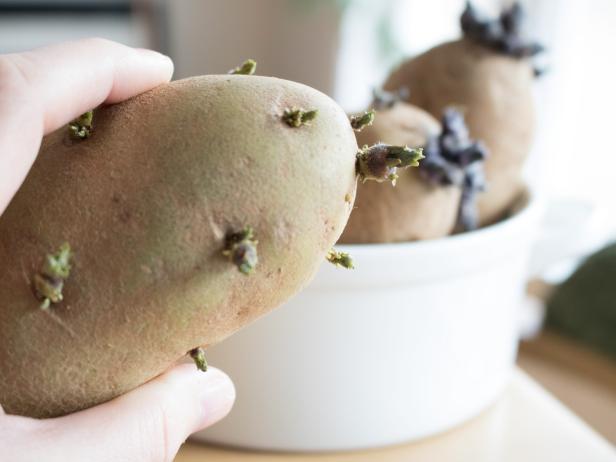 How to Grow Potatoes in a Container
Chitting seed potatoes to plant in a container this spring.
Growing ginger can take a little longer to reap reward, but it's easy and low-maintenance and a great container gardening project for a newbie. Start now by harvesting a few of the nobs (or "fingers") protruding from a piece of store bought ginger root. You should plant them just under the surface of the soil in a warm and sunny spot, and much like a potato, the planted root will begin to develop and expand. It may take up to 8-12 months to achieve full growth, but if the plant is healthy you can harvest nobs of ginger from beneath the soil around the 6-month mark.
Regeneration doesn't stop with vegetables. You can achieve success with indoor/outdoor container gardens to foster growth of fruit plants including lemons, avocados, pineapples, pomegranates, figs, cherry tomatoes and strawberries.
Many of these plants have longevity and the ability to produce fruits year-round. Container gardening them in pots makes it easy to foster them indoors during the colder months, but allow them thrive in an outdoor patio garden space in the spring and summer.