The Best Veggies and Herbs to Grow in the Fall
Fall is a great time for vegetable gardening; here's a list of what to plant in late summer. 
I'll be honest — this summer gardening season has been a near bust. I planted late, and then it quickly got hot and wet here in Tennessee. In past years, I've harvested and posted photos of colorful tomatoes and peppers so bountiful that Martha would be jealous, but this year, not so much. No worries, though, because there's always fall, my favorite gardening season of the year, and I'm starting my fall garden planning now.
Why Is Fall Gardening So Great?
Let me count the ways. It's cooler, so you're not watering your garden with your own sweat. (I know, gross.) And speaking of water, that cooler weather means less evaporation, so you're watering more efficiently too. Edibles that grow in fall aren't typically eaten for their fruit, but for their leaves and roots instead, and that's an easier job for the plants. Fall gardens are generally less susceptible to pests, diseases and general problems than summer gardens.
Image courtesy of Farmer D Organics
What Can You Plant in the Fall?
My favorites to eat are beets, radishes, garlic, cilantro, kale and other greens, so that's what I'll be planting first, but here's a more comprehensive list of vegetables and herbs you can grow in your fall garden.
Beets
Broccoli
Brussels sprouts
Cabbage
Cauliflower
Garlic
Greens (collards, mustard, etc.)
Kale
Kohlrabi
Lettuce (all kinds — look for cold tolerant varieties that will last until winter)
Parsnips
Radishes
Scallions (green onions)
Spinach
Herbs (all of these are perennial and can survive a mild winter)
Chives
Cilantro
Parsley
Rosemary
Sage
Thyme
How Should You Plant?
I use a mix of seeds and transplants for planting in fall (and any time of year for that matter). Here's that same list divided by seed and transplant. Many of the plants I've listed under the transplant section can be grown from seed, but with frost looming, growth time is a major factor, so I suggest planting fast growers from seed and slower growers from transplant.
Beets
Chives
Greens (collards, mustard, etc.)
Kale
Lettuce (all kinds — look for cold tolerant varieties that will last until winter)
Parsnips
Radishes
Spinach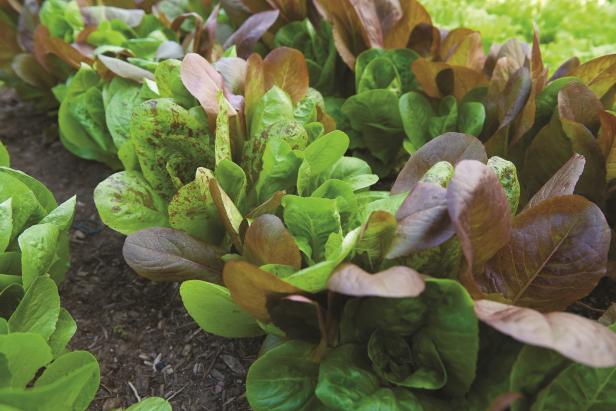 Lettuce 'All Season Romaine Mix'
Keep your salad bowl at the ready when you grow this romaine lettuce blend. It includes varieties to ensure you'll have a season-long harvest—and colorful salads. Varieties include green 'Craquerelle Du Midi,' green spotted red 'Forellenschluss (also known as 'Speckled Trout Back'),' bright green 'Little Gem,' deep red 'Rosalita' and medium red 'Rouge d'Hiver.'
Broccoli
Brussels sprouts
Cabbage
Cauliflower
Cilantro
Garlic (bulb/clove)
Kohlrabi
Parsley
Rosemary
Sage
Scallions (green onions)
Thyme
When Should You Plant Fall Vegetables?
Mid to late August is the best time to plant. I'll have some hard decisions to make — take out and compost my sad peppers, eggplant and tomatoes to make room for fall planting? Or give them a chance to thrive for a while in cooler weather? Space is limited in my garden, so not everyone can stay. At this point, I'm betting on a couple tomatoes plus some okra and beans, but the rest of my droopy summer garden will be replaced with fresh plants for fall and a new season of garden promise will begin.