5 Trends to Try This Fall
We round up our favorite looks from the 2016 Black Interior Designers Conference.
After exploring several showrooms at the 2016 Black Interior Designers Conference, one thing is definitely clear: Designers and consumers alike want beautiful yet functional styles they can take from season to season.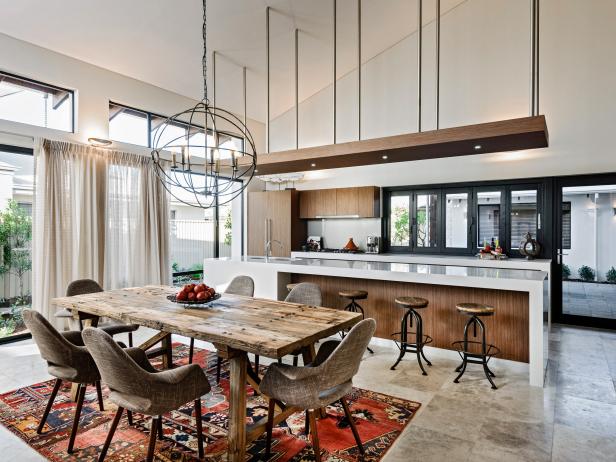 Open Kitchen and Dining Area With Rustic Table, Vault Ceiling
In a new home, designer Jodie Cooper took the concept of dramatic lighting to new heights, using a custom-made "bulkhead" suspended from the ceiling by chrome rods to light the kitchen and dining area. "The bulkhead also helps to visually define the kitchen area without losing the loft style feel," she says. And, she notes, "having a modern kitchen does not need to translate to having modern décor. By blending pieces, such as retro dining chairs, Chinese antiques, rustic dining table combined with Turkish patchwork rugs, we created texture and layers, which add a kind of Bohemian style to the home to create what I call a "Global Eclectic" interior."
Jodie Cooper, Jodie Cooper Design; Photo by D-Max Photographers
Soothing neutrals, unique textures and features that appear to have been designed by Mother Nature herself shine this season. Mix those elements with the clean, sleek lines of modern design and it creates a look that's formal, but unstuffy.
Here are five tips to bring the look home: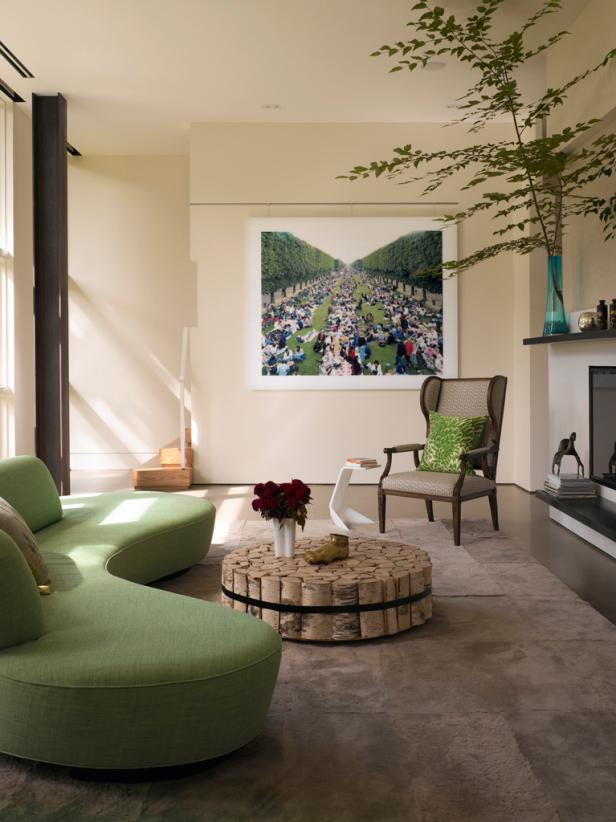 Modern Living Room With Curved Sofa and Log-Wrapped Coffee Table
This living room incorporates uniquely designed furniture to bring about a huge wow factor. The curved green sofa sets the stage for the room's modern style, but also offers plenty of practical seating. The log-wrapped coffee table adds a touch of nature and makes for a wonderful conversation piece. A traditional-style side chair is paired with a minimalist side table. A large photograph, a tall vase of greens and a few accessories add the perfect finishing touches.
It's often too easy for modern style to feel cold, so many designers are turning to wood, raw stone and more natural features to create a warm, down-to-earth feel in their spaces.
Take a closer look – from velvet sofas to throw pillows with buttons fashioned from coconut shells, everything in the showrooms invite you to touch, feel and ask questions about where it came from. Create personality in your space by building up different textures rather than focusing on one flashy statement piece.
Whether you're a gemstone collector or you've waiting for brass to make a comeback, add a hint of sparkle to your décor with hints of gold, copper or your favorite precious metal.
You're not limited to just one area rug per room. Another way to build up more texture and interest is by layering rugs. Choose rugs in a similar color scheme to avoid design chaos.