Best Vacuums for Pet Owners
Find the most effective vacuums for preventing pet fur pile-ups.
Made+Remade is dedicating this week to Pet Love, a celebration of our beloved, four-legged companions. Our bloggers will share cool projects and tips to help DIYers get the most out of pet ownership.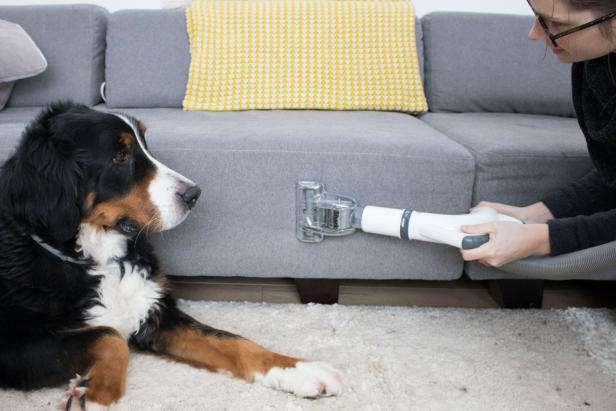 Vacuums For Cleaning Pet Fur
Find the best vacuum for managing and cleaning your home when it's covered in pet fur.
When you assume dog ownership, you also make fur clean-up your part-time gig. For the last eight years my family's Bernese mountain dog who sheds nonstop has been showing us who's boss. Our home is predominantly hardwood with several area rugs, and every cleaning tool we purchase is bought with intent to manage the fur that embeds into the furniture, carpets and into every corner imaginable. Hand tools, brushes, and power tools, they all must work to defend the fort against fur mayhem.
Here are a few of the tools we employ, as well as some of the best-rated pet fur vacuums in the industry.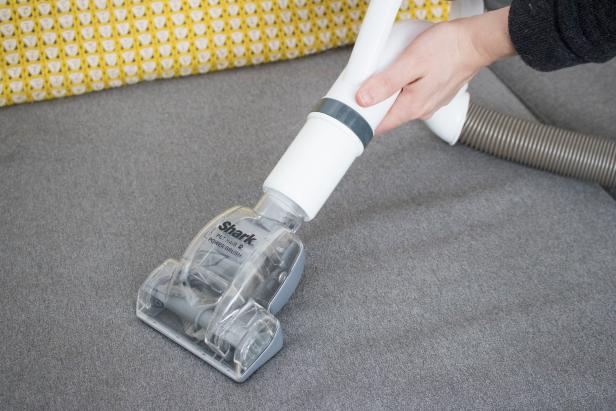 Vacuums For Cleaning Pet Fur
Find the best vacuum for managing and cleaning your home when it's covered in pet fur.
The Shark Navigator Lift-Away Professional Upright Vacuum is currently in our closet, and we love what it does to manage our dog fur situation. It's not marketed as a pet product to end all of your troubles, but it does have a handy pet hair attachment with spinning brush that does a great job cleaning fur off the furniture that the dog frequently leans against.
Deemed a "professional strength" vacuum with adjustable suction features, this product has been good to us on our carpets which vary in pile height. It also has a great floor setting which makes zipping it through the entire house a breeze. It's lightweight and maneuvers like a dream, which seems to be a common review I hear when talking to my friends about my affinity for Shark vacuums, as adults do. Even our 10-year old has been overheard expressing her love of its drive. The attachments are fairly standard as far as vacuums go, but as I said above, the handheld brush is our favorite add-on.
The Shark Rotator Powered Lift-Away Speed is a product upgrade that you should also check out in comparison.
Dyson just released its Ball Animal 2 vacuum (an upgrade of its original Animal model). Compared to its competitors in the upright market, it claims that no vacuum has stronger suction at the cleaner head, and that's a good stat for people in the persistent battle against pet fur.
You've probably seen the Dyson commercials, admired the product design, and been wow-ed by the emphasis on product testing. We find that consumers are ever-pleased with the maneuverability of the ball, and revel in the statistics like how the vacuum ran the equivalent of 847 miles (that's nearly the distance from Chicago to NYC), and how it was dropped 5,318 times to ensure that the body and internal mechanisms. I think it's pretty evident that they're designed to hold up to serious homeowner wear and tear.
We own a Dyson too – it's not the Animal 2 nor its predecessor, but it is at least 10 years old and hasn't required any special maintenance or repairs.
Most pet vacuum manufacturers place special emphasis on air filtration, and Miele's high-end canister vacuums are a popular choice for families monitoring cleanliness for the sake of allergies. The Active AirClean filter with charcoal layers neutralizes odors, and prevents the spread of pollen, dust mites, and other allergens from carpets and hardwoods. Its HEPA 13 filter cleans room air as it works too, claiming to capture 99.999% of all filtered particles. That's pretty good, I'd say.
Miele's Complete C3 Cat & Dog product weighs 19 pounds, has a 36-foot range, a unique Silence setting, and a 6-stage suction regulator. Though it's not a traditional upright, it is easily operated using hand and foot controls. It comes standard with an electrobrush that can be turned on and off, and other integrated accessories.
The WindTunnel 3 High Performance Pet Vacuum is one of Hoover's top rated vacuums, and at the price point, it might be a great option for pet owners seeking a product with lots of accessories and settings. The "3" in the product name refers to its 3 channels of suction, which is tested for removing the most embedded of dirt. It also has 7-position height adjustment, making it easier to clean hard floors as well as carpets of varying pile. This vacuum comes equipped with a pivoting dusting tool for its wand with 15-foot reach, so handy for reaching above bookshelves (up where the cat has been known to watch his kingdom) and ceiling fan blades. It also comes standard with an attachment that works to remove stubborn pet hair from upholstery and stairs, a telescoping wand, and a crevice tool. Plus – the cord is 40-feet long!