Tips for Snow Blower Shopping
Learn features to look for when buying a new snow blower based on your own home's specific needs.
My husband and I agreed wholeheartedly when we bought our home that we would definitely want a snow blower to help tackle the long, wide driveway. It was a shared Valentine's day gift last year, so romantic, I know.
We had shopped for a few months before landing on the product we selected, which is a Craftsman 27″ 205cc model. It was mid-winter when we bit the bullet; the sales were growing abundant and the incentives to buy kept piling on and on, so we were thrilled to get nice features on a mid-range machine for a great price.
If you're shopping this winter, keep on reading to get the low-down on the snow blower features I like BEST: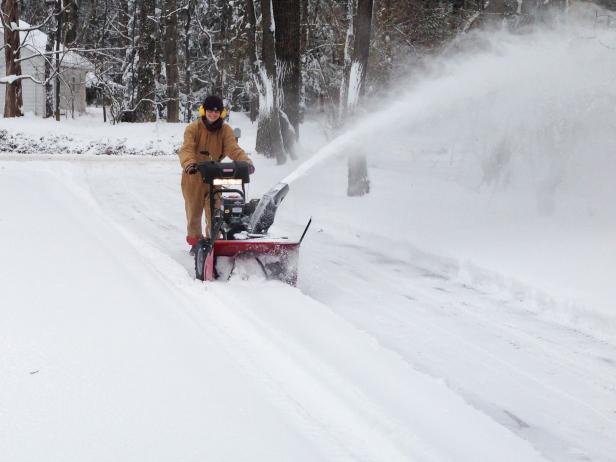 Snow Blowing a Driveway
Learn how to buy a snow blower and keep it well-maintained.
Start by identifying your needs – Stage 1, 2, or 3?
Stage 1 accounts for electric models, which are useful in areas that don't amass more than 6″ at a time. I had one of these once, it wasn't enough to handle the icy, deep snow that gathered at the end of our driveway, but I will say that these models are good for small areas – like sidewalks and ramps – because they are usually narrow and lightweight. They are a good option for homeowners who may not feel comfortable controlling a bigger tool. Keep in mind that you'll need an extension cord, as well as a convenient outlet to plug it into. Some electric models are self-propelled, others are not. The self-propelling feature is a nice one to have. Cordless electric models are on the market too, but I've never tried them.
Stages 2 and 3 are gas powered, with an increasing ability to handle deep and heavy snow. They are good for up to 10″ or exceeding 10″ at a time. Gas powered machines require a bit more maintenance than your typical electric model, just like you would expect when buying a lawn mower, but they have great self-propelling strength, rendering the job very easy.
Think about width – weigh the benefits
A 24″ model isn't going to clear snow as quickly as a 30″ model, simple as that. You'll spend more time doing more passes with the narrower model. The price goes up with the size of the machine, but you may be able to find good pricing on wider models this time of year as merchants look to clear inventory.
Also remember that you're going to need to store the snow blower year-round, so size may be a limiting factor.
Identify your favorite features
Sure, there's a fine line between "need" vs. "want," but learn about all the gizmos and gadgets and accessories that are out there, and narrow down what features you want on your model. My tips:
Like I said above, a self-propelled snow blower is a wonderful thing. I like a good workout as much as the next person, but if I wanted a workout in the snow, I'd be shoveling.
A range of forward and reverse speeds.
Power steering. Yes, this exists, and for heavy models it's a must so that you can make turns easily, and quickly too.
Push button start. An electric start makes turning on this tool as easy as if it were plugged in to the wall, and takes away the stress of dealing with a pull start.
Pay attention to the switch and joystick features that control the direction of the snow chute, and choose a model that will be easy to use. Adjusting an electrically-powered chute is easier than a manually-adjusted chute.
Look for chutes with a wide swiveling angle, and for models that let you adjust the chute to a variety of angles (versus just "left" and "right")
Simple controls. Look for a model that you can operate and steer with just one hand on the controls.
We don't have these, but I could see them coming in handy depending on the pitch of your driveway: chains for your snow blower tires.
A headlight. Because the days are so short.