Tips for Designing the Ultimate Media Room
Learn how to makeover your living room or family space into an enviable media room.
We're dreamers, over here. Today we're dreaming (and creating) the perfect media room. Keep on reading to see some sure-fire media room ideas that you can incorporate into your home, whether small or large, ordinary or amazing.
Modern Living Room Fireplace With Rough-Hewn Mantel and Shelves
A bump-out fireplace is made to look built-in with the addition of a timber-beam mantel and a set of side shelves. The rough-hewn timber mantel extends past the fireplace to give the room a gorgeous focal point and provide a surface to display artwork and glassware.
Let's start with the basics. You have a squishy couch, flat screen television, a cable/satellite box, and a pile of cables and accessories from the last decade of collected technology. Just me? I sorted out what I knew I no longer needed, neatly wrapped other cords, and organized them into a single, transparent storage container.
Mounting your TV on the wall is one of the most prevalent media room practices these days. Families benefit from the security of having the heavy television off a tabletop, making it less apt to fall on curious kids, and at the same time are able to make better use of their living space.
If you're shopping around for products with which to mount your TV, remember that you can choose swiveling and articulating or a flush mount for your screen. It all depends on how high your screen is mounted, or if it needs to tilt to be visible from different areas in your room. I selected and installed a flush mount for my family's television because it doesn't need to tilt to be viewable.
You can avoid dangling power cords by running them through the wall, downwards to an accessible outlet. This is safer, and also makes for a cleaner overall presentation.
Continue the theme of safety and presentation by concealing accessories that would ordinarily sit below the TV behind the mounted screen. Products by HIDEit Mounts are really good for this, and I think you'll like them too – you can attach anything, such as your heavy video game systems to your lightweight Apple TV or Roku flush to the wall behind the television. This can eliminate the appearance of dangling cords, hides the products, and theoretically, could eliminate the need for any storage unit beneath the television, whether you're used to using a cabinet with doors, or an open mantle space.
My own living room storage configuration uses several hidden HIDEit Mounts (PS3, Roku, and Wii), but because the television screen is flush mounted very close to the wall, I've integrated these storage tools into the floating cabinet beneath the TV. It works really well, and our under-cabinet organization makes for a better media room experience. The cabinet primarily serves to disguise the electrical cords that pop through the drywall and plug into an outlet, but also houses games and cords and other related accessories. I attached the mounts to the wood on the top inside of the cabinet where they're secure and out of the way but also don't take up any of the lower shelf space for our games and movies.
Constantly missing your remote? You're not alone. Create a spot behind your TV for remote storage. Use heavy-duty Velcro – one piece attaches to the backside of the remote, and the other to the drywall or back of the television. Organization for the win!
Home audio systems aren't something to be overlooked – especially considering that many televisions have the speakers projecting to the back, which causes the sound to bounce off the wall when a TV is mounted.
For a single TV, a sound bar speaker system is an easy solution. These long, narrow speaker systems can sit above or beneath your TV, and some models even have wall-mounting accessories and wireless subwoofers, all in the name of helping your entertaining space look streamlined.
Bluetooth is enabled on many newer TV models, which makes hooking up wireless surround sound systems easier.
When it comes to choosing surround systems, you'll likely be inundated with products designed to sit on shelves, attach to the wall, or higher end systems that actually get installed into the drywall (the most permanent of the products). In the past, I've had the best luck narrowing down the best options by reading reviews and talking to product experts in store.
If you want a big screen movie experience, I totally recommend investing in a projector and wall or ceiling-mounted screen. The projector itself is an investment, but once you have it, you can use it in lots of different ways.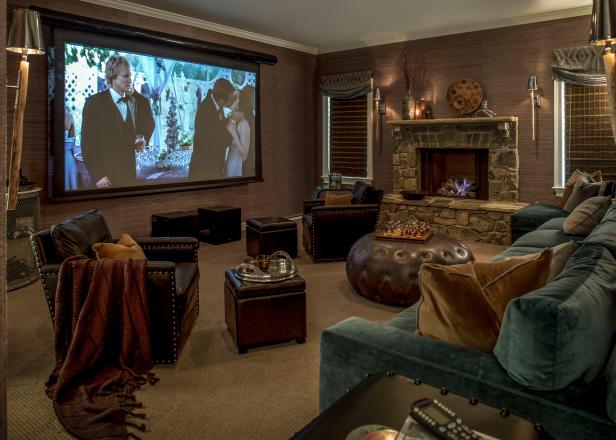 Cozy Media Room With Projection Screen
A few walls and doors were reconfigured to create an enclosed media room in the basement. An open basement plan was slightly reconfigured with the help of an engineer, and the final product is a cozy media room with seating for 12.
Projectors can be mounted to the wall or ceiling and wired through the wall similarly to your wall-mounted television.
You can also leave a projector sitting on a corner shelf or tabletop and still have it display where you want it to in the room. The keystone correction feature in most high-tech projectors will allow you to adjust the output image, so the projector doesn't have to be directly in front of where it displays anymore. This really comes in handy when you want to tuck that projector more out-of-sight, like on a corner shelf, and still project where you want to display.
We keep our projector unmounted and sitting on a shelf for convenience; we host outdoor movie nights, and can easily relocate the product into the backyard so that it can display on a large canvas "screen."
If your walls are large and white, you can probably get away with having a projector with no screen forever. If you're with the majority and don't have the space to project without a screen, consider a wall- or ceiling-mounted projection screen for your home. You can buy them in a variety of sizes to suit your media room space, and installation is pretty easy once you have a location selected. The screen easily pulls down for viewing parties, and retracts to be a minimal feature in the room when not in use. Projectors work best in a very dark room (night time!) and screens are definitely not intended to be a blackout solution in instances of direct sunlight, but we hung our screen in front of our window and it works well for us (it's used after dark most of the time anyway).
If you think your living room is just going to feel like a corporate board room, trust me – you haven't lived until you've played your favorite old school video games or had a Property Brothers marathon on a 12-foot screen.
Go with comfortable furniture that suits your family.
A sectional sofa will provide lots of seating if you have a big family or like entertaining. Our sectional is extremely modular, and we can adjust its shape and configuration to suit our needs in minutes.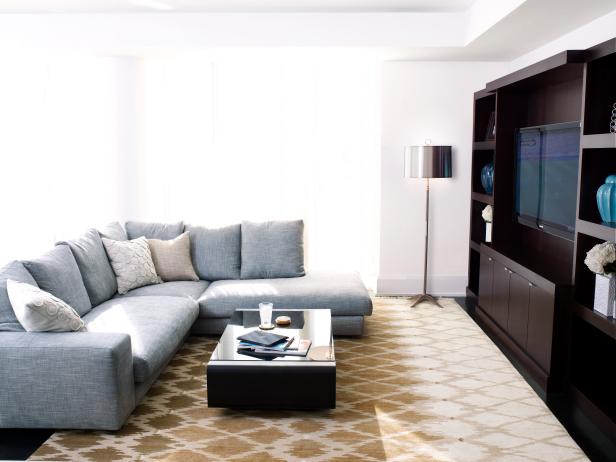 Modern Living Room With Gray Sectional Sofa
The centerpiece of this minimalist living room is a gray sectional sofa situated in front of a large wooden entertainment center. A metallic floor lamp adds a sleek touch, while a neutral diamond patterned area rug completes the look of the space.
We also make use of a couch with a pull out bed quite often – the kids like to lay on it when they play games, or snooze on it during movie nights. Add in lots of throw blankets, and get snuggly.
Colorful, Transitional Playroom with Fun Paint Treatment
Gradient color on two accent walls gives punch to this creative playroom. A rug and kid-size work table define an area for crafts and playtime, while a small sofa offers a family-friendly spot for TV watching.