An at-home movie night is a fun way to bring together young and old and integrate family into your entertaining.
Movie nights are some of my favorite nights of the year. We pull out the movie projector, spread out blankets and cushions, and invite all of our friends over for a fun big screen-type experience in our backyard or living room. Host movie night for your child's next birthday party, for a graduation party, or even an adults-only shindig (the kind where you can provide wine, cheese, and show a scary movie in your dark backyard). In any and all instances, be sure to have plenty of popcorn.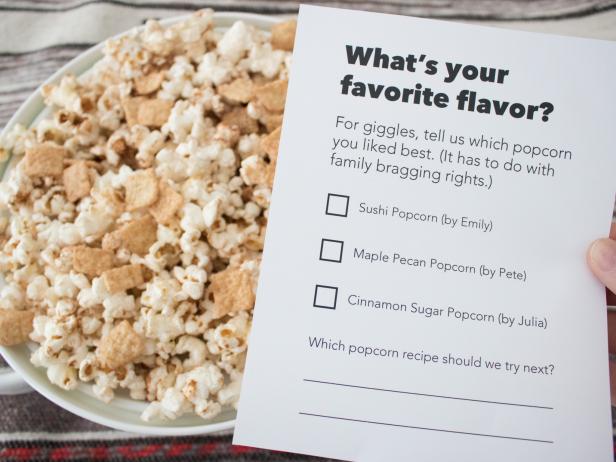 How to host a fun movie night
Host movie night at home, and make delicious popcorn for your friends.
As you plan for the party, keep in mind everything that goes into making it a great experience:
Indoor movie nights are made easier with a projector screen. I installed one right in our living room as a permanent feature, but mobile models are available too.
For outdoor movies, buy a traditional painter's canvas at a hardware store ($10-$20) and attach it to your home, or hang it between trees. Think 8' x 10', or 12' x 18' to maximize the viewing area.
An indoor surround sound system can connect to your projector to make movie night very theater-esque.
When displaying outdoors, I find that a few thoughtfully placed computer speakers help to create a booming surround sound experience, without requiring that you mount an intricate surround sound system amongst the trees in your yard.
We can host larger gatherings if we project a movie outdoors, but we always suggest that friends bring their own lawn chairs and outdoor blankets for comfort.
Freestanding space heaters like the one shown below are totally worthwhile too. When the temperatures dip after sunset, it's always nice to have a source of warmth. You can find many models in the $150-$300 price range.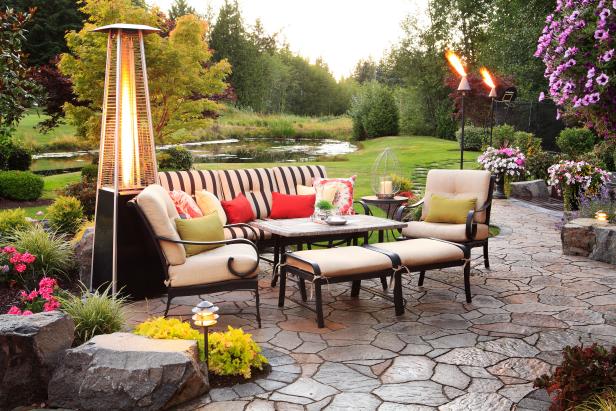 Transitional Outdoor Living Space With Patio Heater
A chic patio heater warms this transitional outdoor living space in style. The heater coordinates with the beautiful outdoor furniture, creating a perfect spot for entertaining.
Easy edibles are a must when you're hosting a movie night. Offer s'mores if you're able to have a small outdoor fire, and wine and cheese for an adult party, and popcorn too – always popcorn. You might not think of popcorn as a base for testing new recipes, but there are some amazing popcorn mixes that will put the traditional movie theater buttered technique to shame.
Without a doubt, you need to check out this list of 50 flavored popcorn recipes from our friends at Food Network, and then offer your guests a variety at your next movie night.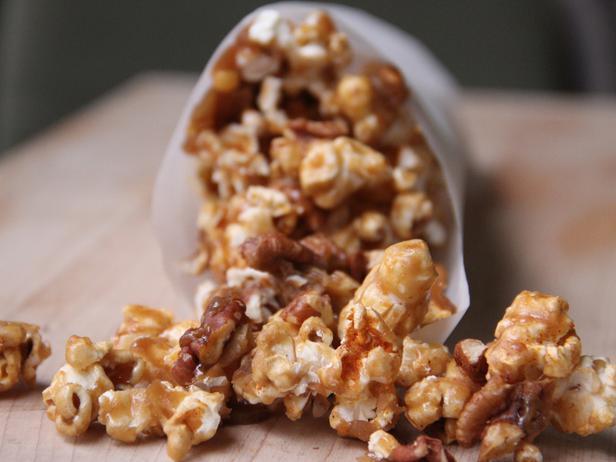 Maple-Nut Popcorn
The sweet-and-spicy snack mix is seriously addictive. Place bowls of this nutty mix around your holiday party and watch it disappear. Get the recipe.
Courtesy Kelsey Nixon, 2012 CookingChannelTV.com
Sushi Popcorn: Whisk 1 1/2 tablespoons each vegetable oil and soy sauce with 2 teaspoons each toasted sesame oil and rice vinegar; drizzle over 16 cups hot popcorn. Toss with 2 cups torn roasted seaweed snacks and 1 cup wasabi peas.
Maple Pecan Popcorn: Heat 2 cups sugar, 1 cup maple syrup and 1/2 cup light corn syrup in a large pot until it reaches 260 degrees F on a candy thermometer, about 12 minutes. Add 3 cups pecans and cook 2 minutes. Stir in 3 tablespoons butter until melted, then pour over 16 cups hot popcorn; toss to coat. Spread on baking sheets and let cool.
Cinnamon Sugar Popcorn: Drizzle 6 tablespoons melted butter over 12 cups hot popcorn; toss with 4 cups cinnamon cereal (such as Cinnamon Toast Crunch), 1/3 cup sugar, 2 teaspoons cinnamon and 1 teaspoon kosher salt.
Use a stove top popper for more control over your recipe – the Whirley-Pop popper is a must-have, easy-to-use product. It only takes about 1/4 cup of kernels and 5 minutes to pop enough for 2 people!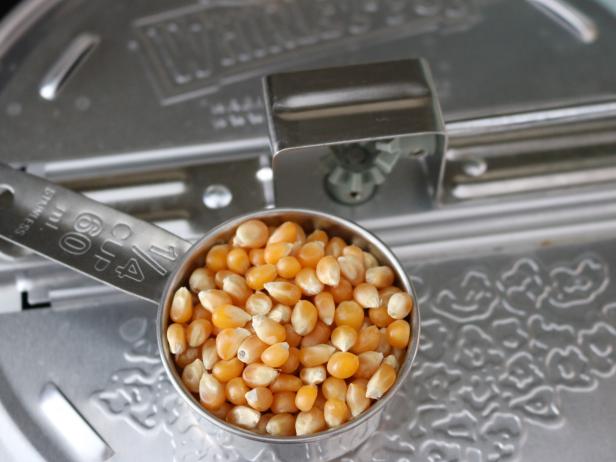 How to host a fun movie night
Host movie night at home, and make delicious popcorn for your friends.
If you're having trouble choosing a movie to show, narrow it down to 3 options that would appeal to the age ranges in attendance, and vote. Popular vote wins, no crybabies!
Make more fun of voting by having your guests rate your multiple popcorn varieties; simple voting slips allow your friends to note their favorite concoctions (and place suggestions for the next party).