Tips For Feeding the Birds and Squirrels During the Snowy Months
Don't forget the backyard wildlife during the winter months. Check out these easy recipes for suet and dried corn, plus find more tips for feeding birds and squirrels.
It's a wintertime feeding frenzy! For the wildlife in our yard, that is. (For me, it's mostly just about the extra cups of specialty cocoa). When the weather dips and snow falls, our furry and feathered backyard friends are designed to endure, but go into hibernation, they don't. Even on blustery days, the squirrels are scampering, and birds are flocking on tree branches.
Over the past few years, I've set out to try and help the wildlife during the cold, snowy months, and I'm here to show you a few of my favorite go-to "recipes."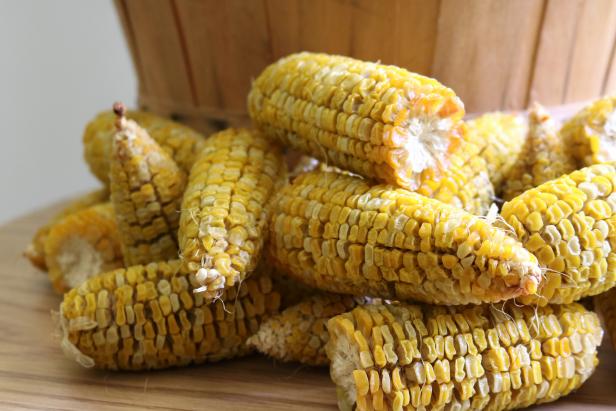 Dry corn as a wintertime treat for wildlife in your backyard.
Corn dried on the cob can be used to feed birds and squirrels all winter long.
I like to dry ears of corn when they are most readily available at farm stands in the late summer. I store them in a cool, dry place until the snow begins to fall. The squirrels in our yard are ever-preparing for winter during the summer and fall by burying nuts and seeds, but when the snow gets deep and stays for days, and weeks (and sometimes months!) at a time, I can't help but wonder how they'll ever get to their buried treasure. A couple of ears throughout the week is enough for the neighborhood to share (enough to help them get by without spoiling them too much). They sure do like nibbling on my dried corn offering, and in turn I like to watch them drag the ears across the top of the snow like a wildlife crossfit session. You can buy dried corn at many gardening and agriculture or feed stores, but I've noticed that the price point is much lower when you dry it at home. Follow this tutorial to learn how to make your own dried corn.
All year long, I'm amazed at how fast the birds will devour bird seed deposited in their feeders! To continue to feed them all winter, I like turning to suet. Suet is easy to prepare, and gives the birds a little extra something fatty to help them endure when the temps drop. I also like that it remains a block until the birds nibble it apart; the embedded seeds aren't as inclined to drop to the ground and get buried in the soft snow as with the loose feed that we use in our feeders all spring and summer.
Suet itself is an easy recipe of bird seed and lard, and colder temps make it an ideal winter feeding solution (during the summer, the lard may soften too much to hold its shape). You can make it into a cake and put it into suet feeder, and replenish as needed. (Like dried corn, it can be quite a bit less expensive to make suet at home, rather than buy it packaged at the store, but that is an option too!)
If suet isn't for you, one other bird feeding option that you might enjoy is a tray feeder, wherein the food is spread on an open plate. The seeds are less likely to fall through to the ground and get lost in the snow, but neither are the shells, which will have to be cleaned out with each seed restock.
If, like me, you enjoy watching your backyard wildlife during all seasons, enjoy trying these "recipes" at home.