Think Again: Things You Don't Need for Baby
A list from a Mom who loves baby gadgets and their conveniences, but would rather only splurge on the necessities. 
Feeling pressured into buying lots of "must haves" for your new baby but wonder what you'll actually use once you bring the newborn home?
Things You Don't Need To Buy For Baby
Get tips on what gadgets you can avoid when you're planning for baby.
I get it, I'm a gadget-loving mom too, but the truth is, a new baby doesn't need much. Milk, diapers, and a Finnish Baby Box—one of my essentials. But of course we're all inclined to go above and beyond for certain conveniences (and that's OK). Just remember that you can always make do with less (and also make your own conveniences using your DIY prowess).
You don't need a diaper bag.
Just choose a nice cross-body tote or a backpack. In fact, you'll find that lots of brands have totes and backpacks mixed in amongst their traditional diaper bag products, but they still call them diaper bags. What I'm saying is… a bag is a bag and it doesn't have to be marketed as a diaper bag to get the job done well. (This was my justification for using a simple, washable $26 Baggu tote for the entire first year.)
You probably don't need a fancy monitor.
It's a big component in achieving peace of mind for new parents, but the layout of your home might help you realize what type of monitor you actually need. And you might even find that you don't need a monitor at all. Don't get me wrong, the HD color-screen voice-recognition and white-sound-capable product we researched and purchased was nice, but it was definitely a waste of $250 because we quickly realized that I could hear the baby crying in the next room even without the monitor. There were a few times that was kind of nice to have when we were working in the yard while the baby napped, but we didn't need all of the video capabilities for that. Furthermore, at night the amplified audio from the baby tossing and turning would wake me, even if the kid wasn't calling out for attention. Even the light on the monitor was disruptive to my own sleep.
You can make a changing table out of almost anything.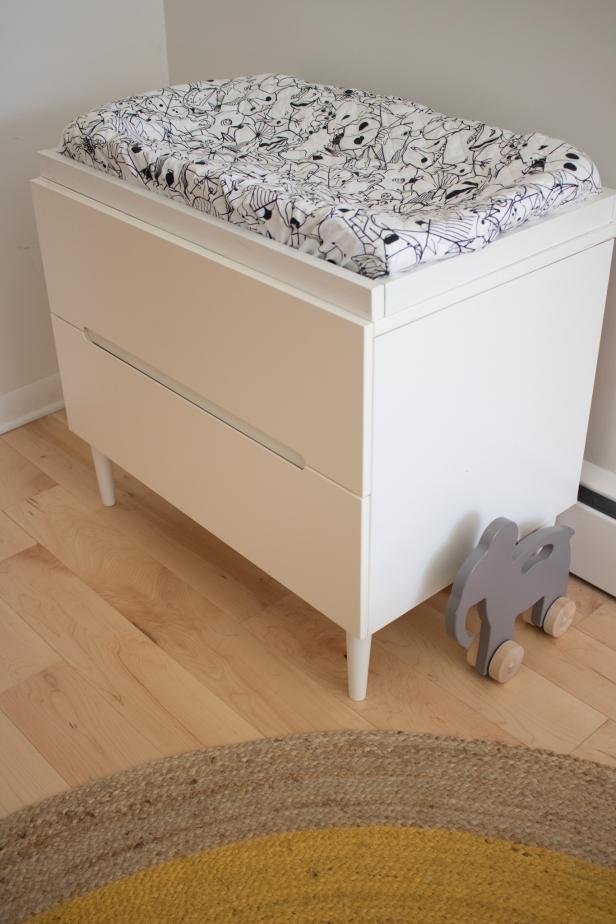 Things You Don't Need To Buy For Baby
Get tips on what gadgets you can avoid when you're planning for baby.
A formal changing table may be a big expense that doesn't get used as much as you would expect, and only for a short few years. Use the top of a dresser, and the drawers beneath for concealed diaper/wipe storage. To prevent the pad from sliding around on my unit, I built a small frame that attached to the backside of the dresser.
No need to buy a formal infant bassinet.
I was close to buying one when a friend much wiser than me suggested against it. Her kids liked a simple "Rock 'n Play" product. Fisher-Price and many other brands make similar products. She let me borrow hers while my daughter was an infant, and it certainly fell into the "nice to have" category under convenience – light-weight enough to carry through the house, and compact enough to fold up for a day trip to grandma and grandpa's. For another easy alternative, use a Pack 'n Play as a secondary napping location (it's just a little more cumbersome if you want to move it around the house or through doorways while assembled).
You definitely don't need a Genie.
This is the stereotypical "you don't need that" product, isn't it? Yet, people keep buying them and I still see a lot of them at yard sales and secondhand shops. If the diaper is a real stinker, just wrap it up in an extra plastic bag. If you use cloth diapers, just change your laundry routine to keep the smell at bay.
Don't bother with the special baby laundry detergent.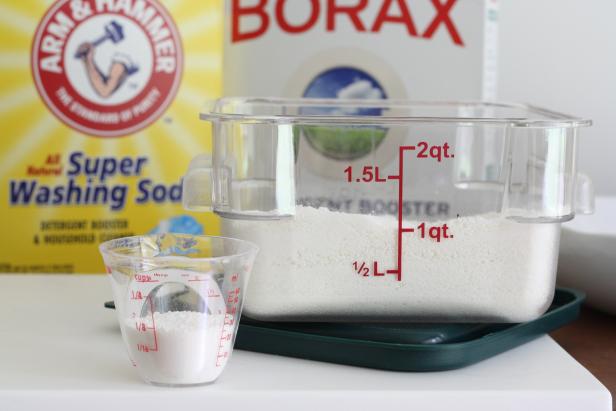 Make Your Own Laundry Detergent
An easy recipe for making your own laundry detergent.
Any brand's "Free and Clear" product will be gentle enough for baby clothing (and easy enough for the whole family to use too… which means no need for special loads of only baby items). Free and Clear products are also great for cloth diapers, but the best detergent I found (for baby, cloth diapers, and the whole family) is one that I make using washing soda, borax and ivory soap.
You won't need to buy a special sound machine.
Not all kids need white noise to sleep, but if you want to try it, chances are that you have an extra radio or old smartphone laying around the house that you can program to play music quietly in the nursery. Better yet, you can find free apps for the smartphones that play a loop of white noise and let your baby veg out to the sounds of the mall, a busy restaurant or the car, all places that he's already known to be lulled to sleep.
You don't need baby shoes.
They're cute, but they're hard to put on, hard to keep on, and if the kid isn't walking, they don't do anything. Buy cute socks instead.
You don't need special portion-sized containers for baby food.
When the time comes to sample foods, you might consider making your own baby food. Instead of spending $15 on the portion-sized trays that are freezer safe, just use ordinary ice trays (whether hard plastic or silicone, they all work well).
You don't need a special bottle sterilizer.
Save $50-$100+ on another small appliance and dip the bottles and parts in boiling water for 10 minutes to sanitize. Most bottles will clearly state whether or not this is a safe cleansing solution. If your bottles are dishwasher-safe, it's easy to rely on that appliance too.
You might not need a special rocking chair.
In hindsight, I didn't really know what I would like best until after the baby was born. I love the feeling of swaying in the rocker and the glider, so I bought a rocking chair, but when it came to nursing, I preferred sitting still, so the rocker was used much less than I expected. Keep that in mind as you shop for what could possibly be a very expensive chair.
A special nursing cape isn't necessary.
If you're going to make public nursing work, it's pretty easy to achieve subtlety by just relying on a good scarf, my friends. A neutral infinity scarf went a long ways in covering myself and the baby without drawing extra attention.
Looking for more tips for new parents? Get creative with these ideas: