Create the Perfect Bubble Bath
Make every day a spa day.
There's nothing a warm bath can't solve. Even on days where it seems like nothing goes right, a few minutes of solitude erases my worries and helps me refocus.
And though I've always dreamed of a big, beautiful bathroom with hotel-like amenities to enhance bath time, my reality is a dimly lit 5-by-7 foot box with "luxury" features that include "being able to fit a coffee cup on the towel rack without it spilling."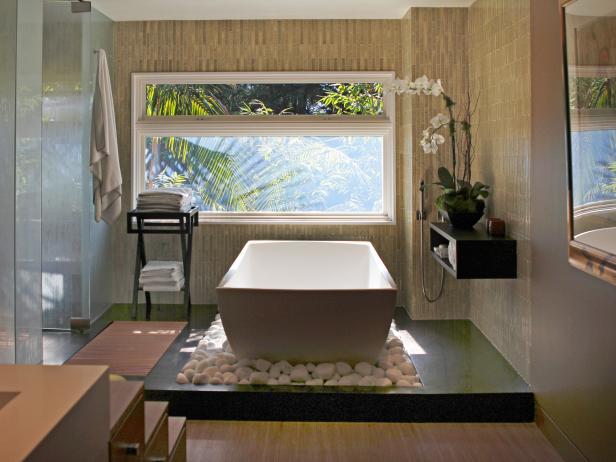 Contemporary Bathroom With Freestanding Tub
When I hit the lottery I'm going to use the money to recreate this bathroom design. (Oh, and to move to a tropical paradise.)
From:
Million Dollar Rooms
Luckily, I've mastered the at-home spa. I'm happy to report that it doesn't have to take a lot of time or money to turn your bathroom into a mini retreat. Here's how to get started:
I know, I know – the whole point is to relax, not create more work. But you'll feel so much calmer (not to mention cleaner) if you put a little effort in beforehand. Don't forget to wash some towels!
Quick Bathroom Cleaning Tips
01:07
Learn how to clean your bathroom with just vinegar and hot water.
If you've always felt your bathroom looked a little bare, now is a great time to decorate. You'll be surprised at how many things lying around your house make great bathroom decor. Pick a couple things that make you smile; for me, it's a hurricane vase filled with seashells from past vacations and a framed snapshot of a jellyfish from a trip to the aquarium.
Okay, now it's time to set the scene. Light some candles, bring in some fresh flowers, grab some magazines and turn on your favorite playlist. Lay out some fresh towels near the tub so you don't drip water all over your freshly-cleaned bathroom.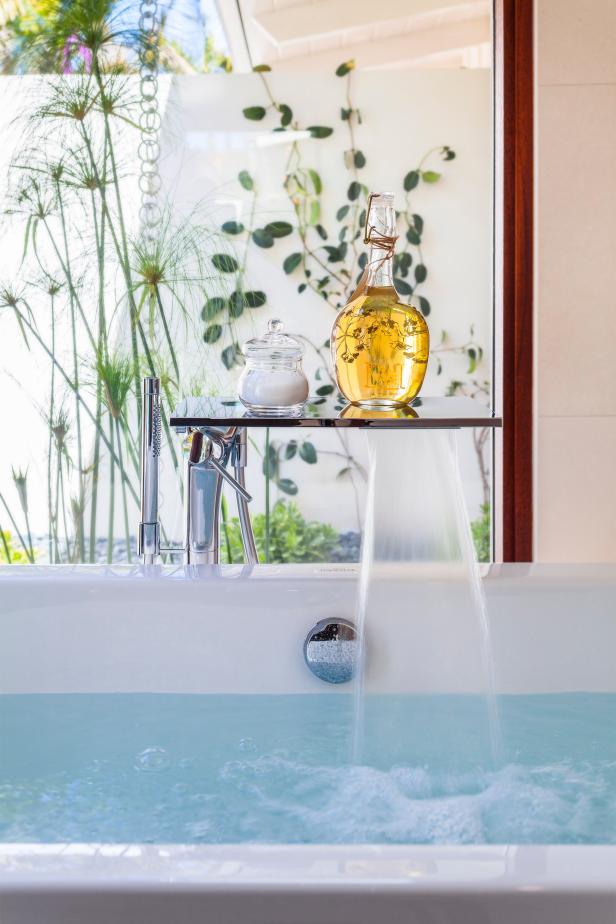 Spa Bathtub With Waterfall Feature
This relaxing spa bathroom features a bathtub with chrome fixtures and a luxurious waterfall feature. A small glass shelf is positioned next to the tub, providing a convenient spot for bathroom essentials.
Warm water, not hot. Hot water dries out your skin. Get a little aromatherapy action going with a few drops of essential oil or try adding one of our homemade bath bombs for ultra-soft skin. Top it off with some inexpensive bubble bath.
Make Some Tea (or Pour Some Wine)
While the tub is filling up, scoot into the kitchen and grab yourself a beverage.
A friend and fellow editor taught me a breathing exercise, the Oprah-approved 4-7-8 method. It's an exercise meant to help you fall asleep faster, but I've found myself using it everywhere, especially during bath and shower time: Inhale for 4 seconds, hold your breath for 7 seconds and then exhale for 8 seconds. Once you're in the tub, give it a try, or just close your eyes, and take some deep, slow breaths.
Stay in as long as you like and remember — everything is going to be just fine.