How to Pick the Best Perennials for Your Yard
Whether you're in the sun or shade, check out this compilation of easy-to-grow perennials, many of which are deer resistant.
It hasn't gotten too hot yet here in the South. I'm trying to hurry along and get some perennials in the ground before the long, hot days of summer arrive. The heat can put too much stress on a new plant, so I need to get it done now.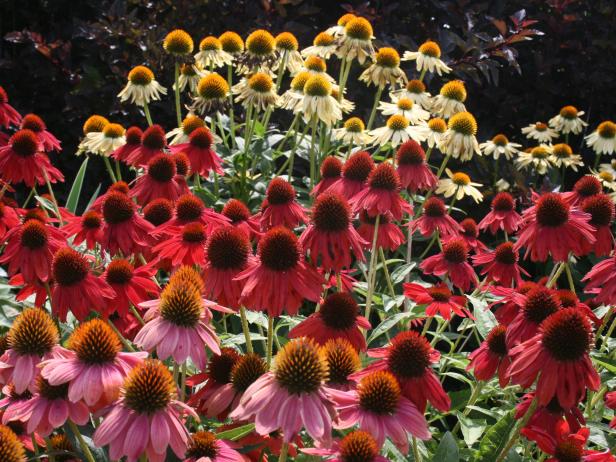 Coneflower Explosion in New York
Dickman Farms in Auburn, New York has been in operation since 1903. Since its partnership with the Ball Seed Company in 1978, it ships over ten million young plants annually to growers across the U.S. Their lush garden center, which has the ambiance of a botanical garden, is populated with hundreds of ornamental trees, flowering shrubs and seasonal favorites like coneflowers with their vibrant colors.
Image courtesy of Dickman Farms Greenhouses and Garden Center
I've got a few different areas in my yard with bald spots, some in full sun and others in deep shade. But the first thing I must consider when picking plants is whether or not they're deer resistant. I love having wildlife in my area, and deer are pretty to look at, I just wish they'd stay out of my garden.
I found this batch of articles listed below to be very handy. I crossed referenced them to the website of a semi-local nursery and DeerFriendly.com which lists deer-resistant plants and trees for every state. If you have the same issue of garden-poaching deer, it's a good place to start.
If you've got a sunny spot you're looking to fill, take a look at this list of top-10 lovers of direct sunlight.
Black-eyed Susan (Rudbeckia fulgida 'Goldsturm')
Tough and reliable, black-eyed susan fills summer with cheery blooms that look good in the garden or a vase. Plants are a snap to grow—just give them average soil in full sun. Clumps spread quickly when plants are happy. Remove edges of clumps in spring to keep plants in bounds. Black-eyed susan doesn't usually need divided, but it's a good idea to do so at the 4-year mark to rejuvenate clumps. Goldsturm is hardy in Zones 3 to 10.
For lots of color with some height, try coneflowers, Joe Pye weed, shasta daisy, yarrow, red-hot poker and false indigo. Some say coneflowers are deer resistant, but the deer in my neighborhood chomped off the stalks of my coneflowers and shasta daisies way before the flowers got established. I got smart and moved them to a fenced-in area.
Coreopsis, lobelia and lamb's ear – all of which deer won't eat – make great groundcovers and borders for sunny areas. Pachysandra, creeping Jenny and vinca are low-growing, self-spreading plants that will add a lush texture and do well in the shade.
For shady areas, some of the easiest perennials to grow are lily of the valley, astilbe and liriope (aka - monkey grass). I have lenten rose in sunny and shady parts of my yard. I love them. They require no maintenance, the delicate little flowers bloom through the spring, and they also look good in the winter.
Turn up the color in your yard with shade plants that strut their stuff year after year.
My favorite and probably one of the most popular shade-loving shrubs is the deer-resistant hydrangea. It takes a couple years for hydrangeas to become truly established, but once they do, you end up wishing you had more. I'm thinking about getting more rhododendrons and azaleas too. I've ignored the ones in my yard for years and they still look great, plus they're evergreen so they add some color to the winter landscape.
On the edible side of perennials, thyme and oregano are super hardy groundcovers that'll make your food taste great. Fortunately, deer don't seem to enjoy their flavor. Lavender and rosemary plants can last for years. They look sort of similar to one another so I paired them up in the same bed.
If you want to attract butterflies to your garden, specifically monarchs, plant milkweed and butterfly weed. Other nectar plants like Indian blanket, coneflower, Joe Pye weed, sage and dahlias are also butterfly friendly.