Pulled pork and smoked chicken aren't seasonal fare, so knock the snow off the smoker and get to work. 
I live in East Tennessee, and I admit that we have pretty mild winters. However, there is no reason to put your smoker or grill in storage until the weather warms up. Moreover, if you got a new Big Papa Smoker kit for Christmas like I did, there's no need to hesitate. Grab a hunk of meat from the butcher shop and get cracking.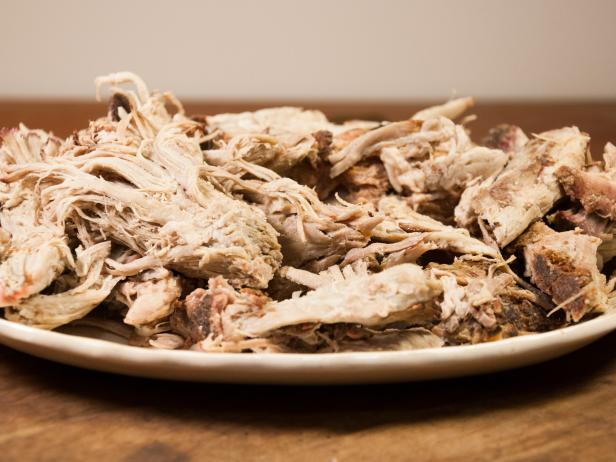 A Plate Of Pulled Pork Shoulder, Smoked Over Hickory Chips
A fresh plate of pulled pork is always a treat on a cold winter's day.
Photo by Dan Lipe
A fresh plate of pulled pork is always a treat on a cold winter's day.
I love ribs and brisket as much as the next guy, but what we do well here in East Tennessee is pig and yard bird, so today I've selected a 7.5 pound boston butt and a four pound whole chicken. I will take roughly 5-6 hours to smoke the butt and two to smoke the chicken. Also to note, the process for the butt starts the night before, as it needs to marinate overnight.
Photo by Dan Lipe
My stock pot works perfectly for marinating a pork shoulder.
Start by marinating the pork butt overnight—let it soak up all those flavors—and be sure to put it in the fridge. Your pets will be really happy to find you left it on the counter overnight…just saying'. Take it out of the fridge around lunch time before you go out and build yourself a fire. The butt will be around room temp about the time the fire is ready for business. The other pre-fire task is to set some wood to soaking. I have some hickory chips left over from a previous project so I'll use those. I also have some cherry and some apple handy. Fruit and nut trees make the best woods for smoking, in my opinion. Sorry, Texas, I don't have a taste for mesquite. Not because I'm a hater, but I don't have a convenient source.
Fill your basket with charcoal. A full basket will give you well over 6 hours of heat and probably more like 10. I'm a big fan of the chimney to get the charcoal going and I don't have to use charcoal. When the chimney is ready, hollow out the middle of your basket and pour the hot coals in. Throw in some of that soaked wood and now your fire is ready.
Photo by Dan Lipe
A well in the middle of the charcoal holds the burning coals.
Fetch that pork butt and throw it on the heat. We're going to be looking for an internal smoker temperature of around 210-240 degrees. I got mine up a little higher and you don't really want that.
Rule number one: If you're looking, you're not cooking'. Put that meat on, close the lid and watch the thermometer. Leave the lid alone! After about 90 minutes or so, flip that bad boy over and give it another 90 minutes or so, then wrap it up in foil and let it go full-term until it has an inner temp of around 185 or so.
So for the chicken, I don't marinate. I don't use some fancy rub. I just do it like Red Hargrove says. Get yourself a whole fryer (or 7). Cut the backbone out and wash it. Rub it down (front and back) with olive oil, salt and pepper. That's it. Throw it on the rack bones down around hour four of the butt. Flip it in an hour and let it cook for another hour or so. No joke it's that simple.
While living down in Alabama, I learned that any good smoked chicken is served with white sauce. If you're not familiar, well, you are now. And to boot, we have a recipe for Big Bob Gibson's white sauce over on Food Network. What that means is that one of the finest white sauces from one of the finest BBQ joints in the state of Alabama (in Decatur to be exact) is ready and available for you.
When the meat is done, bring it inside and let it rest. Smarter people than me say it's to let the juices reabsorb into the meat. After about 30 minutes, tear into that butt with a pair of forks. Shred that pork. And don't forget to cut up that chicken (the wings are the best). When you have a big pile of meat, it's time to eat!
Keep that temperature down around 210.
Add more wood chips when you flip the butt over.
Don't be afraid to baste the meat—it will create a great bark on the outside and help keep some of the moisture in.
The White Sauce Recipe requires the horseradish. Requires it. Trust me.
A 7 pound butt is WAYYYYYYYY more meat than a family of 4 needs for one meal, even if you invite a couple pals over. You can freeze the excess or invite more friends over. Your choice.
The white sauce is good on pork, too.
Shovel a path in the snow to the smoker or you might end up dropping the butt. Just saying'.
Take a hands-off approach to barbecue chicken with this easy and delicious slow cooker recipe.