Planning a Kitchen Makeover: DIY, or Hire a Pro?
Depending on the task, portions of your project can easily be tackled yourself to save money.
Take it from someone who's tackled her share of kitchen makeovers: whether you're planning a modest makeover or an all-out remodel, there are many aspects of your project that you can take on yourself. Learn what upgrades you should attempt, and what tasks you should consider hiring out to a pro.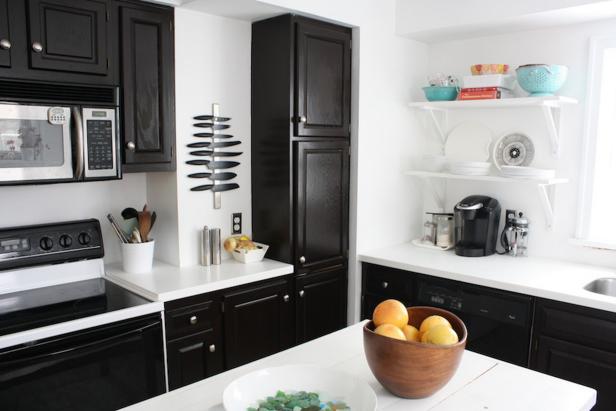 How to Use Gel Stain for Projects in the Home.
Gel stain brings new life to oak kitchen cabinetry.
Painting walls: If you want to refresh a paint color on the walls, ceiling, and trim, consider this something you can take on yourself. You'll save a lot of $$$ too, because good painters aren't cheap. Identify the types of brushes and rollers that will help you achieve success, and then choose your paint. I always recommend a semi-gloss for the kitchen – even for the ceiling – because it's easier to wipe-down when it comes to airborne grease, and holds up better to moisture. Blare some great get-you-pumped music, and give your kitchen a new look in a weekend. Battling wallpaper? Don't fret, it may add time to your project but it will come off. Or, if it's in really good shape (not peeling at the seems and well-adhered) consider painting over it. There was a textured wallpaper in my 1950s kitchen and I actually liked it, so I decided to paint over it so that some of the texture would still be exposed.
Hardware, appliance and accessory swaps: It may seem intimidating but you'll find that manufacturers make it easy for homeowners to change up the look of their kitchen hardware and appliances. Be sure you know how to turn off the water if you're changing the faucet, and have an extra set of hands available if you're replacing appliances (fridges are heavy). Even if you can score free delivery and old appliance take-away when you buy the appliances, it often costs extra to install them. Learn about the basics of installing an appliance (like an over-the-range microwave) and get it done yourself.
Update cabinets: Simple knob and pull updates make for an easy and cost-effective way to update the look of your kitchen cabinetry. If you're vying for a dramatic makeover, update the finish on your cabinets with paint or gel stain (gel stain is a personal favorite for transforming the look of unpainted cabinets, and it's easy to apply). I did my current kitchen with an alkyd enamel paint and it has held up beautifully, so do your research, learn from me, and it'll go great. The painting and staining process can take upwards of a few weeks, but when done well, the end result is truly transformational and will last you many, many years. If it's the style of the bevels and trim on the doors that don't match your style, you can also get replacement doors and drawer fronts to size.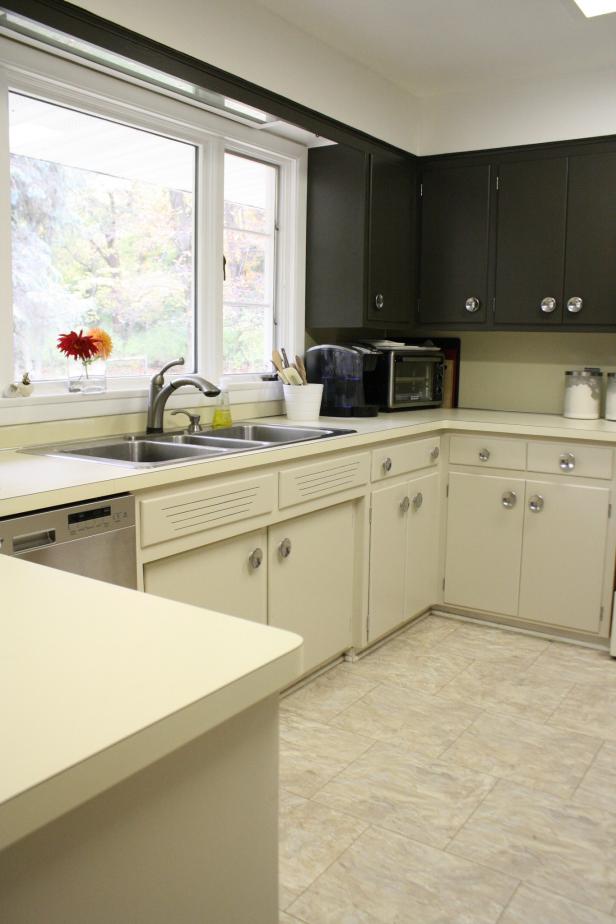 Simple DIY Updates for the Kitchen
Decide whether to DIY or hire a Pro for your kitchen makeover.
Install a disposal: You'll need to know a little bit about basic plumbing and electrical to make this installation happen with confidence, but adding a garbage disposal to an existing sink isn't rocket science. Manufacturer directions on the product will walk any homeowner through the process. Just remember – pairing a disposal with a septic system is usually not advisable.
Update lighting: If you're updating existing fixtures, this is an easy DIY project. Replace an outdated sconce with a new model, or an insufficient over-the-sink or over-the-island lights with a fixture with more bulbs.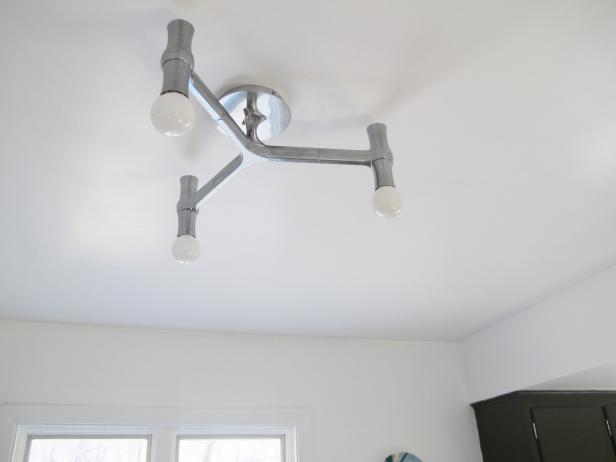 Simple DIY Updates for the Kitchen
Decide whether to DIY or hire a Pro for your kitchen makeover.
Window treatments: A clean-lined valence paired with a set of blinds is a nice look for the kitchen – modern and purposeful, but not so bulky that they're getting in the way, especially on that window over the sink.
Adding a backsplash: Installing a custom backsplash is an easy process if you're patient. Unlike in a shower when water saturation is a bigger concern, if you're installing tile you can use mastic directly over the existing drywall, and then fill between the tiles with grout as usual. Other convenient and affordable backsplash options? Metal sheeting, adhesive appliqués, and even wood – perfect for a rustic kitchen design. One thing you'll want to remember: If the new backsplash is going to stand off of the wall any considerable amount, you'll need to address any outlets and electrical boxes. If you're wary about moving electrical boxes or aren't able to due to code restrictions, bring in a licensed electrician and have them adjust the depth of the outlets accordingly, and then you can still install the backsplash yourself.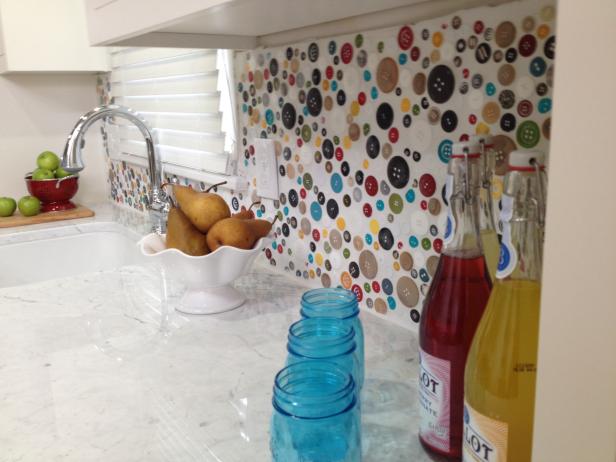 Button Kitchen Backsplash
Designer Kelli Kaufer created this one-of-a-kind backsplash using her client's prized collection of buttons (plus a few extras bought at garage sales and crafts stores). "I used a double-sided sticky mat," she says. "Apply the mat to the wall and start placing the buttons. You may want to use the back side of the buttons as there are fewer ridges. Once the buttons are in place, apply a non-sanded grout just like you would grout normal tile. This will help hold the buttons in place."
Installing new floors: Approach a floor remodel with patience – depending on the existing base, it's likely that you'll need to remove it, assess the situation, and proceed from there. In some instances, the subfloor and cement board may need to be replaced and leveled, but with other products you may just be able to install over an existing linoleum or subfloor. Ceramic and stone tiles are great in the kitchen for their durability, but for a faster makeover, I've used and do recommend groutable adhesive tiles. They offer the look of ceramic, with a durable finish and easy installation.
Reconfiguring the layout of your kitchen? Relocating appliances and changing up the overall layout isn't necessarily easy for the everyday DIYer. If it's a matter of moving the refrigerator from one side of the room to the other and cabinetry isn't effected, you can probably do this all by yourself in 15 minutes. But if you're scheming about swapping the stovetop and the sink, you're better off bringing in a pro to consult with you.
Running new electrical? Be safe and hire an electrician.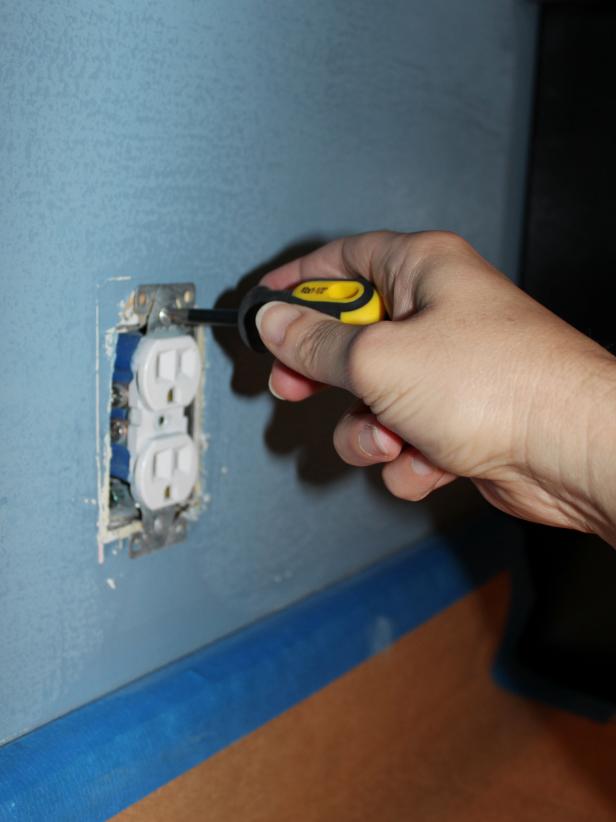 Prepare Outlets for Backsplash Tiling
Turn off electrical power where you're working. Using a screwdriver, loosen up screws holding outlets in electrical boxes. Grasp the clips at the top and bottom, and gently pull the box out far enough that tile can fit under the clips. Tile slid under the clips will bring the boxes flush with the surrounding tile, eliminating the need for box extenders.
Replacing an exhaust fan? This is something an advanced DIYer may want to tackle, but if you're on the fence, or you're installing a fan in a kitchen where there wasn't one before, bring in a pro (especially if it involves new electrical). Installing an exhaust fan will involve venting out of the house, and sealing the siding or roof around the edges of that new vent requires a whole new level of expertise.
Installing cabinets? There's no denying that plenty of homeowners do this themselves, but for efficiency and accuracy, it's one of those things that is worth quoting with a professional. Tip for savings? Measure the space and order the cabinets yourself using a kitchen planning tool, and then just hire out for the install.
New countertops? From measuring to ordering to installing, professionals are equipped with special equipment that makes it a worthwhile task to outsource at least 95% of the time. The exceptions to that 95%? It's surprisingly easy to update the look of a laminate counter by ordering sheets of new laminate, gluing it to the old, and cutting away the excess. Modern laminate comes in some really pretty finishes, and it'll give you a new look at a small fraction of the cost. Concrete counters are a popular trend right now – with attention to detail, you too can create an amazing feature in your kitchen by pouring the countertop on the spot.
Kitchen and Bath Tools to Help You With Your Project