Planning A Bathroom Remodel: DIY, or Hire a Pro?
Learn which aspects you can DIY, and understand which tasks might be better left to the professionals.
So, you're in the mood to make some bathroom improvements, inspired by makeover stories you read online and see on TV? Whether you're planning a half bath makeover, pine for a spa-like retreat at home, or want modest updates to refresh a space, there are many aspects of a bathroom makeover that you can learn to do yourself (proudly). Learn what upgrades you can learn to do, and what tasks you should consider hiring out to a pro.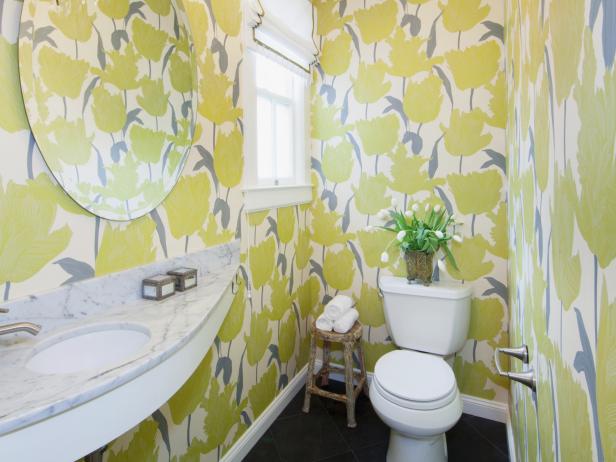 Yellow Floral Wallpapered Bathroom
The large floral print of this graphic wallpaper makes a bold statement in this small powder room.
Update a vanity: A dated vanity or sink top may seem easier to replace than refinish, but if budget is a concern there are easy DIY alternatives to keep in mind.
You can buy a new, modern sink top to fit the existing base, and while the top is removed, update the finish with paint or gel stain (gel stain is a personal favorite for transforming the look of builder basic oak, and it's easy to apply).
If the style of the bevels and trim on the doors doesn't match your style, you can also get replacement doors and drawer fronts to size. Most units have standard size fronts, which makes them easy to replace.
Hardware and accessory swaps:
Manufacturers make it easy for homeowners to update a faucet, so give it a whirl. You'll need to know the basics of turning off and disconnecting the water, and have wrenches to tighten the new faucet.
When it comes to replacing towel racks, have lightweight joint compound and a spackle knife on hand to fill holes (sand it smooth and touch up the paint after 24 hours).
It's easy to add wall hooks for robes, and if you can't place screws into a stud, use wall anchors in the drywall.
Update the look of a cabinet with a simple knob and drawer pull swap.
Update a shower head: Replace an old shower head with a high-efficiency, snazzy shower head with different shower and pulse settings. Hello, at-home spa bathroom! The shower heads screw on and off the pipe that emerges from the wall (no tools!), and all you'll need is a short piece of thread seal tape, a.k.a. PTFE tape. The tape helps create a tight water seal at the connection.
Replace an exhaust fan: If your existing fan is broken, or you're looking to upgrade to a modern, quieter, more efficient model, it's often as easy as turning off the electrical, removing the product, choosing a product of the same size, and installing it to the existing vent pipe.
Update lighting: If you're updating existing fixtures, this is an easy DIY project. Replace an outdated sconce with a new model, or an insufficient over-the-sink lights with a fixture with more bulbs. You can gain efficiency by using LED bulbs, but in my experience, in places like over the sink or beside a mirror where brightness matters, CFL bulbs off put better light while still offering efficiency.
Swap a toilet: Know how to turn off the water to the toilet, and be sure the tank is emptied before removal. You will need a new wax ring to seal the plumbing, and some muscle to lift and position the porcelain throne. I never caulk around the base of a toilet because it's one of the first places you'll notice leaks when a toilet isn't fitted properly, though caulking is sometimes advised (in some areas it's even required to be up to code). Avoid caulking for 24-hours so that you can monitor for leaks in the new wax seal.
Paint: Such an easy way to transform a bathroom. Opt for semi-gloss. High gloss paint is fine too, but satin and anything more matte won't perform as well in a moist and humid environment.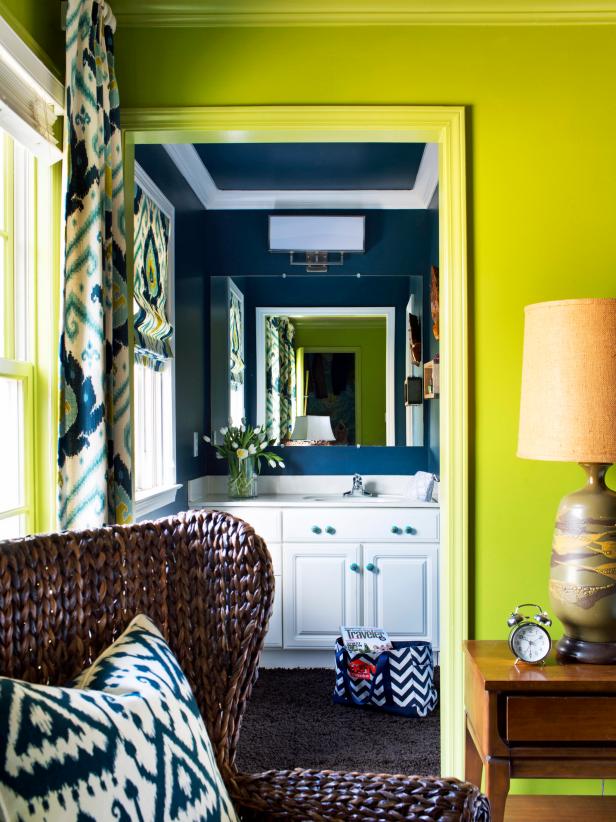 Bold, Contrasting Colors Uplift Guest Suite Powder Room
These once drab walls and ceiling are now painted a dark navy blue in a semigloss finish. The dark color tones help temper the intense chartreuse paint of the adjacent guest room, while the bold-patterned Roman shade ties all colors together for a harmonious look.
Window Treatments: I'm not a huge fan of curtains in a bathroom, to be honest, but a clean-lined valence paired with set of blinds is a nice look when you need privacy. Blinds can be custom cut to width and installed in a pinch. Need extra privacy? Apply contact paper to the window to let in light while obscuring visibility into the bathroom.
Beadboard: Change the look of a bathroom with the addition of beadboard installed around the lower half of the wall. Use wall adhesive, and give it a finishing look with trim. If your towel bars interfere with the placement of the beadboard, simply remove them and reinstall in the same place through the paneling.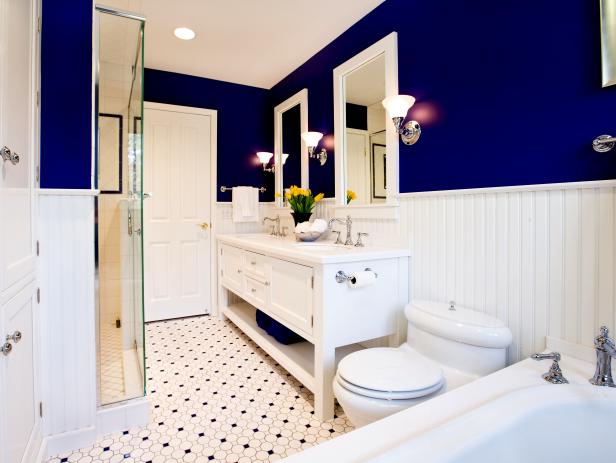 Master Bath Comes Alive with Marine Blue Walls
Contrast rules the day in this master bath with period details and crisp, updated finishes. An electric shade of marine blue carries from the traditional octagon and dot tile to the walls, bringing drama and a touch of whimsy to the space. Meanwhile, a beadboard wainscot and traditional details give a nod to design from decades past.
Tiling walls: Lots of people choose to hire out for new wall tile work, but it's actually a pretty easy process if you're patient.
If you're tiling in an area that isn't prone to being drenched in H2O (like the wall over your sink, or an accent wall that isn't in the shower, you'll be safe to apply the tile with mastic directly over the drywall, and grout as usual.
If you're tiling a shower, you're better off going all the way down to the studs, adding a sealed vapor barrier to prevent moisture from traveling to the studs (mold!) and then topping the vapor barrier with cement board. Seal the joints in the board and then tile directly over the cement board with mortar, and then top with grout. (Psst: Subway tile is easy for any DIYer to learn to install, and it's a great, affordable upgrade if you're trying to create a modern bathroom design.)
Tiling floors: Approach a floor remodel with patience – it can be done, but will require more planning and time investment.
If there's existing tile on the ground, it would need to be removed, and the subfloor will likely need to be replaced and leveled. You will need to remove the toilet and vanity in order to tile beneath them, and unlike tiling the wall behind your sink, installing grouted floor tiles will put your bathroom out of commission for several days.
For a faster makeover, I've used and do recommend groutable adhesive tiles. They offer the look of ceramic, with a durable finish and easy installation.
Install a mirror: A decorative mirror is likely to come with hooks, but a flat-mount unframed mirror is a great look too. Use mirror clips in all four corners, and a healthy dose of mirror adhesive on the backside of the mirror. (Tip: regular adhesive products may damage the mirror over time, but a mirror-friendly compound will have the same strength without the damaging effects.)
Are you reconfiguring the location of the toilet, shower, tub, or sink? Relocating or replacing the plumbing isn't necessarily easy for the everyday DIYer, especially when access to the pipes is limited . Leave this one up to the pros to be certain that the job is up to code.
Running new electrical? Be safe and hire an electrician. All outlets will need to be GFCI, and any electrical running near your shower will have to be safe-checked.
Adding an exhaust fan? Yes – sometimes bathrooms are built without one! This is something an advanced DIYer may want to tackle, but if you're on the fence, bring in a pro (especially if it involves new electrical). Installing an exhaust fan will involve venting out of the house, and sealing the siding or roof around the edges of that new vent brings upon a whole new level of expertise.
Installing a heated floor? You might be tempted to install floor heating while you're remodeling or updating your bathroom floor. Do it! But if you're wary of the process of connecting the electrical, bring in a professional to do the setup; you can always finish the tiling job atop it if you're determined to DIY.