Memory Maker: How to Create a Baby Photo Series
Create an everlasting keepsake of your child's growth by designing your own photo series.
Even before my daughter was born, I was committed to the idea of photographing her growth. Family photos are important for me to have, but I've never had my kids on a professional photoshoot – partially because I don't think I could keep up with the cost on the frequency I would want to do it, and partly because coordinating all parties involved sounds exhausting. I needed a more flexible option, one that I could do at home with <5 minutes of my day, and that's how my at-home baby photo shoot series was born.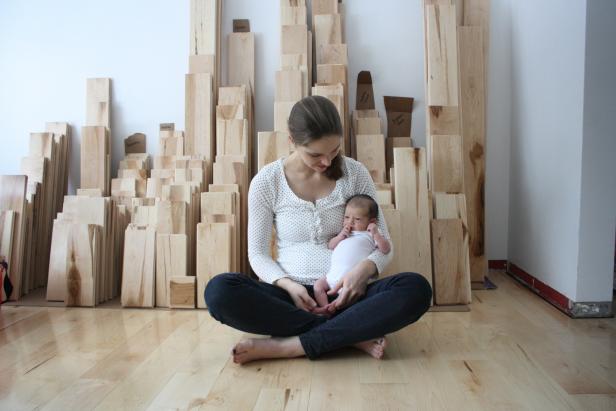 How to plan and execute a baby photo series.
Plan and execute an easy baby photo series that you can schedule for once a week or once a month with little commitment.
Commit to a daily, weekly or monthly schedule
My ability to remember calendar events was blurred with a newborn, and if I'm being honest, it still isn't quite as sharp as it used to be. I was aware enough the day she was born to recall that it was a Saturday, so I knew that if I took my photo every weekend I would stay on track. If you're planning to photograph once a month, you can aim to take your photo on the child's "monthly birthday." And of course you can do your image on an annual basis such as how my friend Emily documents her growing family with an annual photo series scheduled to coincide with her wedding anniversary.
Choose an item for scale, and a style for your photograph
Most often, I see babies propped in a chair photographed beside a cute stuffed animal. It's easy, it's cute, consistent, and when you flip back through the photos you can see how much the kid has grown compared to the static objects. Instead of a particular "staged" area, I chose to be the consistent "object" of my daughter's photo shoot, holding her in my lap week after week to show her growth relative to me.
One awesome benefit to not having committed to using a chair or staged area in my home was that I could do this photo shoot anywhere, anytime. I could plan the shoot for when the natural daylight was best, and when she herself was agreeable to the idea of being snuggled and photographed.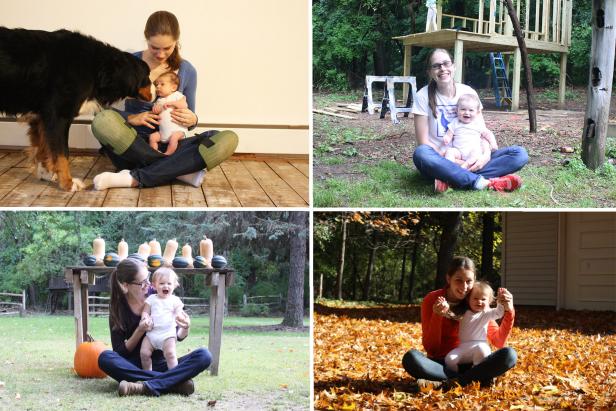 How to plan and execute a baby photo series.
Plan and execute an easy baby photo series that you can schedule for once a week or once a month with little commitment.
My goal with the photo shoot was two-fold, actually – I wanted to capture her growth, but also wanted to use the shoot as an opportunity to photograph the ever-changing parts of my home. The photos of our home's evolution are some of my favorite, and I wanted my kids to have that documentation too. As such, I photographed the two of us in various places around our home and yard – next to the new couch the day it was delivered, in the kitchen that I was painting, in a room where we were tearing out carpet, in the backyard with our garden, and 48 other locations. It's fun to recall "When you were 4 weeks, we were installing the bedroom floor, and when you were 32 weeks, we were building the treehouse." Bonus: Sometimes the dog would join us in the shot, and other times our other daughter would sit with us (which is nice because I have some record of how big she was at the time her sister was a baby).
Have the right equipment, and a consistent setup
It was about at this time that my camera became permanently attached to the tripod. Because of this, I was always ready to roll when the lighting was right. I set the camera on the lowest tripod height for consistency, and always placed it about 15-feet away from the object (us) which usually framed me nicely in the shot as I sat cross-legged on the ground.
Having a friend or spouse handy to help take the picture is really helpful because 90% of your energy will be going into making sure the baby is smiling or happy, while another 9% will be focused on making sure you yourself don't look like a crazy person. If you have a remote for the shutter, or if you can bluetooth your phone to your camera, you can try your best to get a good shot, but I found that having another person operate the shutter helped guarantee that we were centered in-frame, the background was what I wanted it to be, we were focused, and (most importantly) looking reasonably pulled together.
How to plan and execute a baby photo series.
Plan and execute an easy baby photo series that you can schedule for once a week or once a month with little commitment.
Style-wise, the only consistent elements were me, sitting cross-legged and holding my child, who was always wearing a white onesie.
Be diligent about archiving
It's really easy to let time pass by without uploading those photos and editing down to a handful of good images. Keeping up to date on archiving them on your computer, on social media, or elsewhere, is critical to organization. Use a good naming structure and compile all of the images in a single folder on your computer for all of those times in the future that you'll want to browse through those images. May I suggest "<baby name>_<week #>_<month-day-year>_<image #>" which might look more like: "Hattie_Week-9_Jan-24-2015_3.jpg."
A printed archive was important for me too, so I labeled each print with the same general information for future reference.
My 5 minute effort left me with a collection of photos that I adore and will cherish forever. No regrets if you didn't start on Day 1, start a photo series with your family now.