What Does it Cost to Install a Patio?
Things to remember when you're planning to create the outdoor living space of your dreams.
Many homeowners look to install a patio when they want to extend their living space outdoors. Whether you're scheming to create the patio of your wildest dreams complete with an outdoor kitchen, or finding ways to make a DIY patio installation a little bit easier, we have all kinds of tips and tricks that will help you prepare for the investment.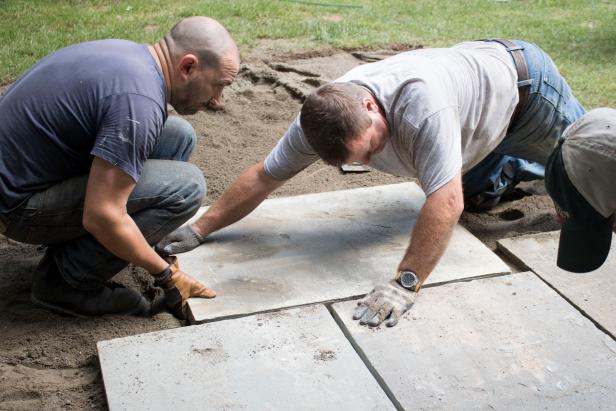 Tips for Installing a Flagstone Patio
Installing a Flagstone Patio with stone and sand underlayment.
Costs involved with installing a patio runneth a huge range, and there are usually a lot of factors to consider. Let's begin by looking at what affects the cost of a high-end patio installation, and then review a modest alternative to help you understand the possible range of luxe vs. simple, and hiring out vs. DIY. Keep reading to learn more about:
Advantages and disadvantages of a patio installation at any budget
The big costs
Hidden costs
And where you might save money by DIYing components of your installation
What Does a Luxe Patio Installation Cost?
If you're scoping costs for a luxurious patio installation, you've probably already considered that it's going to increase the value of your home – it can be worth it to install a high-end patio if you are planning to sell, but know that buyers aren't always looking for that and may not appreciate the investment at face value.
A luxe patio is likely constructed of a high-quality stone or paver, and many would agree that the pattern created with those materials results in a stand-out design for one's home. It's often the arrangement of the stones that creates the first impression. High-end patios also have a higher tendency to incorporate out of the ordinary features; you should consult with a professional just like you would do for an indoor remodel to get an expert point-of-view when it comes to incorporating the features that make an ordinary patio one-of-a-kind.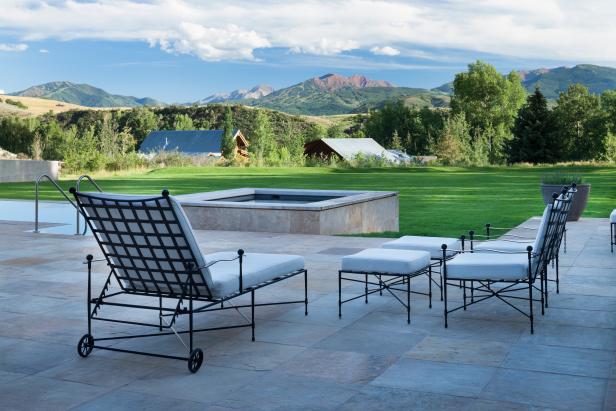 Patio: Estate in Woody Creek, Colorado
This magnificent estate designed by Michael Ernemann and constructed by Rutgers Construction blends new sophisticated contemporary with old homestead charm. The property offers incredible pastoral views, senior water rights, several pastures and a superb barn. The new main house contains originally designed one off finishes-doors, hardware, floors, windows, cabinets and systems. The renovated original farm house offers a charming setting overlooking a pond with magical views. This rare property will not last long!12,612 approximate square feet.Architectural style: Arts and CraftsProperty features: 7 Bedrooms, 6 Bathrooms.
Joshua & Co., a member of Luxury Portfolio International
Creating a luxe outdoor living space is appealing for homeowners who enjoy entertaining. Making an investment to perfect the design of a space you're going to be using a lot is significant to many homeowners. By consulting with a landscaping specialist, you should expect to get a professional point-of-view in terms of what materials to use, and how to make the most of the outdoor living space. A professionally-designed and expertly-installed patio may make use of materials that are less accessible to ordinary homeowners and DIYers, and will be finished to perfection. It may take into account outdoor lighting and electrical or gas lines, or a multi-tier design with steps and pathways, making for an even more extravagant outdoor living space.
Perhaps most importantly, a professional landscaper will also take into consideration how the patio influences surrounding garden or water features, as if to make it seem that the patio has been a feature of the house since it was constructed.
Cost may be an obvious disadvantage to anyone dreaming up a luxe patio. All of the add-on features will add to the cost of the project, and high-end materials come at a price. And like any home improvement project, a luxe patio installation may be affected by any number of delays in construction (but especially weather delays).
The biggest cost in a luxe patio installation is labor, after all, installing heavy stones and pavers can require powerful equipment, and a team of professionals to create the space of your dreams. Many landscaping companies will estimate the cost of labor as a factor in the size of your patio, giving you an all-inclusive cost "per square foot" but as the job gets more complex with luxurious features, additional charges for planning and labor will accrue.
Pavers or stones (ballpark $20-$40 per square foot installed – more, if you're sourcing materials from afar)
Exterior home changes (such as installing a new door for patio access, or repairing siding)
Structural considerations, such as stairs for accessibility, or retaining walls to hold back soil on patios being installed on sloped ground.
Underlay materials, such as crusher stone and sand
Electrical wiring and gas lines, and built-in technology such as outdoor speakers
Appliances and other outdoor kitchen amenities
Design features, such as overhead pergolas, furniture, or awnings
Just as it's wise to always order an extra 10-20% of materials for the project, it's also best to retain a small budget for unexpected costs.
Accidental errors: For example, maybe the crew nicked a buried drain pipe, or crushed your favorite shrub with the excavator.
Landscaping: When your eye's on the prize of the finished patio itself, it's likely that you'll overlook the need to re-landscape the space surrounding the patio. Don't forget that you'll want to spend time and money on finishing touches, such as new container planters and freshly mulched beds to make your new patio feel like it's always been there.
Design: When you're investing to create the perfect space, much credit is owed to the designers who find ways to bring the vision to life, with special considerations to spacial planning and the overall aesthetic.
Materials: Choose quality stones and pavers; ordinary pavers will not read as luxurious, if your goal is to have a high-end space.
And ways you might be able to save some money:
Location, Location, Location: Be aware that if you're installing further from your home, it could cost more to run gas and electric to the patio. Also, level ground close to the exterior of your home is inevitably easier to install upon, versus a hillside requiring retaining wall features. And if you're competing with a backyard septic system or existing mature trees, try to work around them to avoid the process of having to move/remove.
Buy things yourself: Let's assume that your contractor is cool with you sourcing some of your own materials; visit a local stone yard to research your options, and purchase materials yourself to avoid a mark-up. You may find extra savings by negotiating a bulk order, or by purchasing materials in the off-season. Try to avoid multiple deliveries, as charges are often quoted as a flat rate for each trip.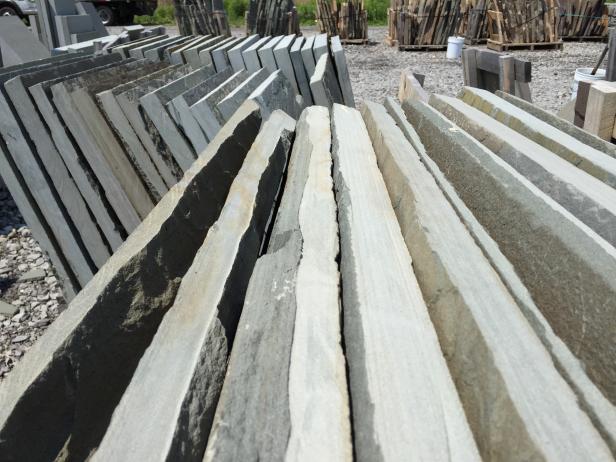 Tips for Installing a Flagstone Patio
Installing a Flagstone Patio with stone and sand underlayment.
What Costs Should Be Considered for a Simple Patio Installation?
Creating a totally enviable patio doesn't need to be a 5-figure job. By opting for a less complex installation, you might even find that you can install it yourself with a little patience and know-how. Money in your pocket = more funding for fun summer patio parties.
A less expensive patio may have fewer complexities, making it more likely to be a project that you can tackle with minimal assistance. Without electrical considerations or built-in kitchen space, you can save on the cost of permits. And of course, a less complex project means that even if you do hire a crew, they should be able to finish it quickly – sometimes even in just 2-3 days.
You may sacrifice features and material quality in order to create an outdoor living space on a smaller budget. If you're doing the project DIY-style, time is going to be a disadvantage for you personally; if you're working through the installation on top of doing a full-time job, you'll be sacrificing lots of your off-hours hustling to get the job done, and it's certainly not easy work.
While reduced labor costs and less expensive materials may help offset the bottom line, a patio still requires some investment.
Pavers or stones (ballpark $2-$5/sq. ft. uninstalled, or $10-$20/sq. ft. installed)
Structural considerations, such as retaining walls to hold back soil on patios being installed on sloped ground.
Underlay materials, such as crusher run and sand
Rental equipment (such as an excavator, saw, tamper)
Much like a luxe renovation, it's easy to forget about costs associated with landscaping, furnishings and accidental errors. Projects on a tighter budget may have a narrower cushion for the unexpected costs. If something goes awry in one aspect of the project, you might be required to take concessions in another area to keep the project on budget.
Rent power equipment: You'll save yourself a lot of back-breaking, time-intensive labor if you hire out the excavation of your patio, or rent a small digger for a few hours to speed up the process. While you're at it, also get a gas-powered tamper to make it easier to create a crusher run base, and a circular saw with a masonry blade to make custom cuts to your stones or pavers.
Polymeric Sand: Instead of ordinary sand, splurge on polymeric sand between the cracks in your stones or pavers. It will harden, and will help to make your space more maintenance-free (it'll also help to block weeds that would otherwise grow between the cracks).
Attention to detail: When I installed a fairly simple irregular flagstone patio myself, I incorporated beach pebbles into the design to fill larger voids between stones. A lovely touch that makes the space feel more high-end!
Ordering materials yourself: Bypass a landscaping crew's markup by placing an order for the crusher run, sand and paver product yourself.
Delivery: If you order all of your materials from the same source, you can cut down on delivery charges by having it all shipped to you at once – just be ready to put tarps down in the yard where the crew will want to dump materials.
If you're DIYing, consider borrowing tools to make the job easier:
A dolly will be helpful for moving large stones
Large wheelbarrows are always good to have too
Borrow a tamper instead of purchasing, if you're leveling crusher stone by hand
Give away your clean fill. Avoid moving the excess soil from the excavation twice; save time by offering the clean fill soil to others, suggesting that they bring their own buckets and take as much as they need. (True story: I transported 5,000 gallons of soil from someone's local excavation when I needed to regrade around my home; I hate the idea of buying soil, so it was a great opportunity for me and also helped out the other homeowner!)
In Between Luxe and Simple:
Finally, if you're looking to install a patio somewhere in-between low-budget and luxe, be mindful of ways you can achieve a high-end finish without over-investing in details:
Choose high-end materials that you can install yourself; opt for smaller pavers and stones vs. giant, heavy materials.
Install a wood burning oven for cooking, instead of running gas lines for a grill.
Purchase furniture instead of designing built-in seating
Use solar lights instead of running new electrical components