Inspiration For Your Own Stylish, Functional Drawer Dividers
Kick your spring cleaning into high gear with easy, DIY drawer organization systems.
I think we can all agree that a perfectly organized drawer is quite an accomplishment, and while drawer dividers make the process easier, there isn't always a store-bought solution. Due to varied drawer shapes and depths, making your own dividers might just be the perfect organizational DIY project for the upcoming weekend. Luckily, it's an easy one to tackle with all types of materials.
(Those lucite drawers? They're fabulous, and sure, they would be a great addition to a drawer unit in a lavish walk-in-closet, but I think they'd be right at home in my makeup drawer. Make them by trimming plexiglass to size, and using clear silicone adhesive to join the pieces together.)
If you're looking for a quick organizational solution to, say, keep your kids' underpants and socks orderly, make use of simple baskets inside a drawer to keep the peace.
To organize small anythings – from earrings to paperclips to hair ties – a muffin tin works in even the most shallow of drawers. You can also save pieces of cardboard, and trim them to size to make simple, interlocking dividers.
Every spring you're bound to find me rotating out seasonal wardrobes. To properly store those winter wool sweaters, I made cedar drawer inserts that will help organize and protect the fabric from pesky wool-loving bugs…and they smell so good.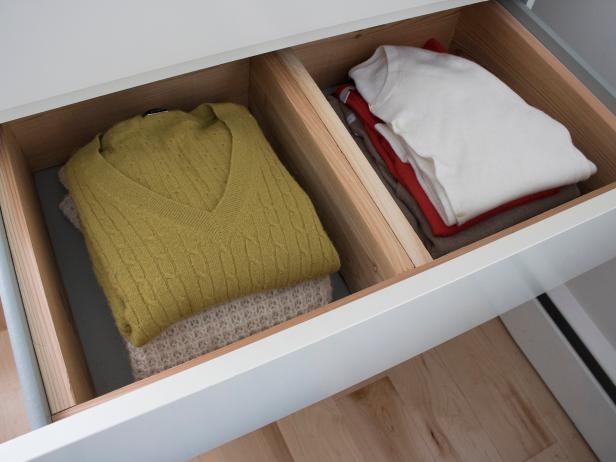 How to Build Cedar Drawer Dividers
Store winter clothing by lining a drawer with cedar dividers.
I'm always looking for better drawer dividers for things like silverware and small utensils and that one wooden spoon that is too long to be stored amongst its counterparts. The handcrafted wooden drawer dividers from Sarah at Ugly Duckling House set the bar high. Follow her tutorial to make a kitchen drawer insert that properly serves the proportions of your items.
For pots and pans that are stored on sliding racks, a pegboard-like system not only looks great, but is endlessly customizable to fit ever-changing needs. The dividers are adjustable, and can be moved to fit securely around different cookware. (I made a similar DIY pegboard drawer organizer to sort my plastic storage containers – pegboard and dowels worked like a charm!)
Check out these inspirational bathroom storage ideas that combine functionality with high-end style.