7 Ideas for Creating Gorgeous Garden Steps
Landscape designer Jan Johnsen shares how to use stone, grass and gravel for picture-perfect pathways.
A few years ago, I wanted to give our visitors a welcoming path from our driveway to what would become our screened porch. At first, I thought we would use basic pavers. Instead, we decided on oversized stone slabs to create the slightly sloped pathway. Even our neighbors, the ones with the prettiest garden on the street, admired the choice. The stepping stones give a bit of oomph to the look of our small yard in a Georgia subdivision.
"Stone is the overlooked player in the landscape," she says in an interview. "While we all swoon over all the different plants and flowers and colors, stone sits silently by, perhaps unnoticed."
Johnsen, owner of Johnsen Landscapes & Pools in Mount Kisco, N.Y., offers seven ideas for making garden steps stand out, no matter the size of your yard.
Figure This Out: Need or Want?
Steps often are a solution to provide easier access in a sloped yard. They're needed to provide a stable way for people to stroll through a garden or walk from one point to another in a front or backyard.
A gently sloping lawn is an excellent opportunity to create wide steps with stone, Johnsen says. Remember to make the steps wider than you think.
"Sometimes you want to walk up the steps side by side with someone," she says.
When designing a landscape, she likes to add steps to create interest, even if there's not a vital need for them. For example, if you have a flat yard, add two or three steps in one section. Then your eye — and your guests' attention — will go to the area where the level changes.
Steps in straight lines are more functional and channel people directly where you want them to go.
But if you want them to head down to a pool or garden, consider a more rounded layout. People are more likely to fan out in different directions with that layout.
"I love rounded steps because I think that curves in the landscape comfort us and soothe us," Johnsen says. "Curved steps are always so inviting."
If you want to add flowers and plants to frame your walkway, be sure to make the walkway at least one foot wider than you were originally planning, she says.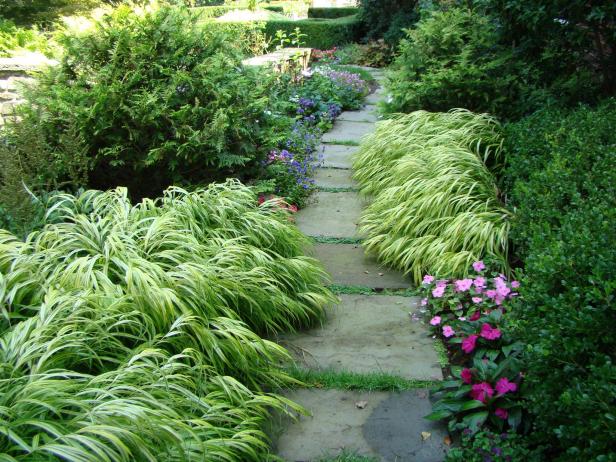 Plants and Flowers Along Stone Walkway
If you want to add flowers to frame your walkway, be sure to make the path at least one foot wider than you were originally planning, recommends landscape designer and author Jan Johnsen. Many plants, such as yellow Japanese forest grass, will grow over the path, making it seem much narrower.
Many plants, such as yellow Japanese forest grass, will grow over the path. You don't want the steps to become a narrow little runway.
"If you have the plants growing on side of the steps, they tend to encroach on the steps," Johnsen says.
Another idea is to place Belgian blocks flat into the ground in alternating rectangles. Plants can be added to separate the blocks, adding color and framing the walk.
"The low-growing plants help soften the size and make them look all part of the scene," she says.
In the Granite Garden at Chanticleer in Pennsylvania, granite blocks were placed to create a wide staircase. The rows of light-colored stone contrast with the bright greenery between the steps.
One big decision is how high to make your steps. Outdoor steps are lower than indoor steps, Johnsen says. She suggests 6 inches high, max.
In addition, she recommends creating a maximum of six risers in a run.
"Once you get beyond six, it turns a little daunting," Johnsen says. "People look for other ways to get up the hill."
Grass steps go with any style garden, whether a formal English garden or a country cottage.
"What's happening is that people are getting more and more sophisticated about what is possible in their landscapes," Johnsen says. "The grass step idea with the stone risers is becoming very, very popular."
One question she's often asked in workshops is how to mow grass steps. She says a weed trimmer is the best option.
For a looser interpretation of a step, use gravel as the tread. It's a great option, Johnsen says, if you want a pathway that goes through a garden bed without investing in an entire stone walkway.
"There's so many different kids of gravel available these days, and color and sizes," she says. "Gravel walks and steps have become more popular."
Stone steps serve more than a people-moving function. They can play a major role as an accent in your garden, too.
The contrast from stone to plants is what makes a garden so enticing, Johnsen says.
"It shares the scene with the plants," she says.
The home's original drive, repaved with pea gravel, leads to a gracious cedar-shaded side entrance and flagstone walkway.
Charm preserved, Blog Cabin 2012 greets the neighborhood with a new roof, relocated front entrance and durable fiber cement siding.