Smart Tech Tips: How to Sanitize Your Cell Phone
Disinfect against germs with these tips for cleaning your mobile devices. 
There's no denying it. Your cell phone just might be the dirtiest thing you touch all day. And chances are, at some point today you might also be handling someone else's phone to snap a picture or share something on screen without even realizing where it has been. Read these tips, and then let's get to cleaning our most-used pieces of technology before we're thoroughly grossed out with ourselves.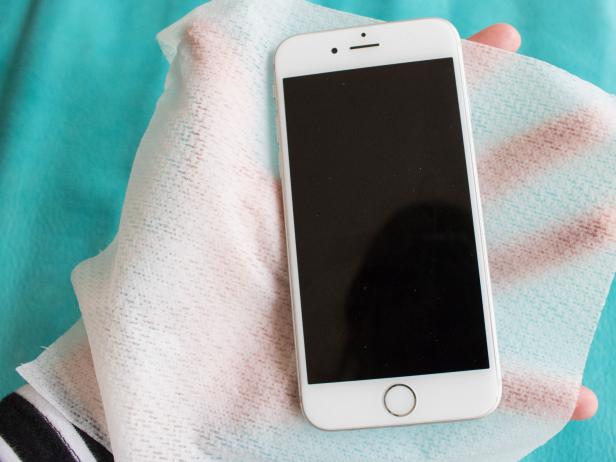 How to Clean Your Cell Phone
What Should You Use To Clean Your Phone?
Pre-moistened sanitizing wipes. Easy and convenient. Store a small quantity of wipes sealed in a plastic bag in your car or at your desk for easy cleaning anywhere. Avoid products with scrubbing action, and opt for cloths that contain appropriate disinfectants to eliminate flu and cold germs, and food germs such as salmonella. Note that not all marketed "cell phone cleaners" contain disinfectants, so be sure to review those ingredient lists!
50/50 rubbing alcohol and water: A DIY option. Spray it on an ultra-fine microfiber cloth, and then apply it to your phone.
50/50 white vinegar and water: An organic DIY option. Spray it on an ultra-fine microfiber cloth prior to application. (we promise that it'll only smell like potato chips for a few minutes).
In a pinch? Squeeze a dab of disinfecting gel onto a tissue, and rub it in so it absorbs well before allowing the tissue to come in contact with your device. (I often use this technique to clean the phone case when I'm on-the-go.)
Inspect the Speakers and Audio Jack:
Dirt and dust and lint in pockets and purses can really do a number on your mobile devices. A bit of debris inside your audio jack may affect the ability to use headphones, and dust compacted into your speaker (either the one you listen to, or the one you speak into) affects performance too. I like to start by cleaning these ports first, before even an iota of moisture has the chance to affect whatever is within. Warning, pretty gross.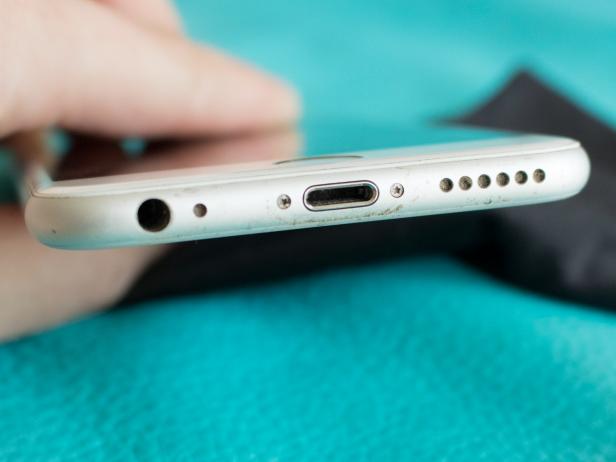 How to Clean Your Cell Phone
On most devices, it's easy to peek inside the inputs to identify any blockages, but you want to avoid pushing anything in deeper, which is often the problem! I can say that build-up has happened to me on pretty much every cell phone I have ever owned, but I won't recommend you do what I do until you verify solutions with your phone manufacturer. (If you're really curious about my warranty-revoking ways, I gently loosen that debris with a wooden toothpick without plunging deep into the device, and use the extension on a vacuum to help extract it from the affected area).
How to Sanitize Your Phone Without Damaging It:
Remove your phone from its case. (We'll get to cleaning the case further down.)
When you're cleaning your cell phone avoid excess moisture at all costs. While cleaning agents with a rubbing alcohol component are often quick to evaporate, moisture that seeps into buttons and input jacks can cause damage. Keep a clean microfiber cloth on hand to help absorb any moisture on the surface after you wipe the phone clean – unlike most surfaces which can air dry, it's best to dry the phone by hand.
If you're using a spray bottle, always use the spray to moisten a cloth first; never spray directly onto the device.
For best results, wipe clean and thoroughly dry several times in a row to eliminate germs.
Cleaning Your Phone Screen:
Just like eyeglasses, cleaning the screen of your phone requires a certain finesse so you don't end up with scratches. Not all microfiber cloths are created equal – you might equate some products with dusting shelves in your home – but with a finer weave you can easily remove fingerprints as you disinfect the screen.
Avoid spraying the screen with an ammonia-based window cleaner, and also avoid cornstarch-based or baking soda-based DIY window cleaners, as they may be more abrasive. The vinegar or alcohol-based cleaners will be gentle enough to clean glass.
If you use a pre-moistened disinfecting cloth, be sure to follow up with a gentle pass of the microfiber towel to remove streaks.
Don't Forget to Clean the Case!
The outside of the case takes quite a germ-beating, and the inside of the case is known to trap small pieces of dirt that can create micro-scratches any device.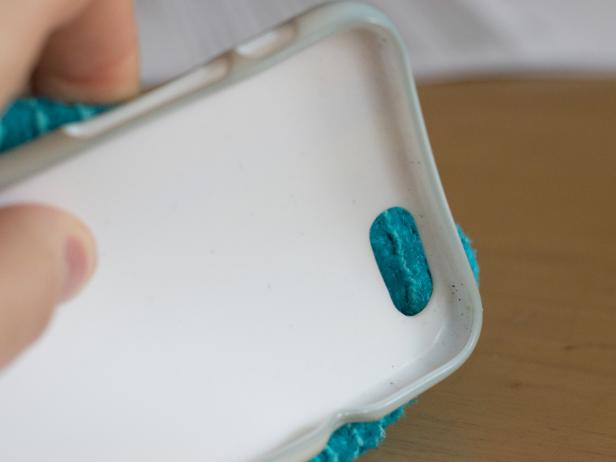 How to Clean Your Cell Phone
Cell phone cases are made of a variety of materials these days, all of which more resilient to cleaning agents than your hardware itself. It might even be durable enough to withstand a trip through the dishwasher! In any case (pun intended) if it can be submerged, wash it by hand regularly with soap and water and allow it to dry thoroughly before reattaching it to your phone. If the inside is lined with microfiber to protect the device, simply defer to using a disinfecting cloth to clean it as well as possible.
Keep the phone clipped on your waist? It may be a little taboo these days, but we won't judge. Just remember to wipe down any clips and attachments routinely with a disinfecting cloth.