Quick and Easy Closet and Drawer Organization Tips
Declutter once and for all with these ideas on how to store smaller items within cabinets, drawers and closets.

Even if your house looks organized, you might still have some work to do. Surface-level cleaning is easy and often necessary – just find a place to hide any and all visible clutter. That philosophy works for a quick cleaning fix if you're short on time or have unexpected guests, but it probably means you have several junk drawers and chaotic closets.
A solution to this problem is making sure you have storage containers within storage containers. Give everything a designated place. If you have a large closet, put baskets on shelves so you can assign belts, hats or shoes to a specific basket, for example. For an office space, instead of dropping push pins, paper clips, sticky notes and extra staples all in one drawer, use upcycled egg cartons or muffin tins to organize these smaller items before placing in a drawer. Storage within storage will not only help keep clutter out of sight, but it will also ensure items will be in the same place every time you go to reach for them.
Divide and Conquer Clutter
You can head to the office section of a home store or you could even DIY your own dividers out of cardboard and cover them with fabric.
Save your tuna cans. After you give them a good cleaning, put them in drawers for organizing any and all items.
You've probably seen muffin pans repurposed as organization, but have you thought about using a madeleine pan? The shallow dishes are perfect for holding small craft supplies. You can keep supplies separated and place the pan in a drawer or cabinet in between work sessions for ongoing craft projects.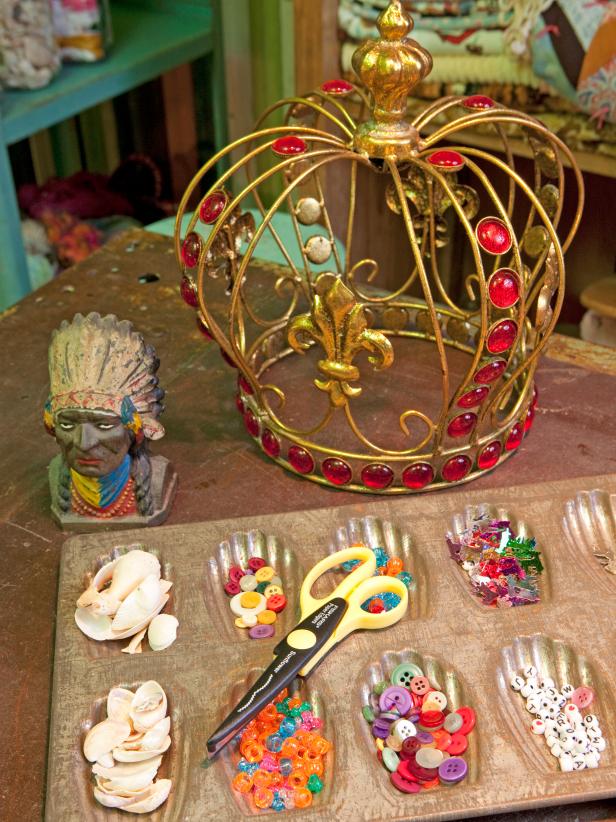 Clean Out Your Kitchen
Before you know it, you have three muffin pans, two loaf pans and more molds than you can count. Recycle them in your own home by using the handy compartments as organizers for tiny craft and scrapbooking supplies that desperately need a home. Designers Amie and Jolie Sikes, known as the Junk Gypsies, gave this French cookie tin a brand-new life outside the kitchen by using the sections to hold buttons, beads, shells and other easy-to-lose craft accessories. The tin is even attractive enough to keep out in the open.
Any closet or pantry needs labeled bins. They look nice and help you find what you're looking for more quickly. You don't have to spend a lot of money on nice bins or woven baskets though. These bins are inexpensive plastic, covered in spray paint.
Don't forget about using the inside of closet and cabinet doors. Instead of letting restaurant menus and random papers take up space in a kitchen drawer, attach a folder to the inside of a cabinet. Use closet doors for hanging shoes and freeing up floor space, or for a non-wardrobe closet, put craft or office supplies in a shoe organizer for easy access and concealed clutter.
There's nothing worse than trying to untangle jewelry. Prevent chaos by giving jewelry separation.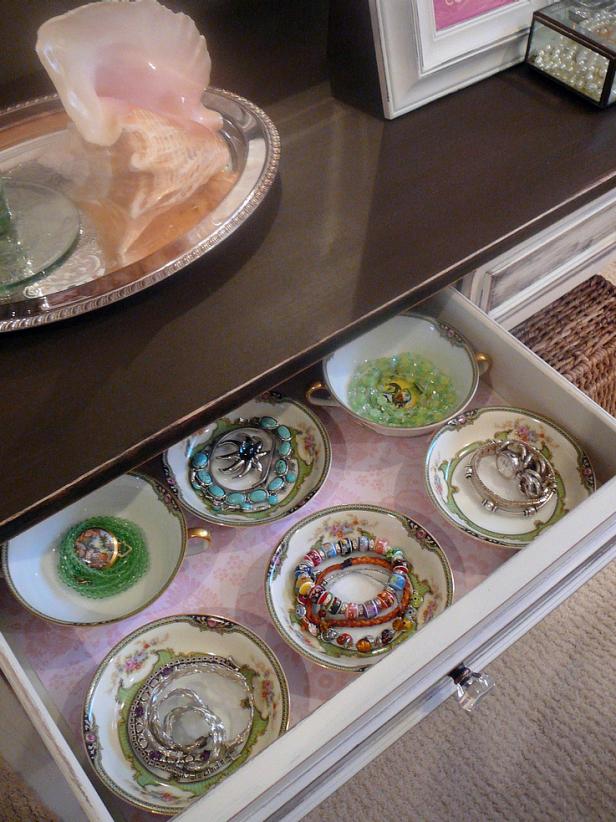 Teacup Organizers
We can never have too many ideas when it comes to organizing and displaying jewelry. If you're not short on storage space, reserve a vanity or dresser drawer just for holding bracelets, necklaces and rings. Designer Lynda Quintero-Davids wanted to add as much style and function to her client's dressing table, so she used tea cups and saucers for storage.