How to Host a Memorable Awards Show Party
Celebrate awards show season with your friends by throwing a fun theme party, complete with wardrobe, voting, and delicious cocktails.
Be host to your own awards show party with these creative, theme-appropriate ideas. Transform your living room into an unforgettable media room, and give your friends a classy, entertainment-filled night that they'll never forget.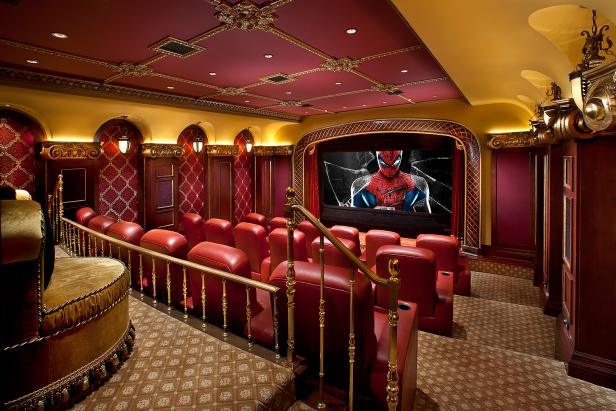 Formal Red and Gold Movie Theater with Ornate Details
This 18-seat movie theater takes viewers back to the golden age of film with a red and gold color scheme that exudes elegance. Ornate molding and banisters combines with a red theater curtain adding to the classic feel.
Customize your invites to be theme-specific. Instead of printed invites, you can send an email to all of your friends. Evite has several theme-appropriate award show party email templates that you can use – perfect for the last minute soirée.
Suggest that guests wear their red carpet best to get in the spirit of the occasion (it's a good time to roll out all of those never-thought-you'd-wear-it-again party and bridemaids dresses). Or encourage them to dress in an look from years' past, like that infamous swan dress worn by Björk in 2001, Katy Perry's 2011 angel wings, or anything Lady Gaga.
Roll out a red carpet. If the weather is nice, lay it outdoors leading up to your home. If it's snowy or rainy, place it right inside the entryway. Good news for you last-minute planners: Red carpets are readily available for a good price, and you can even overnight yourself a red carpet from Amazon.
For a full red carpet experience, set up a camera on a tripod and let your guests pose in front of a photo backdrop. Looking for backdrop ideas? Gold garland always looks great on camera. Balloons to match the color theme of the party are fun too. Create a flat, classic backdrop using white paper with repeating text. Search online for logos for the event to customize for the occasion, or just use plain type on a white background. Avoid printing on plain printer paper, and take the artwork to an office supply store to have two 24" x 90" engineer prints produced (when printed as black and white, large scale prints can be really affordable). Hang them side by side, and when your guests receive their photos they'll always remember where and when they were snapped.

Decorate indoors, too. Create mood lighting, and stick to classic color themes like black and white, red and black, gold-gold-gold, and lots of glitter for a glam, Hollywood Regency effect. Keep decorations easy with bunches of helium-filled balloons, run digital picture frames with images of celebrities from old award shows, and make food and drinks accessible right in the same room you'll be viewing the show. A buffet can be dressed up to present food, and a bartender can be hired to serve your guests.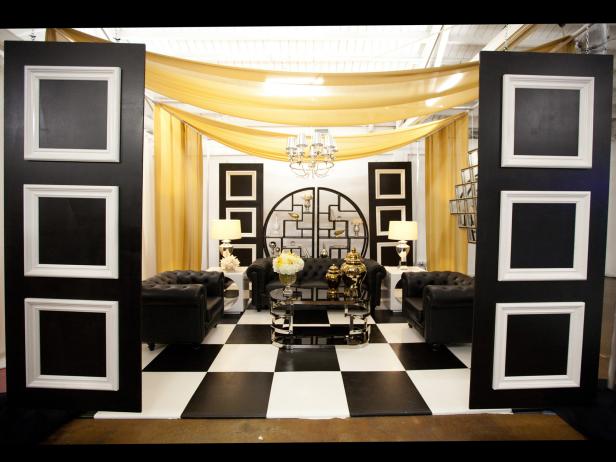 Black and White Hollywood Regency Lounge
In episode five of HGTV Design Star season seven, the contestants were asked to create party lounges that evoked the designs of iconic eras. Contestant Britany's lounge exudes the glamor of Hollywood regency style. She used a classic black, gold and white color palette with bold graphic touches.
and
HGTV Design Star
HGTV Design Star
Rent a projector and screen. Upgrading from your everyday TV will make for a memorable "big screen" experience. Your guests, who undoubtedly may be standing or sitting in the space during the party, will have an easier time catching all of the live action, even if they're watching from the back corner of the room beside the punch bowl.
Encourage participation with voting slips. There are lots of voting slips you can download online if you do a quick online search for the event you'll be watching, but feel free to make your own voting slip too. Before the show, get your friends to vote on who will win the main categories (Best Film, Best Female Artist, Best Soundtrack, etc.), and during the show, have guests continue to vote on other categories, like Best Dressed and Worst Dressed (watch the pre-show!), Best Speech, Biggest Upset, etc. Compare your votes at the end of the night.
Make up party games – like drinking games or Bingo – to make viewing consistently entertaining. (Suggestions? Take a drink every time a winner thanks their Mom, and make a Bingo board that will make you watch for special moments, like when a nominee brings their daughter as a date, when someone trips, or when the host butchers the name of a celebrity).
Show off with amazing cocktails, and have plenty of red napkins on hand. Curate a range of cocktails for your guests to sample, ones that you would imagine are being served backstage at the awards show. Choose pomegranate, cherry, or cranberry juice for red carpet-themed drinks, and champagne or prosecco for bubbly. Shooters are great for sampling specialties, but nonetheless, select really great glassware for presentation – if serving light beer in a champagne flute for effect is wrong, I don't want to be right. (You can also make voting slips like this to let your guests vote on their favorite cocktail of the party!)

For party munchies, provide easy to eat appetizers. Veggies and dip are simple, a charcuterie plate of arranged cheeses and meats will feel fancy, and flatbread pizzas are easy to bake and serve fresh. Top off the night with a fancy red velvet cake, easy-to-devour cannolis, or cookies to fit the theme. (Did you know you can find cookie cutters to match many famous award trophies?)