Fall Gardening, Planting and Lawn Care Tips
The gardening season isn't over when the weather gets cooler.
Whether or not you care to admit it, it's time once again to prepare our lawn and gardens for fall and winter. Autumn is more than packing away the lawn furniture and spending weekend after weekend raking leaves. It's also a time best-suited for planting and planning so that come next summer, your gardens and lawn can flourish.
How to maintain your yard and garden this fall.
Maintain your yard and garden this fall with these easy tips.
Use your weekends wisely this fall by following these tips for planting, gardening and have a home envied by the neighbors come spring.
Desire springtime color in your garden beds? You'll get it if you put these bulbs in the ground now. Here's a short list of the types of bulbs you can currently get in-store, to plant in the fall months:
daffodil
tulip
crocus
iris
allium
hyacinth
lily
freesia
Has curious wildlife been known to dig through your bulbs? Consider placing a hoop of wire over the beds where you plant, removing them in the spring once the growth begins to peek through the soil.
Depending on the weather and region, there are often fruit and veggies still thriving in your garden into October and November. Don't dig it up prematurely, but after the first frost or once your garden is no longer fruitful, go ahead and remove all of the plants and lingering weeds. Use a rototiller to loosen the soil for next year, or better yet, the YARD BOSS by STIHL is one of several products that's awesome in the garden and the yard, allowing you to multi-task outdoors like a pro.
Take garden soil preparation a step further by having it tested to measure its pH. It'll help you better understand if you need to add nutrients in the fall to fortify for next year's crop.
Plant Next Year's Garlic Crop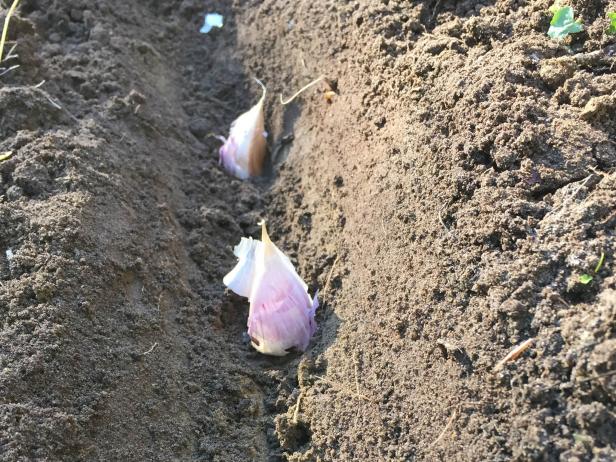 Lawn and Garden Maintenance for Fall Months
Fall maintenance tips to get your lawn and garden ready for springtime success.
Garlic, much like all of the flower bulbs cited above, is another great set-and-forget crop. Last year was my first effort in growing garlic in the garden, and we'll certainly be doing it again this fall. A few things to keep in mind: Plant them 1-2" down, 6" apart, and pointy end up. Don't use the garlic from the store (it's often treated in such a way that inhibits its ability to grow). Instead, use organic garlic from a local farmers' market, or from a larger supplier who can also educate you on the varieties available. You'll give yourself a serious pat-on-the-back when the garlic is peeking through the ground shortly after the springtime thaw.
Mulching in the fall is multi-purpose. Obviously, it looks great and can keep some of those fall weeds at bay, but it works hard at protecting the soil around roots from cold weather, helps retain dormancy, and also protects against weather erosion. Mulched plants are protected plants, and they're sure to look amazing come springtime.
A free fall mulching solution? Fallen leaves. They aren't the prettiest, but they do a great job. In addition to laying them in your formal beds, allow them to collect in amongst any ground cover on your property (don't use the leaf blower to remove them). Since ground covers like myrtle and pachysandra are generally low maintenance, this will naturally protect the plants all winter long.
Lay New Grass Seed (and Aerate the Lawn)
Expert landscaper Bruce Allentuck shared that if you only have time and resources to do one thing, "[the] best thing for homeowners to do in the fall is turf care. This work will yield the best return on time and money in the spring." While the days are still warm, make the most of it by overseeding bare and thinning areas. Water the grass seed generously, and though it may not get very lush this fall, you'll be setting the stage for great growth come springtime.
Aerating your lawn is another way to promote thicker grass growth next spring; by creating holes in the soil, you can achieve better water drainage while also giving plants and grass roots a boost of oxygen. Learn how easy it is to aerate your lawn.
Transplant (and Protect) Trees and Shrubs
If you're going to be moving plants from bed to bed, planting new greenery, or thinning out any perennial beds, fall is a great time of year for it. By autumn, plant growth has slowed and the plants themselves become dormant in preparation for winter. Use the cooler weather to your advantage, and plan the landscape of your garden beds.
Prune Flowering Trees and Shrubs
For plants that flower in mid- to late summer, late fall is a great time to prune branches, when dormancy has set in. You'll have healthier plants and more luxurious blooms come summer!
Bonus Tip: Trim All of the Dead Branches: Before the leaves fall, take care in identifying any dead branches in the trees. Remove these branches while they're easy to spot, before the trees are leafless.