Creative Genius: The Zen Succulent
Meet a modern terrarium designer who shares her passion with her mom.
Megan George sprouted up around her parents' passion for plants.
Her parents lived in rural towns before they moved to Raleigh, N.C., where they work as scientists. To ease the transition to city-dwelling, they brought outdoor life, including palm trees, ferns, tropical plants and succulents, into their home.
Throughout her childhood, George says she cared for the plants. It was one of her chores, but one she loved.
"Going to college, I realized that not everyone has plants in their home. It was foreign going into a dorm room and being like, 'Wait a second, you don't have anything that's living, other than yourself, in these rooms?'" she says. "So I didn't know at the time, but that subconsciously sparked the business side of it."
George, who graduated with a marketing degree, began with a single terrarium on Etsy.com. It was 2012, and she was 22 years old. She didn't even have a name for her would-be company at that point.
She thought about what plants gave her — peace — and decided to name her business The Zen Succulent.
A few weeks later, someone bought her terrarium. That's when she needed her own zen, as she faced the pressure of having to ship a living item. What started as one order in her garage has now grown to more than 500 orders a month and a store in Durham, N.C., with an online shop. She and her mom design the terrariums. Their installations include a 10-foot succulent wall for the 2016 HGTV Smart Home.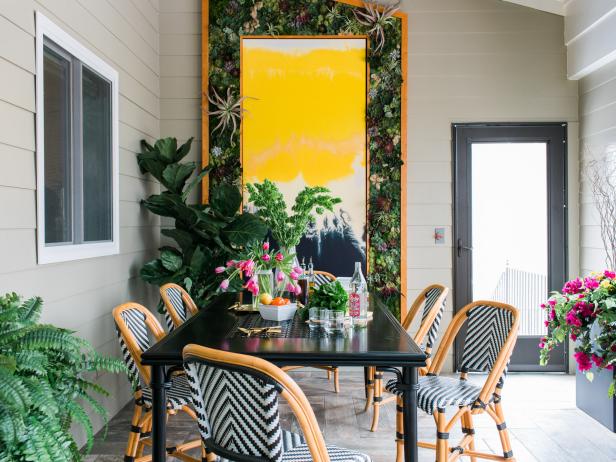 Lovely Living Wall
A stunning living wall with plants takes up the entire back wall of the screened porch, and frames black, white and yellow abstract art that adds a burst of color to the dining area.
Tomas Espinoza/Flynnsideout Productions, 2016, HGTV/Scripps Networks, LLC. All Rights Reserved
"My mom has been there from the very start. It was an idea that we thought of together," she says. "We made our first terrarium together on the table, and it just grew from there. It is a true family business, with us both working together to create it."
Designing terrariums reminded George of other hands-on activities she has done with her mom, who was her Girl Scout troop leader. Through The Zen Succulent, the mother-daughter duo's relationship has grown to yet another level. Now they share something they love doing together as business owners and adults.
"My mom saw how much I wanted this. I saw how much she wanted to be part of this," she says. "Of course when you think of a mother's love for a daughter, it's just expanded even more than I could've ever imagined with that."
The terrariums, which range from $25-$90, include uniquely shaped modern containers, plants such as air plants and succulents, other materials and instructions for assembling and maintaining them.
"We ship all of our orders disassembled, so it creates that kit effect," she says. "You're receiving the plant, everything that you need to make your own terrarium and the instructions on how to do it, but most importantly, the instructions on how to care for these items as well."
Personalizing a terrarium
George likes when people add their own personality to their terrarium. You can do that using mementos from trips, items from your childhood like marbles, your children's miniature cars, train sets, soldiers or other toys, or by upcycling items from home.
The container can help make a terrarium unique. George loves using a cylinder glass container, but you also can dig into your kitchen cabinets or scour thrift shops for ideas. Once, she helped someone create a terrarium out of a punch bowl and glasses for a dinner party. Another one-of-a-kind terrarium was built into a large ceramic clamshell, as a customer's gift for his wife.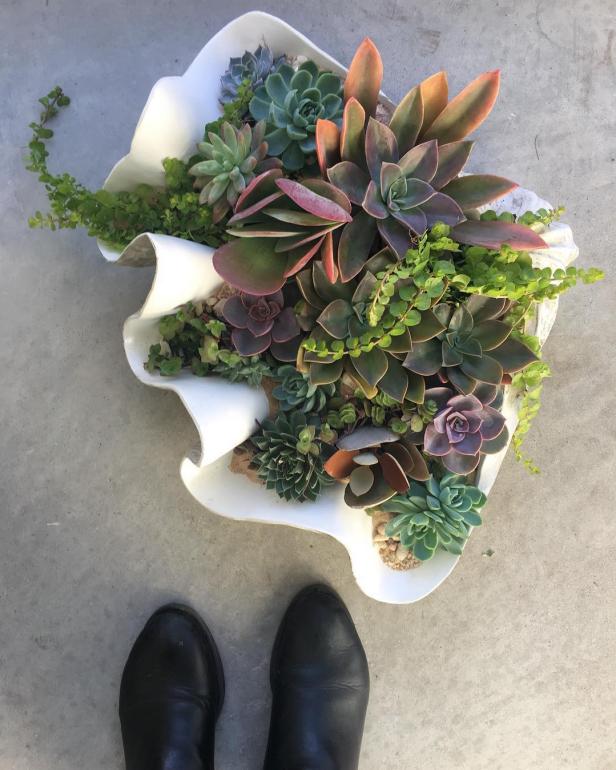 Custom Succulent Terrarium in a Clamshell
Megan George filled an oversized clamshell with varieties of succulents for a custom terrarium. The terrarium includes Echeveria rosette succulents, Graptoveria 'Fred Ives,' Echeveria 'Perle Von Nurnberg,' a hens and chicks sedum assortment, a flapjack assortment and a creeping Jenny.
"We made it with lush greenery that almost looked like it was falling out of the container, which was a great thing," she says.
Terrarium owners can also add their own stamp by curating the plants and colors. Brides, for example, often want blush tones, so George recommends using blue chalk stick succulents and rosettes, such as Echeveria. She loves how they resemble symmetrical petals and come in various colors.
Some plants hold a unique sentimental meaning for a terrarium owner.
"I can't tell you how many people come into the shop and say, 'My grandmother had this same cacti, and I remember growing up with it … I want another so that I can give [it] to my kid,'" she says. "It's a beautiful story that continues on."'
A perfect heirloom plant, she says, is the jade plant. They mean good luck in other cultures and are gorgeous tree-like plants when they get older.
"It's a green lush plant that continues to grow upright," she says.
A new favorite for George is the flapjack succulent, which she says looks like a pancake with leaves and has a gorgeous bloom and red tips.
"That's just a cool plant to look at, and it's one of the lower-level plants that you would have in a terrarium; but a nice great presence," she says.
George, who grows many of the succulents she uses for her business, says she is frequently asked how long the plants are going to live.
"These look so gorgeous; people think that they're flowers," she says. "[But] after a couple of days, flowers start to wilt. These will continue to grow and flourish as long as they're cared for."
Light: Low-maintenance succulents need bright, indirect light. If you're looking for a great spot in a home, George suggests placing succulents close to a window or under LED or fluorescent lights. If succulents don't have the right lighting, they'll get "leggy," she says.
"They're going to grow taller quicker because they're reaching for the sun, so we want to make sure to give them enough light so that they stay in their nice petite shape and growing patterns," she says.
Circulation: Air circulation is also important, which is why a terrarium with an opening is great for succulents, she says.
"If you're going on vacation or a family reunion … you can just water it before you leave and it'll be perfectly happy and content until you get back," she says. "It keeps its nice polished look, which is what is great about it."
Water: Succulents need to be watered sparingly, only when the soil is dry. She recommends watering once a week, depending on the amount of soil and the size of the plant.
"We want this as dry as a cracker," she says, "that's how moist we want this soil to be."