Many former presidents filled their off hours engaging in some of the same pursuits as modern day makers. In honor of President's Day, find out what our nation's most DIY leaders did in their downtime.
Aside from their distinguished duties as the leaders of the United States of America, many of our nation's founding fathers were surprisingly handy. Modern makers pursuing crafty hobbies like gardening, home brewing and tending to backyard chickens might be struck by how many interests they have in common with a few former crafters-in-chief.
George Washington - The nation's first president thought of himself as a farmer first and devoted his life to the improvement of American agriculture. Washington was a forward thinking grower who might have a thing or two in common with modern day hipster farmers - including his cultivation of a hemp crop. Washington grew hemp at Mount Vernon for industrial uses, including rope and sail canvas, as well as clothing and fishing nets. Fascinated with experimentation and improvement, Washington stayed on the cutting edge of agriculture and adopted new husbandry methods, including crop rotation, on his five farms. But farming wasn't the only interest modern makers might share with Washington. All those artisan whiskeys you see these days were all preceded by George Washington's own distillery, created in 1798. Indeed, Washington is the only founding father to commercially operate a distillery. In 1799, nearly 11,000 gallons of whiskey were produced, making it America's largest distillery at the time. Washington's whiskey was made from 60% rye, 35% corn and 5% malted barley and small batches were distilled further, with some flavored with cinnamon or persimmons. But unlike today, Washington's whiskey was not bottled, branded or aged. It was poured into wooden barrels and shipped straight to nearby merchants.
Thomas Jefferson - Our nation's third President was a Renaissance man and a born maker. From wine-making to cooking to architecture, Jefferson was a creative dynamo. An inventor, Jefferson built or improved countless items, such as a rotating book holder. His greatest and longest lasting creation would have to be his contribution to the Declaration of Independence, but many current and former University of Virginia students can also thank Jefferson for creating their alma mater.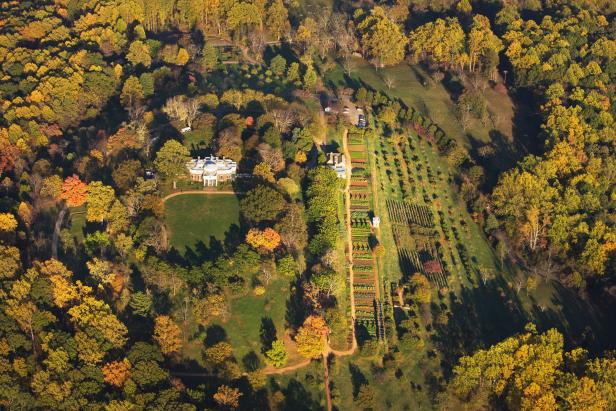 Monticello Aerial View
In this overhead view of Thomas Jefferson's Monticello estate in Charlottesville, Virginia, you can see the vegetable garden which is the long, narrow tract to the right of center. Vegetable gardener Patricia Brodowski says, "The garden is two acres or three football fields. We have a list of about 400 things Jefferson was growing and we grow about 200 of those. When we introduce something new, we try to save seeds from it."
Image courtesy of Thomas Jefferson Foundation at Monticello, photography by Robert Llewellyn
Jefferson was also a lifelong gardener, passionate about farming who is said to have been obsessed with new crops, garden design, scientific agricultural techniques and soil conditions. Jefferson himself designed the home and elaborate gardens on the grounds of Monicello, his beloved 5,000-acre home. Though Jefferson's main crop was tobacco, he attempted to achieve self-sufficiency on his farm by growing wheat, vegetables (330 varieties!), 170 fruit varieties, flax and corn. He also kept hogs, sheep, chickens and cattle. Upon his political retirement, Jefferson settled back into private life at Monticello, where he often inspected his prolific homestead on horseback. Leisurely evenings were spent with his family in the gardens. Jefferson has been described as America's "first distinguished viticulturist," establishing two vineyards on the grounds of Monticello. Though his dedication to the vineyards is well documented, it would appear that his attempts to grow a New World adapted variety did not produce a Monticello wine during his lifetime. In 1985, the Thomas Jefferson Foundation restored Jefferson's plan and three hundred bottles of a blended white whine were produced from the harvest in 1988.
Abraham Lincoln - By signing the Homestead Act in 1862, Lincoln could be said to be the father of the hipster homesteading movement. The Homestead Act opened millions of acres of the public domain to settlement and cultivation. This Act was open to anyone who met very basic and progressive requirements, including women, immigrants, and, beginning in 1868, African Americans. The act gave those who were at least 21 years old and the head of a family 160 acres to give farming a go for a period of five years. Each homesteader was required to build a house on the property and could opt to buy the plot of land after only six months at a rate of $1.25 per acre. Though many homesteaders could not handle the hardship of frontier life and returned the land to the government, eventually, homesteads were founded in 30 states and covered 270 million acres.The last title given under the Homestead Act was for 80 acres in Alaska in 1979. A trendsetter from way back, Lincoln was also the first president to sport a beard.
Dwight Eisenhower - The nation's 34th president retired to a 189-acre farm in Gettysburg, Pennsylvania, where he raised award-winning Angus cattle. Eisenhower maintained a show herd of black Angus cattle and entered cattle in livestock shows across the country, winning grand championships and numerous other awards. He was even posthumously recognized by the American Angus Association for his significant contribution to the breed. But President Eisenhower wasn't solely concerned with his cattle - he was also quite a habitat conservationist, too. Eisenhower was concerned that adequate habitat remained on his farm to attract wildlife, and worked to ensure habitat requirements were met by providing ground cover throughout the farm property.
George W. Bush - Better late than never, Bush took up painting upon his departure from office and spends quite a bit of time in his studio on his Texas ranch.
Barack Obama - President Obama is a man of many interests - basketball chief among them. But our current leader is also a huge comic book geek, collecting Spider-Man and Conan the Barbarian comics. President Obama also makes a mean chili. (Try making his recipe for your next game day party - the recipe can be found here.) President and First Lady Michelle Obama have also substantially contributed to the home gardening movement since their arrival at the White House. In 2009, the First Lady planted a vegetable garden on the South Lawn to initiate a national conversation around the health and well-being of our nation, which evolved into her "Let's Move!" initiative.