What Does it Cost to Renovate a Kitchen?
Find out how to break down the cost of a luxury kitchen vs. a modest reno.
The kitchen is one of the most-used spaces in any home – just one of the reasons to make it your own with a great kitchen renovation. It's hard to overlook the costs involved with even a modest reno, whether you DIY or hire a pro, but as you read through this overview on kitchen renovation costs, we urge you to remember that depending on your home's market, you may be able to reap much of your investment upon resale.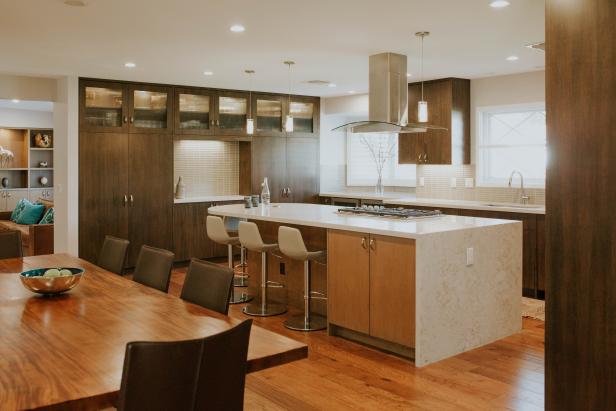 Open Contemporary Kitchen and Dining Room With Large White Countertop Island, Full Wall Cabinetry and Neutral Color Scheme
Space between the large island and the wood dining table creates a natural separation of the space while still leaving the design open and connected. Full wall cabinets with frosted glass doors on top allow for organized and concealed storage keeping the countertops clear for a clean finish. Natural light bounces off the white countertops for a bright look to the room.
Let's start with the luxe kitchen renovation and then review a modest alternative, and help you get a sense of what to expect when you're renovating your kitchen. Keep reading to learn more about:
Advantages and disadvantages of a kitchen renovation at any budget
The big costs
Hidden costs
And where you might save money by DIYing components of your renovation
What Does a Luxe Kitchen Renovation Cost?
You've either been saving for it for awhile, or acquired a loan in order to have the kitchen of your dreams. For the best chance at getting a return on your investment, experts suggest spending no more than 6-10% of your home's value on your kitchen renovation. It isn't a hard rule, especially because if you're willing to undertake a big renovation it also suggests that you're going to be living in your home for years to come. Consider the 6-10% guideline to be a reality-check on what you might get out of your investment.
It's good to have a positive mindset when you're embarking on a major renovation, especially one in which you're spending a lot of money. With a higher budget, you can achieve a great new floor plan yielding a better kitchen workspace. Everything you're working with is going to be shiny, clean, and new. If the space is completely gutted, you're probably going to be upgrading the plumbing, HVAC, and electrical, which also means those systems will be up to code and will require little to no maintenance in the immediate future. Most importantly, this is the kitchen of your dreams, and it will increase your home's value.
Cost is an obvious disadvantage, but time spent is an important consideration too. You'll need to be prepared with a makeshift kitchen, a spot in the bathroom in which you can wash dishes, and especially if you have kids at home, a plan to be out of the house when the work crews are at their noisiest. Be prepared for delays in construction, imperfections that need to be addressed and corrected, and other inevitable frustrations that go hand-in-hand with a major kitchen renovation.
Home designer and contractor Paul Randazzese of Roost Builders weighed in on the biggest expenditures that a homeowner might expect to see during a kitchen renovation. "[In general,] high quality kitchen cabinetry is the single most expensive aspect of a kitchen renovation. Flooring and countertops are typically less than half of the direct cost of the cabinets themselves. However, much of this depends on the amount of reworking/reframing, or adding to the existing layout of the home. Though any single aspect of this may not outpace cabinetry, the cumulative and necessary costs of framing, electrical and heating work, insulating, dry-walling, trimming, and painting associated with a new layout can add up to more than the cost of the cabinets alone. So, in planning a kitchen renovation, though the cabinets are the single most expensive aspect, it is important to remember all of the other work associated with layout changes, particularly if they involve exterior walls with windows and doors, opening up structural walls, or moving plumbing on the interior."
Updated Modern Kitchen
This view accentuates the open design and how natural light fills the kitchen. The original layout of the kitchen blocked off the window, limiting both outside views and natural lighting.
Cabinetry: $10,000-$75,000 (variance is attributed to quality and craftsmanship)
Countertops: $50-$100/sq. ft. installed (based on high-end marble and granite pricing)
Flooring: $20-$40/sq.ft. installed
Appliances: $15,000-$25,000
Demolition
New windows or skylights
New sink
Structural changes (if you're removing walls)
Plumbing
HVAC
Electrical
Lighting
Hardware
Built-in technology (surround sound, built-in TV, home automation systems)
Randazzese advises his clients to reserve 5% of the total budget for unexpected findings mid-renovation, and another 5% as an overage allowance so that homeowners can have more flexibility during construction to make some changes to their original plan or afford special upgrades.
Rot: The joists and framing beneath the existing floor and drywall may require repairs from water damage.
Roofing or siding expenses: I happen to know that when we have our 1950s kitchen renovated, we're going to incur roofing and siding costs to update the exhaust through the exterior of our home.
Accidental demo: If you and your crew aren't on the same page, something that was supposed to be saved might get the sledgehammer. Be aware of what electrical and plumbing is staying intact before you begin demolition.
Worthwhile Splurges to Consider for a Luxe Kitchen Renovation:

I also asked Randazzese for his point of view in kitchen upgrades. In short, his advice was to splurge on cabinetry, describing it as the "crown jewel" of the kitchen with unique, practical, and useful features "that can make the cabinetry exceptionally convenient and a joy to use." However, with budgets in mind he advises that homeowners should prioritize splurges to find "a compromise between all finishes: Cabinets, appliances, trim-work, light fixtures, plumbing fixtures, flooring" adding, "I have always believed in scaling back the size of a project if it means being able to put more budget into high quality finishes… there should be some continuity in the quality of the finishes rather than one or two things being very high quality and the rest remaining mediocre… Fully custom cabinets can be made to order for the very specific dimensions and layout of a particular space, thereby maximizing and optimizing the space available. "
Floor plan: A luxe renovation budget ought to take into account what the best, most functional floor plan is for your home and family's lifestyle. You may know what you want, but also get a second opinion from someone who is a kitchen design professional. They might have specific insight into the proximity of the fridge to the range, and can help you find a way to get the flow you want with minimal sacrifice.
Flooring: If you're going through the trouble of putting in a new floor and subfloor, get a product that is going to hold up a long, long time. In the kitchen, it's important to have something that will clean easily, and stand up to lots of traffic.
Storage: If you're considering a kitchen renovation, chances are you've navigated your way through some amazing show rooms. To reiterate what expert Paul Randazzese said above about indulging in perfect cabinetry, it's likely that you appreciate the little touches too, such as those slow-close drawers in showrooms, walk-in pantries, and no doubt that you've ogled at creative storage accessories that you never knew existed. Put them in your own home too.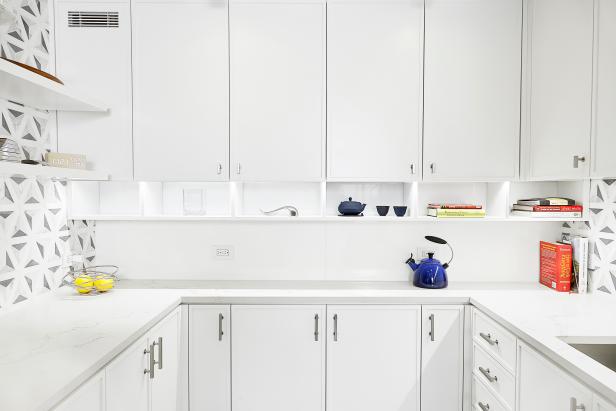 Upper and Lower Cabinetry in Bright White Kitchen
This clean, contemporary kitchen design in white features plenty of storage space with upper and lower cabinets to hold dishes, cookbooks and cookware.
Lauren Rubin Architecture PLLC
And Where You Might Be Able to Save Money in a Luxe Renovation:
Paint: If you have the patience and a good ladder, save a bit of money by painting the new kitchen yourself.
Appliances: Most manufacturers have amazing products at a range of prices. Before you buy a $7,000 refrigerator, peek at the $2,000 versions and see if it has the right aesthetic.
Countertops: Let's face it, as pretty as it is, high-end countertops aren't for every home, and often the less expensive options can look just as good. Have a store associate pull a selection for you blindly, so that you can compare samples by look and feel rather than walking in and veering directly for a certain high-end material.
Light fixtures: Costs for fixtures run the gamut, and there are some stellar options at every single price point. And lots of the $200 fixtures look as great as the $2,000 fixtures. Trust me. Look around. In addition to choosing less expensive fixtures, you might realize that you can install them yourself too. Tell the contractor that once the room is painted, to keep the lighting boxes in the ceiling exposed and you can connect the fixture yourself. Learn how to install a pendant light here.
Buy things yourself: Let's assume that your contractor is cool with you sourcing some of your own materials; we like to position it as "you won't get a markup on the price but it'll save you a lot of work." Choose and purchase your own appliances in advance of construction, such as during a Black Friday Bonanza. Order your own light fixtures when you see a 40% off coupon code, source the backsplash tile you want (most manufacturers will give you samples to help you make the right decision), and buy faucet hardware in advance too – just store it until the crew needs to install the item.
What Costs Should Be Considered in an Inexpensive Renovation?
You can make big changes to your kitchen even with a small budget. Inexpensive is relative, but let's assume that a modest kitchen renovation is less than $5,000.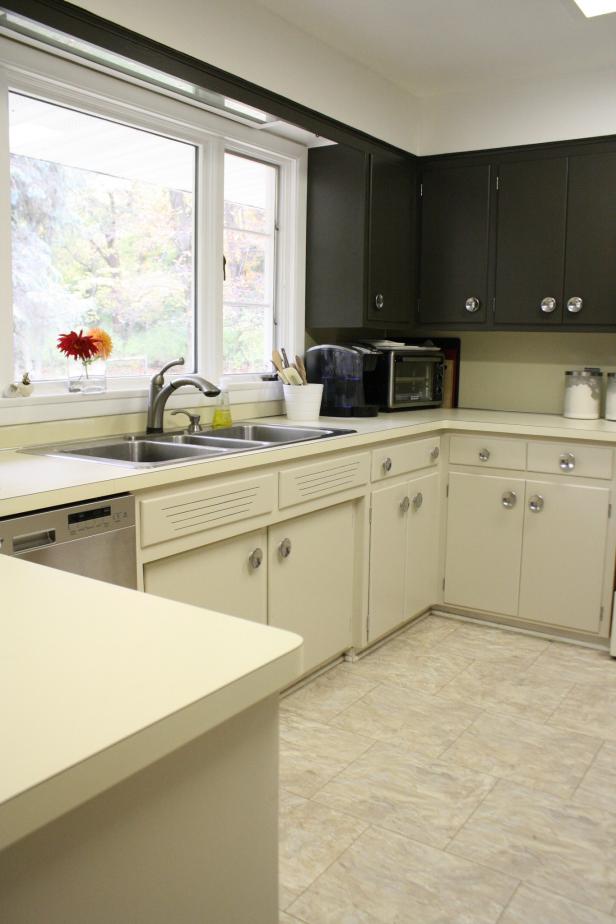 Simple DIY Updates for the Kitchen
Decide whether to DIY or hire a Pro for your kitchen makeover.
Lower budgets have their benefits, in that you might just select a renovation that you can tackle with minimal hired assistance.
You'll be able to make some modest-but-significant updates during an inexpensive renovation, and maybe that's enough to turn a space into your dream kitchen without it falling into the "luxe" category with high-end finishes and brand-new everything. If you're doing the project DIY-style, time is going to be a disadvantage for you personally; if you're doing the renovation on top of doing a full-time job, you'll be sacrificing lots of evenings and weekends for the betterment of your home.
How you classify big expenses in a modest renovation depends on where you're putting your money. Like with a major renovation, brand new cabinets are going to be one of the biggest expenses. If you want a new look without draining your budget on new cabinets, here are a few examples of pricy "modest" upgrades:
Cabinet doors: $10-$40/sq. ft. based on materials chosen and whether the products are pre-manufactured or custom. This allows you to keep the same floor plan and base cabinetry, but update the look of the cabinets.
Countertop: $15-30/sq. ft. Installed. I upgraded an old linoleum countertop for a solid surface countertop. It was the biggest expense when I did my own modest DIY renovation, and had a price tag of $2,000.
Flooring: $3-$8/sq. ft. You can find some great products in the $3-$8/sq. ft. range. Consider groutable peel-and-stick vinyl tiles like these used in my home for a great look with a low cost.
Appliances: Updating technology goes a long way in visually updating your space. A new range, range hood, refrigerator, or installing a built-in microwave can have a great impact. Budget may not allow you to upgrade all, but replace those most in need of an update, and you can chip away at updating the rest as needed.
Dumpster
New windows or skylights
New sink
Plumbing
HVAC
Electrical
Lighting
Hardware
Much like a luxe renovation, hidden costs might include rotting joists, water damage, and accidental demolition. In addition, with renovations on a tighter budget you're inclined to have a narrower cushion for the unexpected costs. If something goes awry in one aspect of the renovation, you might be required to take concessions in another area to keep the project on budget.
Worthwhile Splurges to Consider for a Low-Budget Kitchen Renovation:

Drywall: If you're hanging drywall, a few ideas: rent a dolly that will help you hoist and lift the drywall into position, and/or hire someone to do the finishing work. If you've ever tried to install ceiling drywall by yourself, you know how hard it is. If you prefer to skip DIY drywall installation altogether, the right crew will save you a lot of time. A seasoned drywall pro will be able to hang, tape, and install perfect compound in no time at all. They'll know just how much to sand off so that when you're ready to prime and paint, the surface is in mint condition.
Electrical/HVAC/Plumbing/Gas lines: I'm including these in the splurge category due in part to the fact that the professionals can do it with accuracy, up to code, and maybe much more quickly than you can do yourself.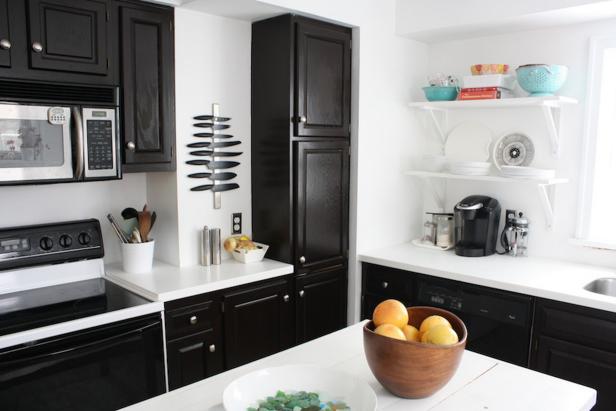 How to Use Gel Stain for Projects in the Home.
Gel stain brings new life to oak kitchen cabinetry.
And Where You Might Be Able to Save Money in a Modest Renovation:

Demolition: Any amount of demo that you can do yourself, should be done.
Paint: You can do that yourself with the right brushes and rollers. I'm not just talking about the walls and ceiling either; painting the cabinets or applying a gel stain can go a long, long way in completely overhauling the look of your kitchen. In this related article, here are 25 tips for painting kitchen cabinets.
Install appliances: Most stores will deliver, install, and take away the old appliances. But you can also reserve the old appliances and get a few dollars back by selling them online if they're still in fair condition.
Finally, if you're looking to do a remodel somewhere in-between low-budget and luxe, reserve the same kitchen floor plan but consider these upgrades:
Updated high-efficiency windows
New cabinet doors, or remove several upper cabinets and replace with open shelves
New cabinet storage accessories, such as organizational products like these.
New high-efficiency appliances
New countertop
New faucet and dish soap accessories
Fresh paint on walls and trim
New lighting
New outlets and switches